20 Seasons Highlights CD: Standing in the Hall Of Fame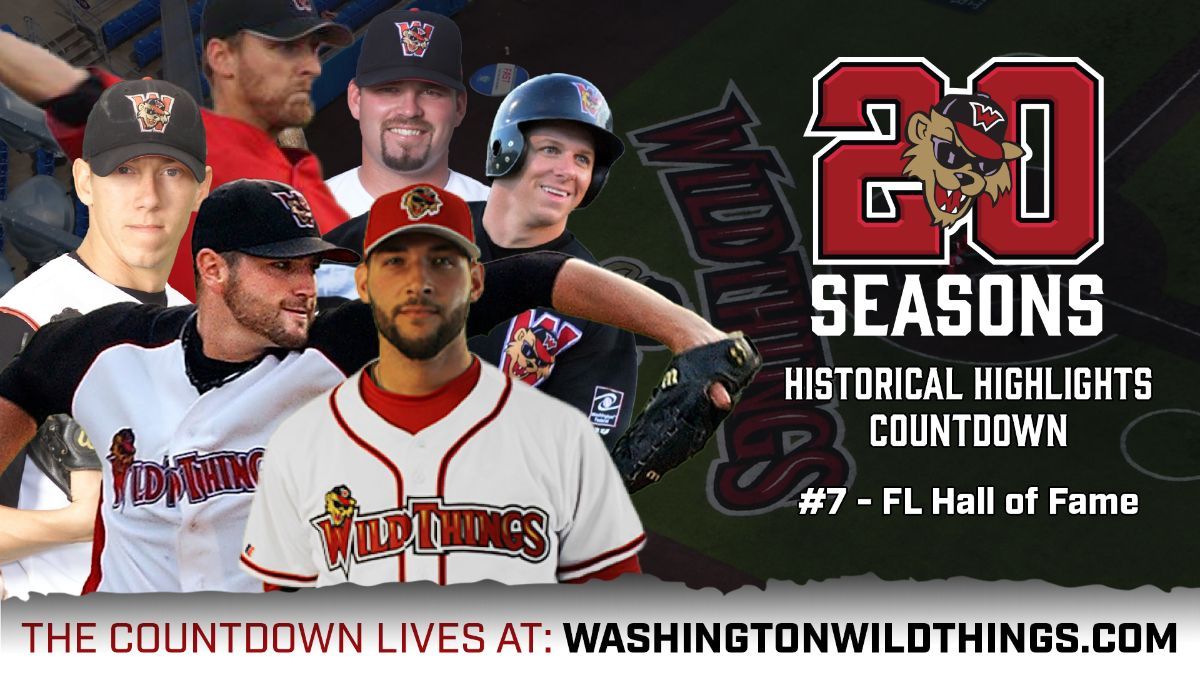 In 2022, the Washington Wild Things are celebrating their 20th Frontier League season. The team will be celebrating in numerous ways Opening Weekend, beyond that and in several other ways. As part of our celebration, we're counting down some of the historical highlights the organization and team has seen occur over the first 19 seasons of Wild Things' baseball in the league.
The countdown isn't in any specific order in terms of importance, but it's time we visit some of the best on-field moments, significant historical accomplishments, records, traditions and more.
You can rest assured the party will not stop all season long with the festivities kicking off May 13-15 with Opening Weekend, presented by Key Bank.
---
The Frontier League started its Hall of Fame with the Class of 2014 to honor and celebrate the players, people and special moments that helped the league become the longest running independent professional baseball league in the country. To qualify for the Frontier League Hall of Fame, a player must have been out of the Frontier League for three full seasons and have retired from pro baseball for at least one full season. Voting is done by a committee composed of a field manager, team front office and ownership representative in conjunction with the league office. The proposed slate is then affirmed by the Board of Directors.
Washington has had six players enshrined in the Hall of Fame in the team's history, including having a player inducted in the inaugural Hall of Fame class.
The Class of 2014 had Morgan Burkhart, who the MVP award is named after, Scott Pinoni, Fran Riordan, the Citizenship Award's namesake, Kirk Taylor, Dr. Chris Hanners (special contributor) and Brett Gray's 25-strikeout game (significant moment). The other name in that class is former Wild Thing and River City Rascal Aaron Ledbetter. Ledbetter was Pitcher of the Year in 2007 and retired as the career leader in games started, innings pitched, wins, complete games and strikeouts. Ledbetter is still the leader in innings pitched, starts (by one over former Wild Thing Chase Cunningham), wins and strikeouts. In terms of his Wild Things' career (2006-2008), he is the career leader in wins (27), third in starts (49), tied for third with six complete games, third in innings pitched (318.1), and the all-time leader in strikeouts (229).
Chris Sidick was inducted in the league's Hall of Fame Class of 2015 after playing with the Wild Things from 2005-2011. He was a post-season All Star in 2006 and a two-time midseason All Star. He's one of only nine Wild Things' players to be selected to the mid-summer event twice. Sidick's number 12 is retired by Washington and when he retired, he led the league's history in games played at bats, runs scored and hits. He was passed in a few of those by Santiago Chirino, former Normal Cornbelters' infielder and current New Jersey Jackal in 2021. Chris holds the Wild Things' records for runs scored in a career (414), career triples (56), hits (635), stolen bases (166), walks (328) and times hit by a pitch (57). He's top five in several other categories.
Washington added its third Hall of Famer in the Class of 2018. Scott Dunn pitched five seasons in the Frontier League, four of which were spent with the Traverse City Beach Bums. One was with Washington. A Clinton, Pennsylvania, native of 2005 graduate of then South Side Beaver High School, Dunn played at Marietta College and Slippery Rock University before embarking on his pro career. His 38 wins are the second most in Frontier League history and he amassed 445.1 innings with a career ERA of 2.83. He's now third in wins behind only Ledbetter's 51 and Cunningham's 39. Dunn was a mid-season and post-season All Star in 2013. He was also named Pitcher of the Year that season. In 2014 with Washington, he was 8-5 with a 3.28 ERA and helped the Wild Things to a playoff berth.
The Wild Things had three players enter the Hall this past year in the Class of 2021. Josh Loggins (2002-2003) posted a .339 career batting average with 31 doubles, 29 homers and 117 RBI. His .347 batting average in the Wild Things' inaugural season in 2002 was the fourth highest in the league. In 2003, he was third in average (.331), first in home runs (24) and fourth in RBI (72). He won the 2003 League MVP Award despite signing with the Rockies in mid-August. Loggins is a former post-season and mis-season All Star, with both of those selections coming in 2003. He was joined by inaugural teammate Jared Howton in the Hall of Fame Class of 2021. Howton, who played in Washington from 2002-03 and for Richmond in 2005, was 21-8 in his Frontier League career with a 2.94 ERA but his best season came in the Wild Things' first. He led the league in ERA with a 1.89 and tied for the league-lead in wins with 11 on his way to being named Pitcher of the Year. In 109 innings, he walked only 38 and fanned 89. He was also a mid-season and post-season All Star that year. His 18 career wins in Washington are tied for fifth all-time in franchise history. He posted three shutouts and is second in franchise history in career ERA (2.16) amongst pitchers who have pitched a full season by the league's leader qualification standards (.8 innings pitched per team game played/76.8 innings for a 96-game season). Those two were joined by former closer Jonathan Kountis, who has the team and league single-season save record with 32 in 2014. He played for Lake Erie in 2012, the Frontier Greys in 2013 and the Wild Things from 2014-15. Kountis ranks third now in career saves (59) in the league. He posted a 3.00 career ERA and 188 strikeouts in 162 innings pitched. He was a two-time Post-Season All Star (2012, 2014).
There's a good chance the Wild Things will have more players enter the Frontier League's Hall of Fame over the next few years. The Class of 2022 will be announced in the coming months by the league.
---
To keep up with the countdown, see below for trips back in the past to our previous three stops in the countdown. Stay glued to our social media, website and more for more information regarding our big plans for the 20 Seasons Anniversary celebration, because it's sure to be wild. We're giving you the presents, the parties, the fun and more as a thanks for your support over the years and the support we know will continue to be shown to us.
20 Seasons Countdown History:
20: James Harris Makes History with First Wild Things' cycle
19: Barry Bonds a Wild Thing? We revisit the moment that got the Wild Things national attention!
18: Two Triple Plays in Wild Things history
17: Postseason Awards, All Stars
16: MVP's, Pitchers of the Year
15: Midseason All Stars, ASG's hosted in Washington
14: Longevity, Attendance Milestones
13: Pat McAfee: A Professional Baseball Player
12: Major Traditions
11: Unmatched Perfection: Matt Sergey's Perfect Game
10: Milestone Wins, Success in FL
9: Next Level Things: Contracts Purchased