20 Seasons Highlights Countdown: Midseason All Stars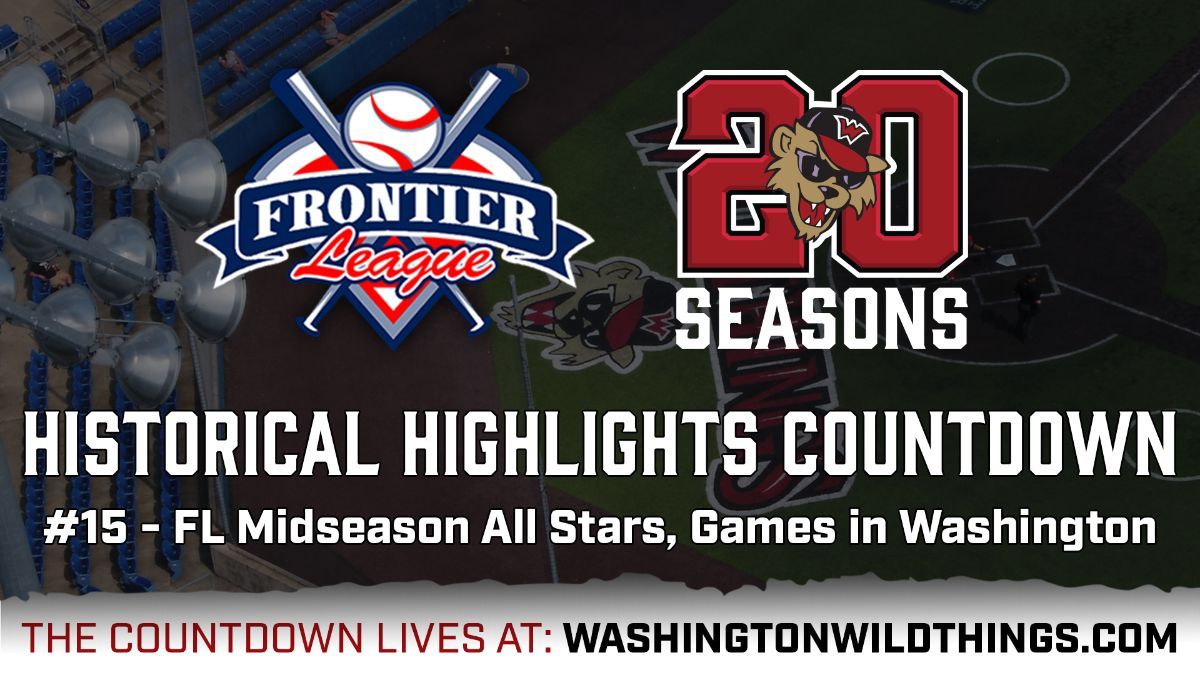 In 2022, the Washington Wild Things are celebrating their 20th Frontier League season. The team will be celebrating in numerous ways Opening Weekend, beyond that and in several other ways. As part of our celebration, we're counting down some of the historical highlights the organization and team has seen occur over the first 19 seasons of Wild Things' baseball in the league.
The countdown isn't in any specific order in terms of importance, but it's time we visit some of the best on-field moments, significant historical accomplishments, records, traditions and more.
Plans for the celebration of the 20th season of Frontier League baseball for the Washington Wild Things are still in the works and whenever they get announced, you can rest assured the party will not stop all season long with the festivities kicking off May 13-15 with Opening Weekend.
---
This week we visit the extensive list of mid-season All Stars the Wild Things have sent to the Frontier League's midsummer classic as well as highlight the two times Washington has hosted the event.
Each year, the league's media, on-field staffs and general managers vote to on the representatives that each team will send to the All Star Game. The only year the league has not voted on mid-season All Star teams since the Wild Things entered the league is 2021, but the league will go back to it this upcoming season, as the All Star break runs July 18-21 this year.
The Wild Things have sent 76 players, including multi-time honorees, in total to All Star games. With the exception of 2012 when Gary Lee was the team's lone rep, Washington has had at least two mid-season All Stars to boast about. The Wild Things have also had nine players head to the All Star Game twice. Those players are in bold in the list below.
In 2014, Washington set a new franchise record with seven representatives in the All Star Game before breaking its own record in 2017 when the club sent eight players to the game, played in Joliet.
2019 (2) - IF JJ Fernandez, OF Hector Roa
2018 (6) - IF Carter McEachern, C Kyle Pollock, OF Roman Collins, OF James Harris, P Zach Strecker, P Thomas Dorminy
2017 (8) - P Chase Cunningham, P Trevor Foss, P Zach Strecker, C Kyle Pollock, IF Kane Sweeney, OF Rashad Brown, OF Bralin Jackson, IF Mike Hill
2016 (4) - P Trevor Foss, P Zac Grotz, OF David Popkins, OF Ricky Rodriguez
2015 (2) - P Kyle Helisek, IF Austin Wobrock
2014 (7) - P Jonathan Kountis, P Shawn Blackwell, P Alfonso Yevoli, IF Carter Bell, OF CJ Beatty, OF Stewart Ijames, OF Danny Poma
2013 (4) - C Jim Vahalik, IF CJ Beatty, IF Jovan Rosa, OF Stewart Ijames
2012 (1) - P Gary Lee

2011 (5) - P Casey Barnes, P Justin Hall, P Jhonny Montoya, C Blake Ochoa, IF Scott Lawson

2010 (3) - P Kevin Hammons, IF Michael Parker, OF Chris Sidick
2009 (3) - IF Grant Psomas, OF Jacob Dempsey, P Nick Peterson
2008 (5) - IF Robbie Knapp, OF Chris Sidick, OF Jacob Dempsey, P Mike Schellinger, P Aaron Ledbetter
2007 (5) - P Tom Cochran, P Aaron Ledbetter, P Ian Heisel, IF Robbie Knapp, IF Nathan Messner
2006 (2) - C Brandon Ketron, IF Pat Peavey

2005 (5) - P Jim Popp, P Ryan Douglass, C Randy McGarvey, IF Lance Koenig, OF Mike Arbinger

2004 (5) - 2B Brian Stoecklein, OF Jack Headley, IF Jon Cahill, P BJ Borsa, P Matt Powell

2003 (5) - 3B Jason Kane, IF Zach Cates, DH Jay Coakley, C Josh Loggins, P Anthony Kozol

2002 (4) - SS Brad Hensler, C Shaun Argento, P Jared Howton, P Robert Garvin
The event has made its way to Washington twice in the organization's history, in 2005 and again in 2013.
In 2005, a sell-out crowd of 3,595 attended the game at Falconi Field. Then-commissioner Bill Lee told the Pittsburgh Post-Gazette "this has been tremendous. This is, by far, the most successful two-day, all-star event we've ever had in league history. Washington and the Wild Things' organization have set a new bar for all the teams to follow when it comes to an all-star celebration." That year, the East Division won 5-4 over the West and Wild Things' standout Mike Arbinger was named the MVP of the game. Arbinger also won the Home Run Derby before the game was played.
The Wild Things hosted the event and game again in 2013 at CONSOL Energy Park. The festivities included a softball clinic and exhibition game with the Akron Racers, a pro women's softball team, the Home Run Derby, a community activity with Habitat for Humanity, a luncheon with keynote speaker Steve Blass, the game and more.
The midsummer event's location for this upcoming season has not yet been announced by the league and its teams, but the return of the event but it's sure to be wild.
---
To keep up with the countdown, see below for trips back in the past to our previous three stops on the countdown. Stay glued to our social media, website and more for more information regarding our big plans for the 20 Seasons Anniversary celebration, because it's sure to be wild. We're giving you the presents, the parties, the fun and more as a thanks for your support over the years and the support we know will continue to be shown to us.
20 Seasons Countdown History:
20: James Harris Makes History with First Wild Things' cycle
19: Barry Bonds a Wild Thing? We revisit the moment that got the Wild Things national attention!
18: Two Triple Plays in Wild Things history
17: Postseason Awards, All Stars