20 Seasons Highlights Countdown: Bonds to Washington?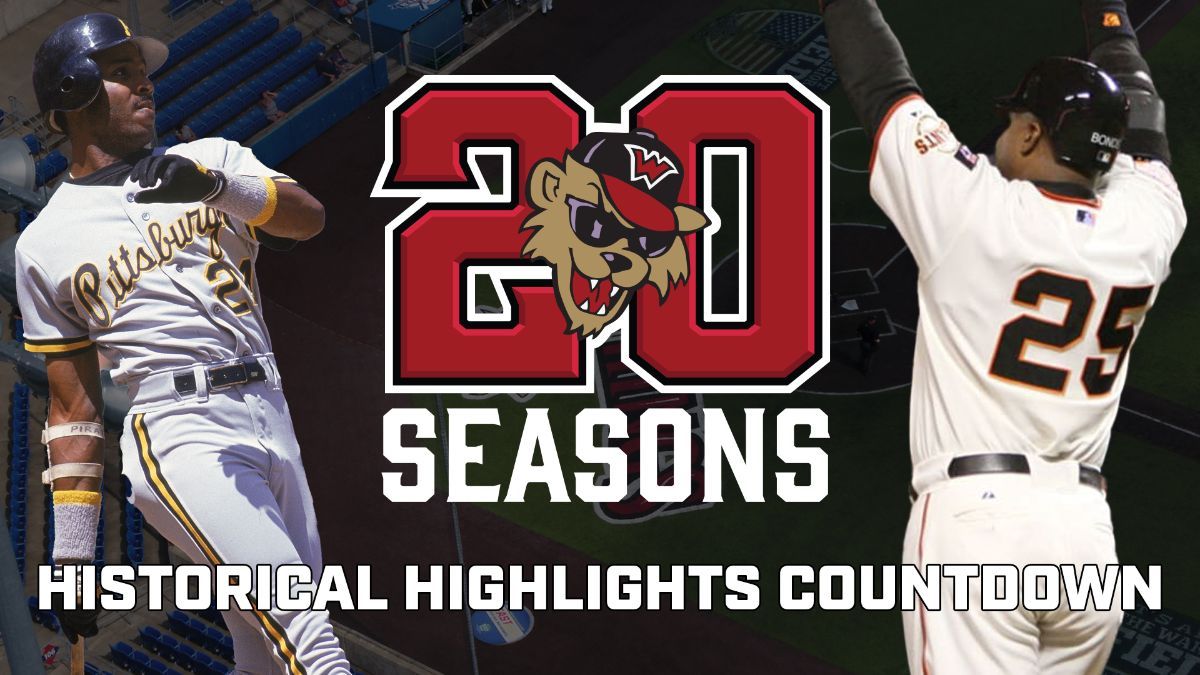 In 2022, the Washington Wild Things are celebrating their 20th Frontier League season. The team will be celebrating in numerous ways Opening Weekend, beyond that and in several other ways. As part of our celebration, we're counting down some of the historical highlights the organization and team has seen occur over the first 19 seasons of Wild Things' baseball in the league.
The countdown isn't in any specific order in terms of importance, but it's time we visit some of the best on-field moments, significant historical accomplishments, records, traditions and more.
---
Today we continue the countdown by jumping in the time machine and going back to 2007, more specifically November of 2007, just after famed slugger Barry Bonds' contract with the San Francisco Giants came to an end and his Major League career, as it turned out, wrapped up. It was then that the Wild Things swooped in and made an offer to Bonds to come play in Washington, not far from where he began his big-league career in Pittsburgh. The offer grabbed national headlines.
The offer? Pretty simple. Bonds would come to the Wild Things and play in the Frontier League and earn the maximum Frontier League salary of $1,200 a month at the time and have performance-based incentives and other perks.
Incentives would've included bonuses for breaking any Frontier League single-season batting record. At the time the home run record was 35, a number Bonds beat 10 times over the course of his 22-year career. The RBI record was 100. Bonds had more than that in 12 Major League seasons. The walk record was 85, and for a guy that was intentionally walked before with the bases loaded and a guy who walked more than 85 times in a season 16 times including being put on 232 times in 2004, that may have been simple.
The offer also included a king-sized room on road trips, 50% of profits on sales of his gear and a host family in Washington, should he want to avoid paying for an apartment for the summer.
MLB's home-run king never accepted the offer, but it brought the Wild Things national publicity, including stories on ESPN, the Associated Press and other significant publications nationally and regionally.
The 3,200 seat CONSOL Energy Park may not have been what Bonds was used to in AT&T Park or Three Rivers Stadium as home parks, but it wouldn't have been the first time an all-time great slugger finished his career at or near where it started. Hank Aaron, Babe Ruth and Willie Mays all ended their careers in the cities they began-- but not with their original teams. Aaron started with the Milwaukee Braves and ended with the Brewers; Ruth started with the Boston Red Sox and finished with the Boston Braves; and Mays began as a New York Giant before hanging up his cleats as a New York Met.
Ross Vecchio, the Wild Things' general manager then, fielded calls and interviews from San Francisco radio stations and members of the Canadian press as well.
"It was a wild ride for 48 hours," Vecchio told reporters after it happened. "It was like asking a friend to ask a girl I don't know to go with me to the dance. I haven't heard from her, so I am going to ask someone else."
As he thinks back to it, Vecchio said there was a 24-hour stretch that the phone didn't stop ringing.
"People were talking about the Wild Things not just locally, but nationally in November. That was unheard of," said Vecchio, who also heard negative reaction to it. "I had a guy walking the mall tell me he wouldn't buy season tickets if we signed him."
As it turned out, Bonds was indicted for perjury just a few days after the Wild Things made the offer.
"I remember Michael Dixon, who was in sales with us, telling me we may need to take it down," said Vecchio. "It had died down a little [before the indictment] and then it picked back up again with people asking us if we would rescind the offer. I just told them it looks like he has more important things to worry about now."
Vecchio said the team never rescinded its offer and that the Wild Things did in fact fax a contract to Bonds' agent, which many fans may not have believed. He remembers going to a Bruce Springsteen concert with current executive director Steve Zavacky and them seeing Jim Rome talking about it on his show and Tim Kurkjian crediting the Wild Things for what would turn out to be the final offer Bonds had to play professional baseball.
"You're always trying to grab a headline, but to be able to do it in November was awesome," said Vecchio. "Our team got recognition worldwide for it and that was the best part."
The Toledo MudHens had offered A-Rod a contract when he opted out of his deal with the Yankees that offseason as well.
It's fitting, and intentional, that our countdown brings us to this moment today. Yesterday, Barry Bonds and the world learned he will fall off the ballot for the Baseball Hall of Fame, as, for the 10th-straight year, the BBWAA voters did not elect the slugger to the Hall of Fame, rather controversially. Maybe had Bonds accepted the Wild Things' offer and humbled down a bit by coming to play in the Frontier League, things would be different?
Our countdown will continue next Wednesday, as we continue to visit the biggest moments and things in Wild Things' history leading up to the 20th season of baseball in the Frontier League for Washington. Stay tuned!