20 Seasons Highlights Countdown: Next Level Things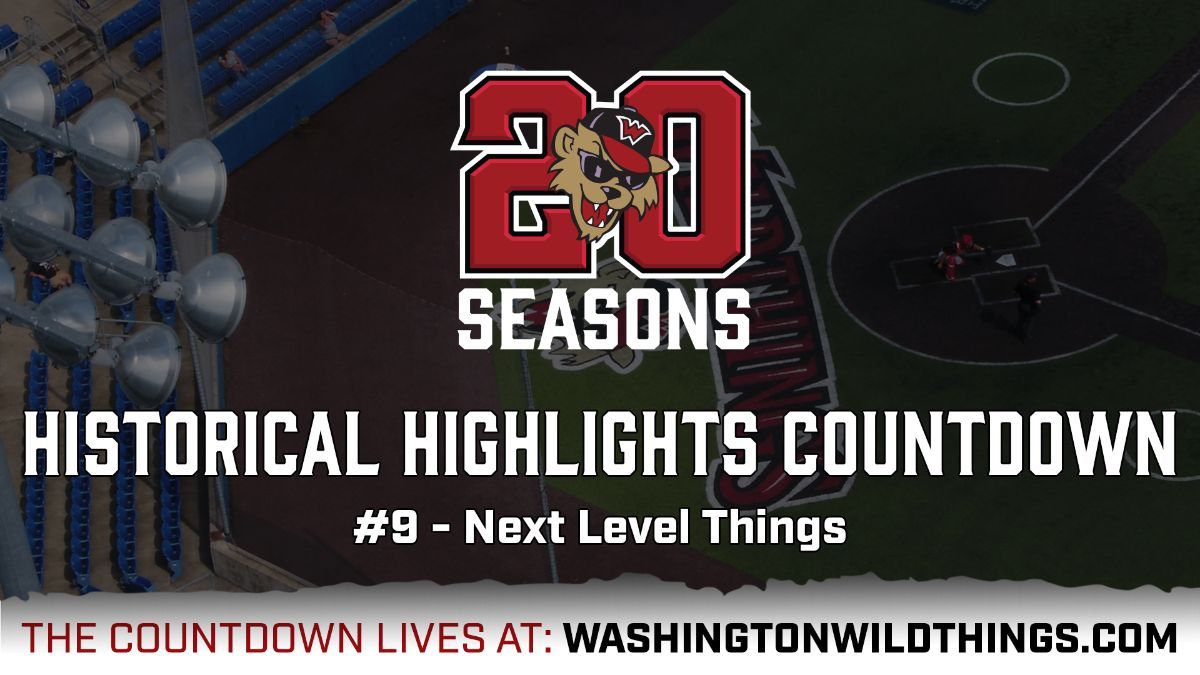 In 2022, the Washington Wild Things are celebrating their 20th Frontier League season. The team will be celebrating in numerous ways Opening Weekend, beyond that and in several other ways. As part of our celebration, we're counting down some of the historical highlights the organization and team has seen occur over the first 19 seasons of Wild Things' baseball in the league.
The countdown isn't in any specific order in terms of importance, but it's time we visit some of the best on-field moments, significant historical accomplishments, records, traditions and more.
Plans for the celebration of the 20th season of Frontier League baseball for the Washington Wild Things are still in the works and whenever they get announced, you can rest assured the party will not stop all season long with the festivities kicking off May 13-15 with Opening Weekend.
---
This week on the countdown, we discuss the contract purchases in Wild Things' history, conveniently a day after the most recent one was made. Ryan Hennen had his contract picked up by the Kansas City Royals' organization, becoming the 45th Wild Thing to go to affiliated ball from the Wild Things in the team's history.
One of the main goals of the Frontier League is to elevate its players to the next level, whether that's sending players back into affiliated ball to continue chasing the big leagues or into affiliated ball for the first time. Recently, the league has had a ton of success in doing that, with a good portion of the success being with pitchers being picked up.
The following is a list of the players who have been picked up from the Wild Things over the course of the first 19 seasons and change of real time since the inception in 2002. Three of the players (bolded) have reached the big leagues after being picked up into affiliated ball from Washington, while others have been on the cusp. Four are still active in MiLB (italic).
Ben Ally (Houston, 2002)
Chad Ehrnsberger (St. Louis, 2003)
Robert Garvin (San Diego, 2003)
Josh Loggins (Colorado, 2003)
Chris Tuttle (St. Louis, 2003)
Zach Cates (Los Angeles Angels, 2004)
Dave Bradley (Milwaukee, 2004)
Brandon Ketron (New York Yankees, 2006)
Justin Mattison (San Diego, 2006)
Pat O'Brien (Chicago Cubs, 2006)
Michael Ambrose (Pittsburgh, 2007)
Brett Grandstrand (Tampa Bay, 2007)
Chris Rivera (Chicago Cubs, 2007)
Corey Bachman (Toronto, 2008)
Michael Lucas (Chicago White Sox, 2008)
Travis Risser (Tampa Bay, 2008)
David Anderson (Baltimore, 2010)
Casey Barnes (Philadelphia, 2011)
Vidal Nuno (New York Yankees, 2011)
Alan Williams (Milwaukee, 2011)
Mark Williams (Milwaukee, 2011)
Adrian Bravo-Carmona (Tampa Bay, 2012)
Nathan Striz (Boston, 2012)
Darian Sanford (Chicago White Sox, 2013)
Chris Smith (New York Yankees, 2013)
Jim Vahalik (Baltimore, 2013)
Al Yevoli (Chicago Cubs, 2013)
CJ Beatty (Chicago White Sox, 2014)
Stewart Ijames (Arizona, 2014)
Quincy Latimore (Pittsburgh, 2014)
Troy Marks (Arizona, 2014)
Steve Messner (San Francisco, 2014)
Scott Kalamar (Arizona, 2015)
Trevor Foss (Cleveland, 2016)
Zac Grotz (Los Angeles Dodgers, 2016)
Leon Byrd (New York Mets, 2017)
Jacob Condra-Bogan (Kansas City, 2017)
Bralin Jackson (Pittsburgh, 2017)
Nick Wegmann (Seattle, 2018)
Jesus Balaguer (Arizona, 2018)
Lucas Herbert (Arizona, 2019)
Austin Kitchen (Colorado, 2021)
Sean Kealey (St. Louis, 2021)
James Meeker (Milwaukee, 2021)
Ryan Hennen (Kansas City, 2022)
The breakdown by year: 1 (2002), 4 (2003), 2 (2004), 3 (2006), 3 (2007), 3 (2008), 1 (2010), 4 (2011), 2 (2012), 4 (2013), 5 (2014), 1 (2015), 2 (2016), 3 (2017), 2 (2018), 1 (2019), 3 (2021), 1 (2022). It's an average of 2.25 per calendar year so far since the team's birth.
---
To keep up with the countdown, see below for trips back in the past to our previous three stops on the countdown. Stay glued to our social media, website and more for more information regarding our big plans for the 20 Seasons Anniversary celebration, because it's sure to be wild. We're giving you the presents, the parties, the fun and more as a thanks for your support over the years and the support we know will continue to be shown to us.
20 Seasons Countdown History:
20: James Harris Makes History with First Wild Things' cycle
19: Barry Bonds a Wild Thing? We revisit the moment that got the Wild Things national attention!
18: Two Triple Plays in Wild Things history
17: Postseason Awards, All Stars
16: MVP's, Pitchers of the Year
15: Midseason All Stars, ASG's hosted in Washington
14: Longevity, Attendance Milestones
13: Pat McAfee: A Professional Baseball Player
12: Major Traditions
11: Unmatched Perfection: Matt Sergey's Perfect Game