Wild Things Sign Veteran IF Nick Gotta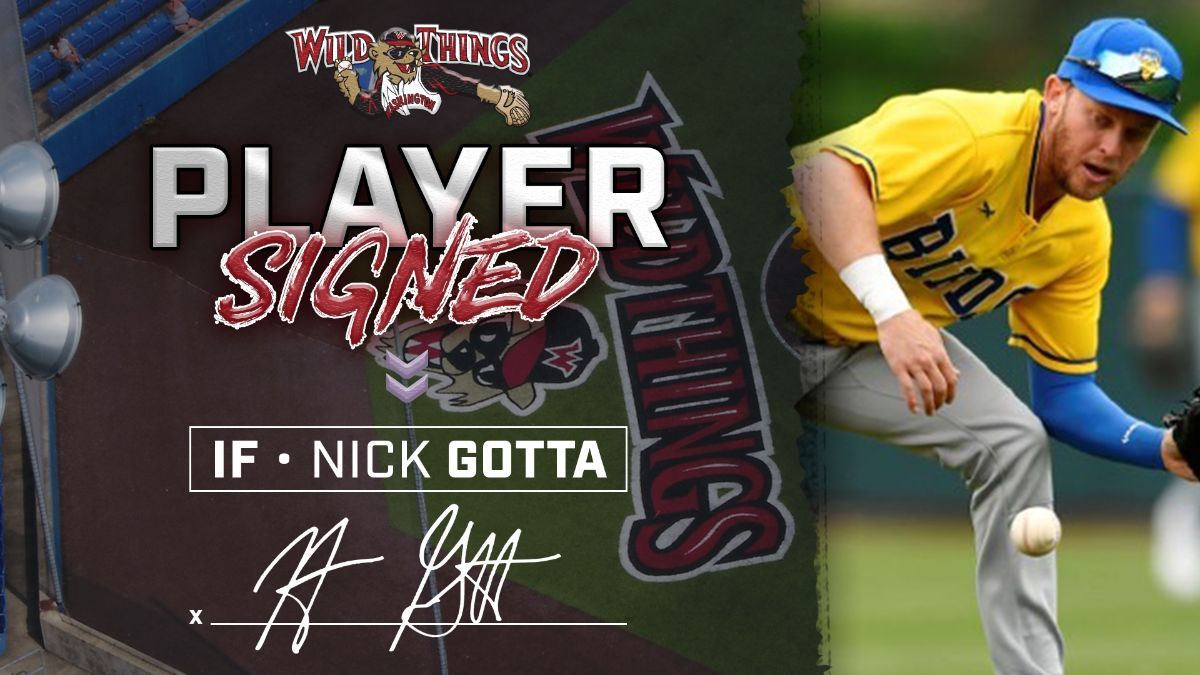 WASHINGTON, Pa. (Feb. 6) – The Washington Wild Things announced the signing of veteran shortstop Nick Gotta to a deal for the 2023 season. Gotta comes to Washington after two seasons in the American Association with the Sioux Falls Canaries and is set for his sixth independent ball campaign this year.
In 2022 with Sioux Falls, Gotta slashed .251/.389/.313 at the dish with eight doubles, two homers and 16 RBI. He also walked more times (50) than he struck out (49) in 284 plate appearances. Primarily a middle infielder, Gotta made just five errors between second base and shortstop this past season. He has also posted a good amount of time in the outfield over the past two years.
"Getting Nick done is a big signing for us. Obviously with the departure of Nick Ward, we had a big hole to fill in the middle of our defense and his athletic ability and veteran presence should help solidify that need," said manager Tom Vaeth. "At the plate, Nick has the ability to hit at the top of the order… His baserunning, and ability to get on base will provide a much-needed boost in our run production. We will count on him to be a table setter for our big boys in the middle of the lineup."
Gotta drove in 33 runs with 15 extra-base hits and a .369 on-base percentage in 2021 with the Canaries. He started his pro career in the Pecos League in 2017, where with Sante Fe he hit 10 homers and drove in 51 in 57 games and slashed his way to a .375/.481/.557 line at the dish. In 2018, he split time with Québec in the Can-Am League and Napa in the Pacific Association. He played for Sonoma (Pacific Association) in 2019 and drove in 39 runs with 84 walks drawn to 31 strikeouts. He posted a career-best .544 OBP that season.
He was an Honorable Mention All-MIAA player in two seasons at Northwest Missouri State University. In 101 games, he drew 78 walks, 45 of which set a Northwest record in 2016 for a single season. He slashed .313/.439/.437 at the school with 54 RBI and 32 extra-base hits.
"I am looking forward to contributing to such a successful club, playing for an incredible staff, getting to know the Washington community, and ultimately competing for a championship," said Gotta.
Gotta is the fifth infielder signed to the 2023 roster, joining Andrew Czech, Abraham Sequera, Ian Walters and Tristan Peterson. Scotty Dubrule and Tyler Wilber had their 2023 options exercised as well. The most up to date roster is available on the Wild Things' website. The league's transaction page is available here.
ABOUT THE WASHINGTON WILD THINGS
The Washington Wild Things are a professional baseball team that plays in the MLB-partnered Frontier League. The team has won eight division championships and has been to four Frontier League Championship Series within their numerous playoff appearances. Fans and media can stay aware of all the happenings within the Wild Things' organization, both on and off the field, by following the team's social media platforms and website: washingtonwildthings.com. For other inquiries, call the front office at 724-250-9555.
Media Contact:
Kyle Dawson
Assistant General Manager of Baseball Operations, Broadcaster
Phone: 724-250-765
Email Address: [email protected]