FLDS Game 2 Preview: Series Shifts to Washington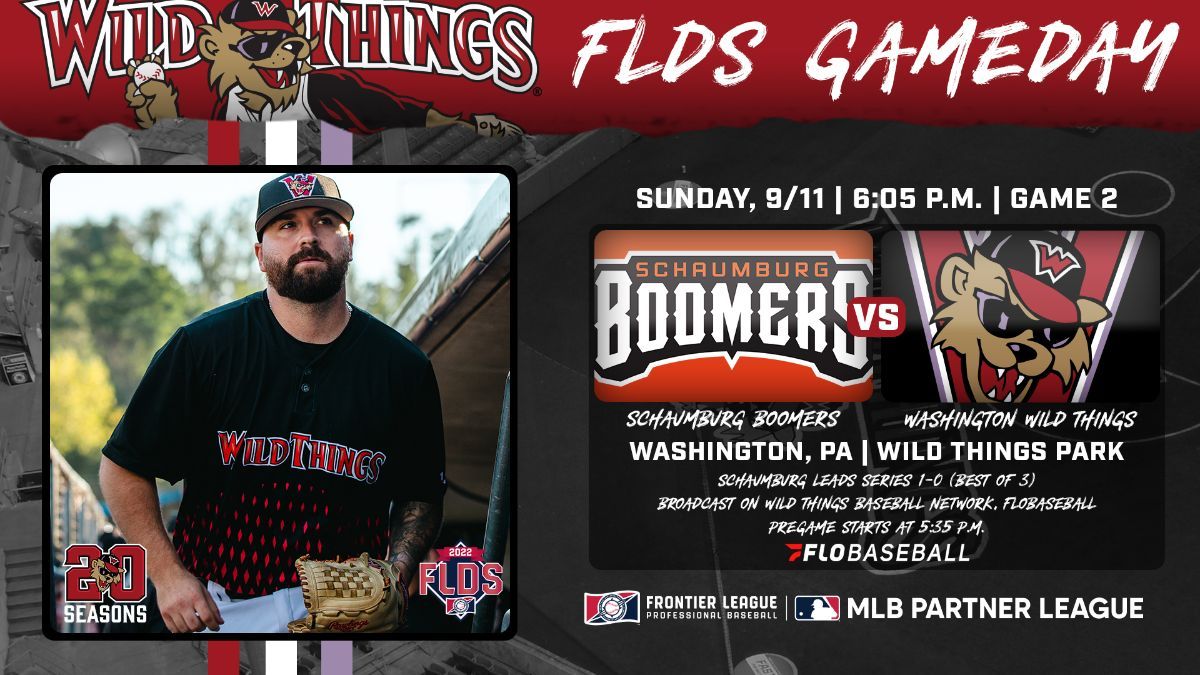 WASHINGTON, Pa. (September 11) – The Washington Wild Things and Schaumburg Boomers meet in Game 2 of the Frontier League West Division Series Sunday at 6:05 p.m. at Wild Things Park with Schaumburg leading the best-of-three series 1-0 after a Friday victory at Wintrust Field in Game 1, 11-2. That means the Wild Things face elimination Sunday at home, a ballpark where they went 37-14 in 51 home games this season.
Game one went convincingly to the Boomers Friday night, with Schaumburg becoming the first club to get to lefty Kobe Foster this season. Foster yielded seven hits and six earned runs in 2.1 innings as the starter for Washington. He didn't walk a batter and struck out five. Foster was one of four Wild Things to pitch Friday night in Game 1, with Dan Kubiuk, Daren Osby and Kenny Pierson following. In what was a tough night on the mound, none of the four had a scoreless outing and the Boomers only were tagged with two zeroes in their offensive run line throughout the game.
Schaumburg got homers from Chase Dawson, Clint Hardy and Mike Hart in the victory. The Boomers also got three RBI from Blake Grant-Parks. He, Hardy and Hart all had two-hit nights while Dawson posted three hits in the win. Cam Balego and Cole Brannen each had two hits for Washington, which only managed six hits in defeat.
Luis Perez tossed five scoreless innings with only three hits against him. He struck out four before Kristian Scott pitched a scoreless frame with two strikeouts, Jake Joyce allowed the two Washington runs on three hits in his two innings and Darrell Thompson posted three strikeouts in a one-two-three ninth to finish the game.
Washington's lone scoring play was a pinch-hit homer by Tristan Peterson, who hit for left fielder Jared Mang in the seventh. It was Peterson's only plate appearance of the night. Nick Ward had the other hit for Washington, a double late in the game.
So now Washington looks to rebound at home and even the series. The Wild Things will send left hander Rob Whalen to the hill for Game 2. The former big leaguer was 12-2 with a 3.50 ERA in the regular season. The 12 wins were tied for the league's best total and his ERA was 8th in the league. He'll be opposed by Schaumburg's Shumpei Yoshikawa. Yoshikawa will make his second start against Washington this year and his first in the playoffs. The righty made the start in Schaumburg's Wild Card-round win, logging two innings of perfect ball before the game was suspended. He set Schaumburg's new single-season strikeout record with 117 during the regular campaign.
Catch the game Sunday at Wild Things Park. First pitch is slated for 6:05 p.m. with gates opening at 5 p.m. for Game 2. Tickets are available, with the lower level sold out, at wildthingstickets.com or by visiting or calling the box office at 724-250-9555.