Wild Things Become Fastest Team to 1K Wins in FL History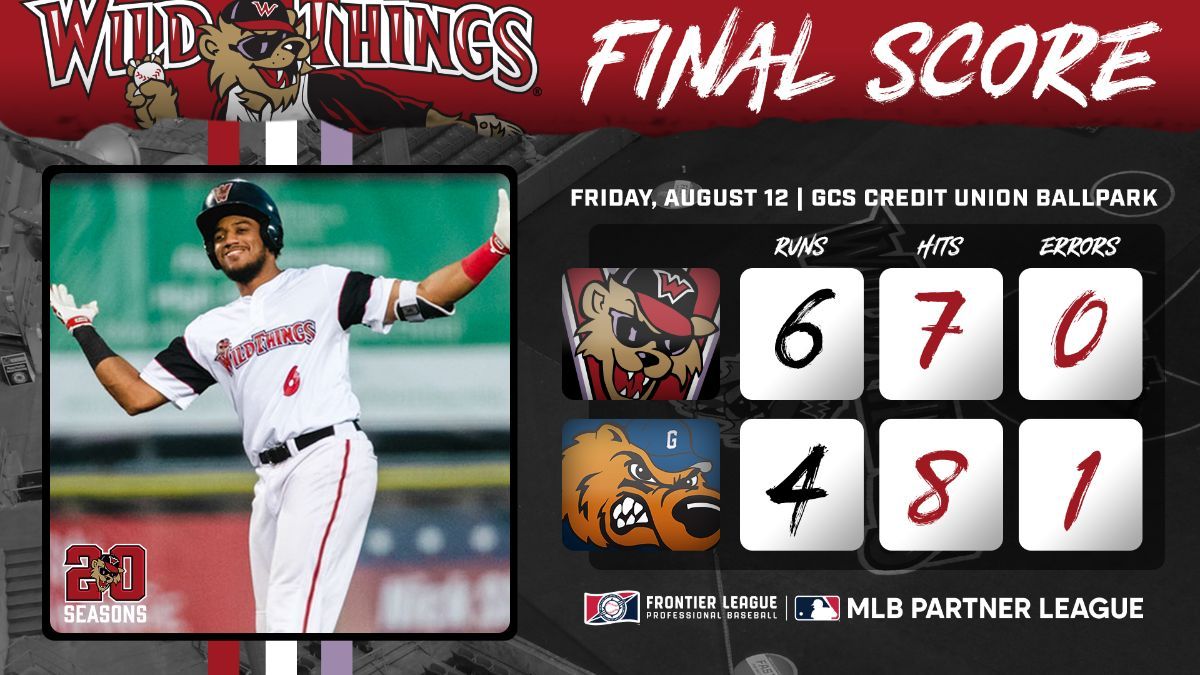 SAUGET, Il. (August 12) – After earning win No. 999 last night in Florence to earn a sweep, Washington's 51st win of the season, earned Friday night in Sauget, earned the franchise win No. 1,000. The Wild Things join the Evansville Otters, Windy City ThunderBolts (formerly the Cook County Cheetahs) and the River City Rascals (now out of the league) as franchises to hit the big milestone in Frontier League history. The Wild Things, however, are the fastest team to ever accomplish the feat. It took 1,874 games.
The win comes as the club is on pace to break its single-season wins record of 63, set in 2005, and started with a four-run third inning for the Wild Things at GCS Credit Union Ballpark in Sauget, Illinois. Jared Mang hit his 10th homer of the year on the first pitch he saw in the frame as the lead-off man, registering the game's first hit and making it 1-0.
Later in the frame, Wagner Lagrange singled home a pair and Andrew Czech brought in Lagrange with a single of his own. Washington added a run when Nick Ward doubled and scored in the fifth on a sacrifice fly by Scotty Dubrule, making it 5-0.
Gateway fought back, scoring in the bottom of the fifth on a groundout and on a Clint Freeman solo shot in the seventh. At 5-2, Gateway got two more, coming on a two-run double in the eighth by Kevin Krause. But the scoring for the Grizzlies stopped there.
Washington got a run back in the ninth on a fielder's choice off the bat of Jared Mang and an error and Lukas Young slammed the door for his 16th save of the season, which is second in the Frontier League.
Stephen Knapp got the historic win with one run allowed on four hits over six innings in what was his sixth start as a Wild Thing.
Washington earned the big win, and can now turn its attention to the middle game of the three-game series against the Grizzlies, scheduled for 6:45 p.m. CT tomorrow night. Justin Showalter (1-0, 0.00 ERA) will make his second pro start and appearcne for Washington and will be opposed by Lukas Veinbergs (4-0, 3.18 ERA).