Washington Strands 14 in Defeat, Doesn't Lose Standing in West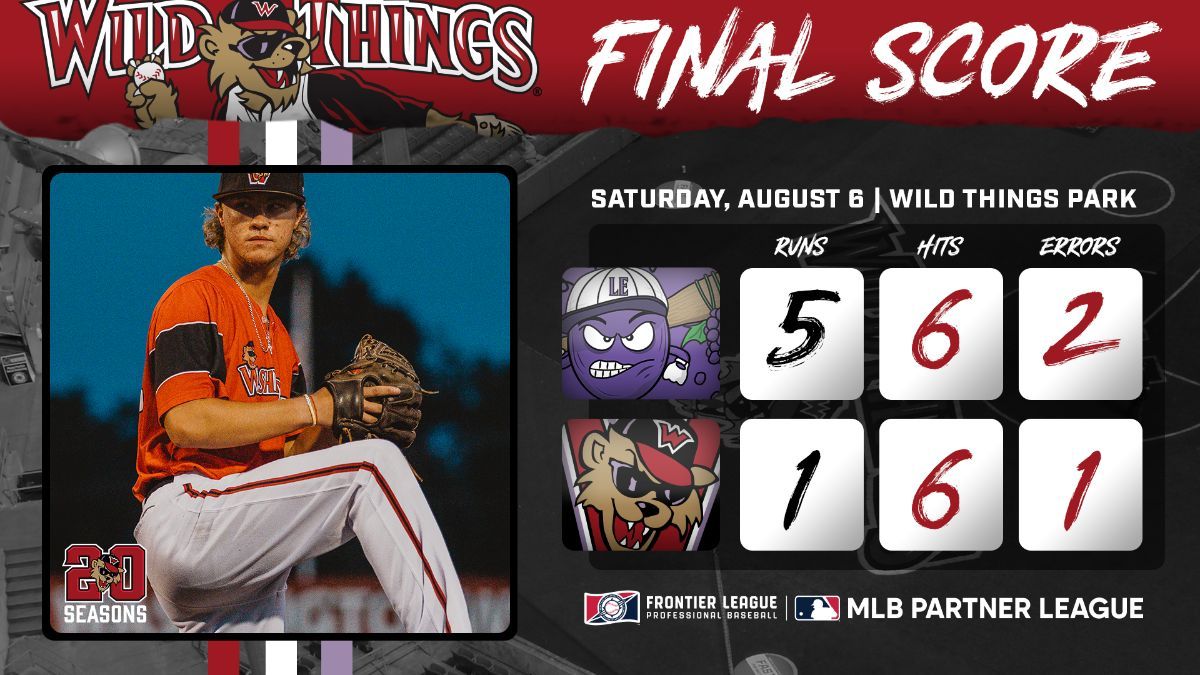 WASHINGTON, Pa. (August 6) – The Washington Wild Things lost to the Lake Erie Crushers 5-1 after a failed comeback attempt. Runs in the third and strong defense by Lake Erie led to the outcome of the game, while Washington had just one hit with runners in scoring position in 17 trips in the situation and stranded 14. The good news is the loss didn't displace the Wild Things in the standings. Losses by Joliet and Evansville shrunk both Washington's division magic number and playoff magic number tonight.
Stephen Knapp, who started on the mound for Washington, allowed the first runs when Lake Erie's Connor Owings hit a two-run RBI double to right field. The third run by Lake Erie went against Landen Smith when Isaac Mattson's inherited runner reached home on a wild pitch to make it 3-0 in the sixth.
The lead was extended in the ninth when Kenen Irizzary hit a two-run RBI single to center against Jake Pilarski to make it 5-0 going into the bottom of the ninth.
In Washington's last chance at bat, Devon Fisher got hit by a pitch and reached second on a groundout by Cole Brannen. Fisher scored Washington's lone run when Hector Roa hit an RBI single to centerfield. After the bases were loaded with the tying run at bat, Andrew Czech and Tristan Peterson both struck out, ending hopes for a comeback and the game.
Knapp pitched for five innings this start. He allowed two runs, four hits and struck out three. Smith relieved him to start the sixth, allowing one run via an inherited runner and one walk before he was pulled after two outs for Mattson. Mattson pitched 1.1 innings, allowed one hit, three walks and struck out one in his time on the mound. Pilarski closed for Washington after coming in for Mattson in the eighth. He pitched two innings, allowed two runs, one hit, walked three and struck out two.
Washington (46-25) and Lake Erie (34-37) face off in the series' rubber game tomorrow for Superhero Night presented by Malesic & Evans at Reality One on a PA Virtual Kids Eat Free Sunday. First pitch is at 5:35 p.m. Tickets can be found at wildthingstickets.com.