Washington Wins in Sudden Death to Sweep Capitales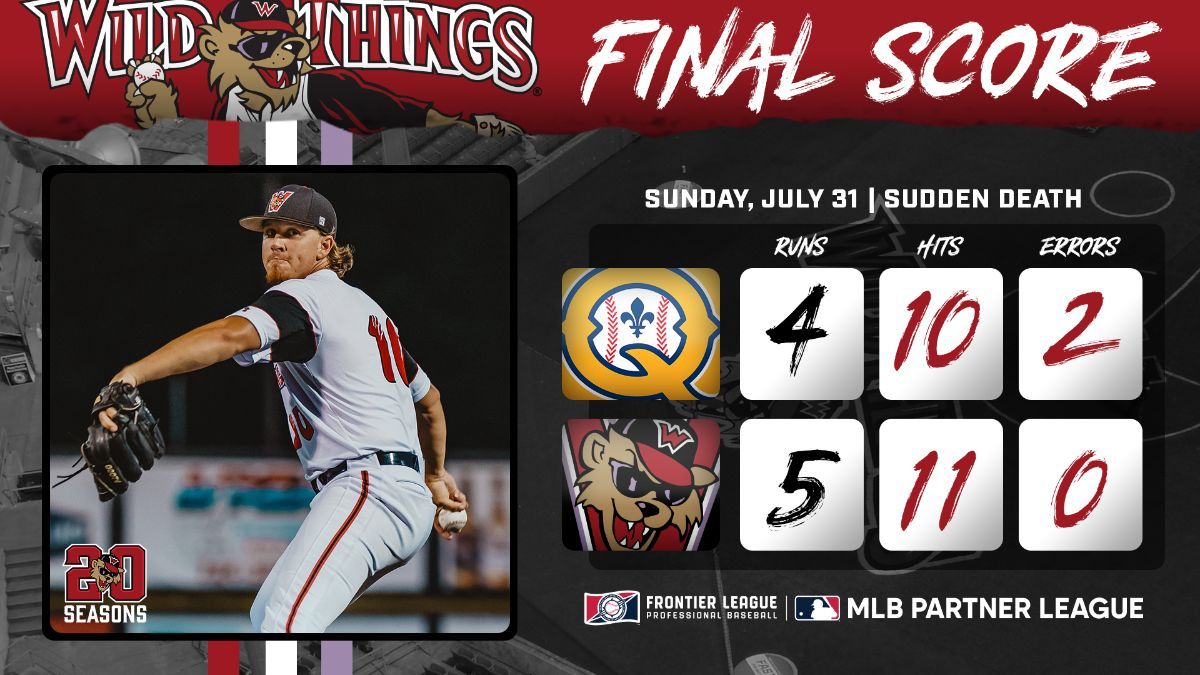 WASHINGTON, Pa. (July 31) – The Washington Wild Things downed the Québec Capitales in sudden death 5-4 on Halloween Night. The late-game heroics of Lukas Young helped Washington to achieve the sweep over the East-Division-leading Québec.
The Capitales led 4-3 after the top of the eighth before Washington's Hector Roa tied the game by scoring on a wild pitch. Neither team scored in the ninth, taking the game to the 10th inning. Each team got a chance at bat, starting their chances with a runner on second. Both defenses held, forcing sudden death.
Washington, being the home team, decided to take defense, giving Québec offense. Québec had a runner on first to start, and if they or another Québec batter made it home, the Capitales would win. Washington, however, would be allotted a run and the win if they prevented the runners from reaching home.
The first out came when Young picked up a bunted ball and threw out the Capitales' batter at first on a sacrifice bunt. The next batter popped a fly ball that Ian Walters caught to get the second out. Washington intentionally walked the next batter to add a second runner on base. Both advanced on a wild pitch, but Washington pulled out the win when Nick Ward caught a pop fly to end the game.
Young, who got the win this game, pitched for three innings, entering in the ninth. He allowed no runs or hits, walked one, and struck out three.
Daren Osby, who started for Washington, pitched six innings, allowed two runs, eight hits, walked two and struck out five. Dan Kubiuk relieved Osby in the seventh, pitched one inning, walked one and struck out two.
Walters hit an RBI single in the fourth to get Washington's first run, tying the game at 1-1. Jared Mang hit a two-run home run in the fifth to get Washington a 3-1 lead before Christian James allowed two runs to give Quebec the 4-3 lead after a homer made it 3-2.
Washington (43-23) hosts the Gateway Grizzlies for a series starting Tuesday, August 2 for Bark in the Park, presented by Susan Marshall at Baird. Tickets can be found at wildthingstickets.com.