Ottawa Walks Off in Middle Game, Evens Set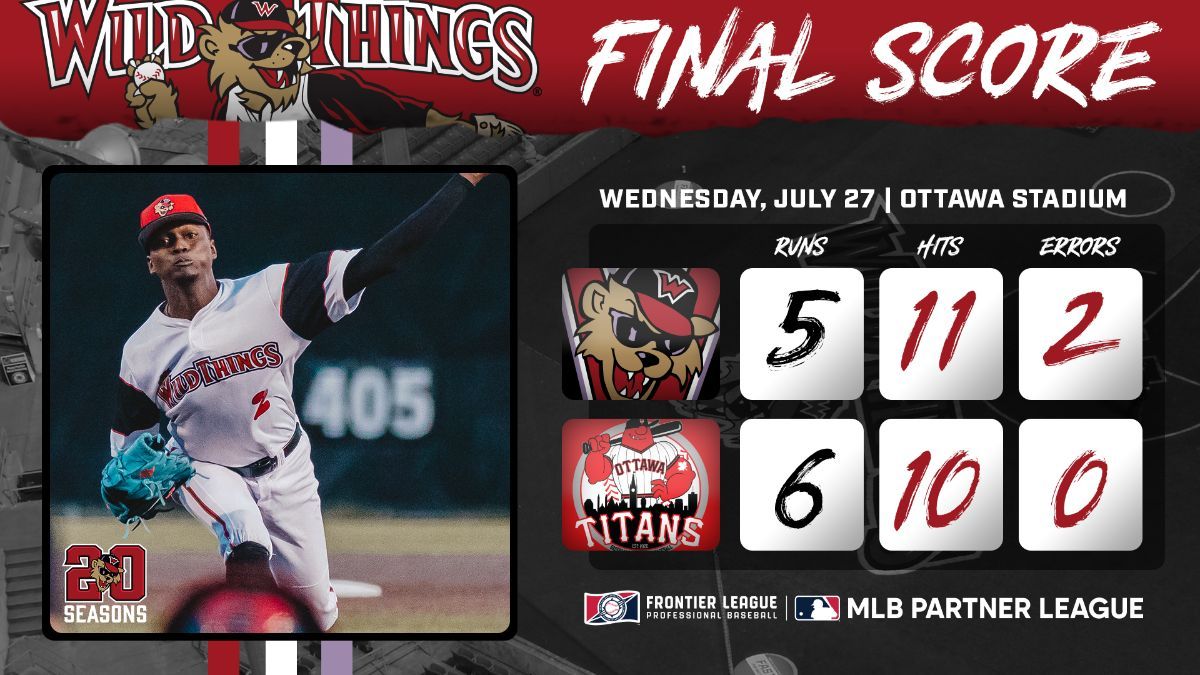 OTTAWA, ONTARIO, CANADA (July 27) – Washington led 5-2 heading to the bottom of the ninth but for the only the second time this season, Lukas Young blew a save, as Ottawa scored four in the ninth to take the middle game 6-2 and even the series. Washington still holds at least a two-game lead in the West, pending the outcome of the Evansville and New York game being played tonight.
For the first time on the trip North, Washington failed to score first, as its first six hitters were retired by righty starter Jose Taveras for Ottawa. The Titans plated two unearned runs on an error and an RBI single by Mitsuki Fukuda in the second against Washington lefty Sandro Cabrera.
That's all Cabrera would allow, however. As Washington woke up offensively and began its scoring, Sandro pitched well. He ended up picking up a no decision with seven innings of six-hit ball. Both unearned runs went against him, and he walked three as well as fanned three, using 105 pitches in the outing. Ottawa had threatened a couple more times but couldn't manage anything against the southpaw.
Washington plated its first run in the third when Ian Walters hit a home run, his ninth of the year, to give Washington its first baserunner, hit and run. In the fourth, the Wild Things got two more, one an RBI double by Tristan Peterson and the other on an RBI liner to center by Hector Roa. The Wild Things added insurance runs in the seventh and eighth innings. In the seventh, catcher Devon Fisher chopped a single to left over a leaping third baseman in AJ Wright, which plated a run to make it 4-2 Wild Things. In the eighth, Peterson grounded a ball at the left side on which Wright tried to make a diving play. The ball hit off Wright's glove and got far enough away on the bounce to allow Scotty Dubrule to score from second to make it a three-run game.
Stephen Knapp tossed a perfect eighth. But Ottawa got four off Washington closer Lukas Young capping the comeback win with a walk-off single to right by Clay Fisher after Jackie Urbaez had tied the game with a two-run single following an RBI single by Kai Moody. The loss is the first in which the Wild Things led after eight innings this year. They're now 33-1 in those instances.
The Wild Things and Titans will conclude the season series with the finale tomorrow night at 6:30 p.m. Righty Rob Whalen (10-2, 3.29 ERA) takes his league-leading 10 wins to the hill tomorrow against lefty Evan Grills (4-3, 2.83 ERA), who is fourth in the league in ERA.