Daren Osby Dazzles, Wild Things Score Early En Route to Win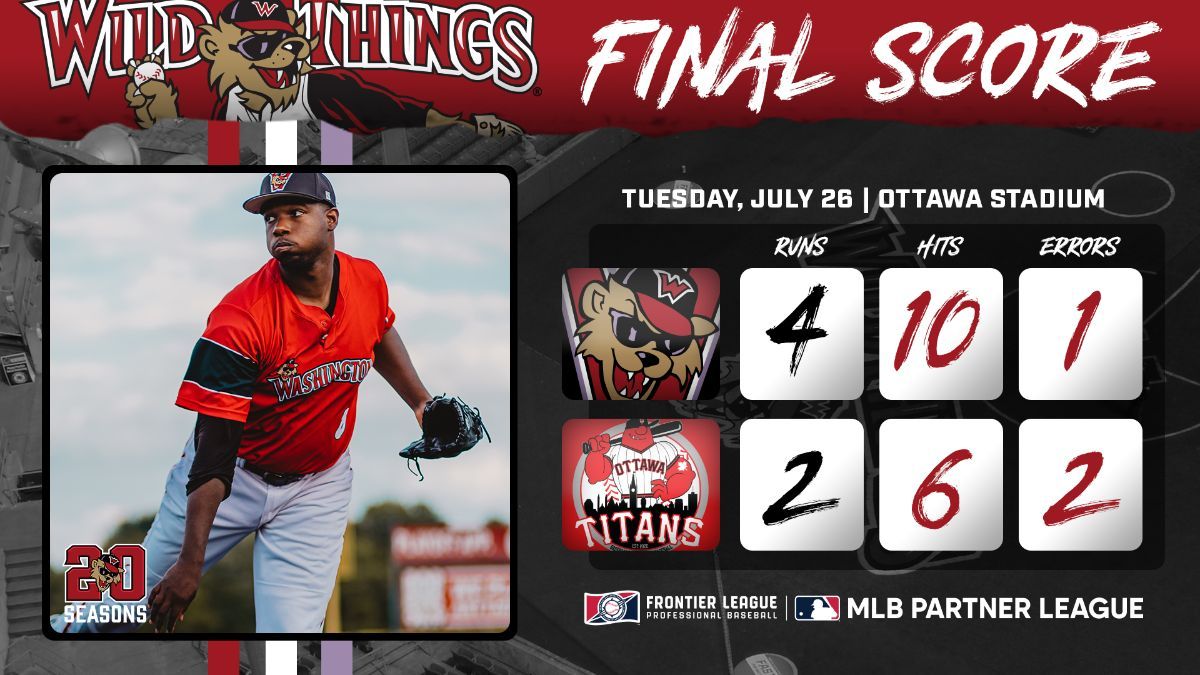 OTTAWA, ONTARIO, CANADA (July 26) – A three-run first for Washington and a good start from right hander Daren Osby were the catalysts in Tuesday's series opener at Ottawa Stadium, as the Wild Things upended the homestanding Titans, 4-2
Washington opened the scoring in the first inning for the third time on this road trip north of the border and scored three in the first frame. Andrew Czech returned to the lineup after missing the weekend series in Trois-Rivières with an RBI double to score left fielder Breland Almadova. Scotty Dubrule then scored on an RBI single by Hector Roa and Czech came in on the first of two run-scoring hits to start Nick Ward's night, making it 3-0. The Wild Things tagged Chris Burica, the loser Tuesday, for five hits in the first inning.
Ward added on to the Washington lead and made it 4-0 in the third with an RBI double that scored Roa. Daren Osby didn't allow Ottawa to score until the fifth, when Jacob Talamante, who had robber Ward of another extra-base hit and an RBI in the top of the fifth, singled home two to cut Washington's lead to 4-2.
Osby ended up going seven innings and twirled three double play balls, including one to get out of the seventh unscathed with the tying run aboard for the Titans. He earned his fourth win of the campaign and allowed six hits and the two runs with one walk and three strikeouts.
Kenny Pierson logged a scoreless eighth in set up work for Lukas Young, who notched his 13th save of the season with a one-two-three ninth inning.
The Wild Things and Titans will play their middle game tomorrow night at 6:30 p.m. Lefty Sandro Cabrera (6-2, 4.16 ERA) will take the mound for Washington and be opposed by Ottawa righty Jose Taveras (5-0, 5.00 ERA).