Washington Routs Aigles to Clinch Series Win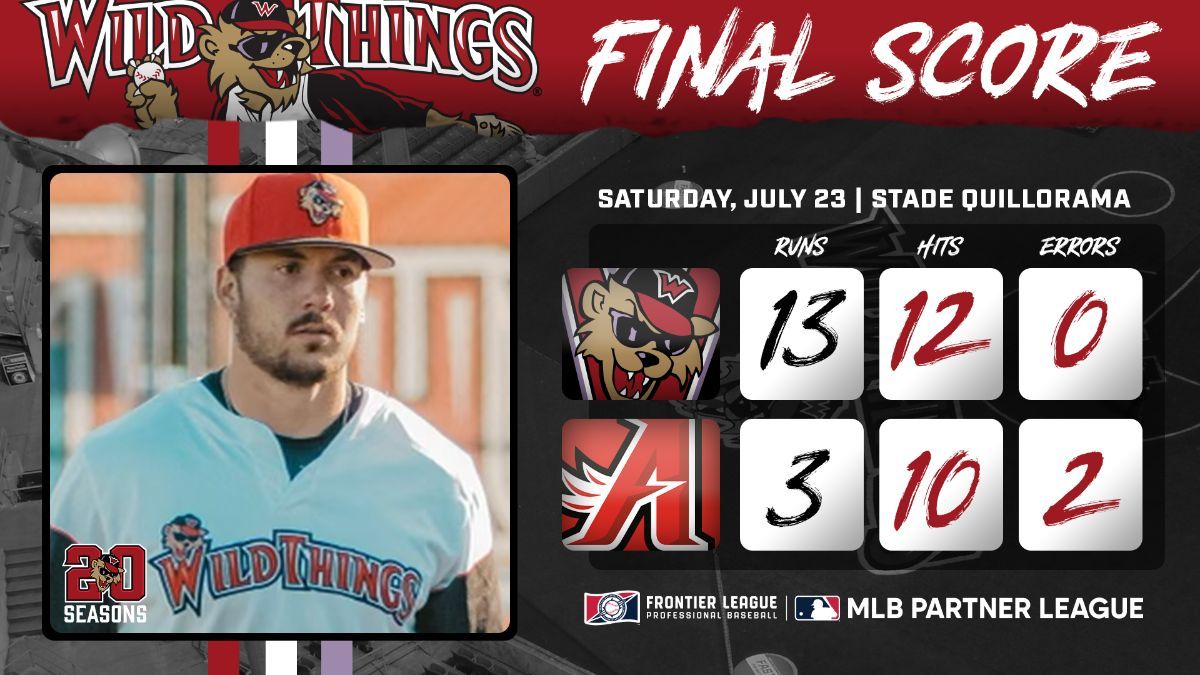 TROIS-RIVIÈRES, QUÉBEC, CANADA (July 23) – -Washington used consistent offense throughout the middle game with the Aigles to clinch a series victory, which also earned right hander Rob Whalen his league-leading 10th win of the season. Washington upended Trois-Rivières by a final of 13-3.
Both teams scored in the first inning on outs. With Breland Almadova at third after doubling earlier in the frame and advancing, first baseman Tristan Peterson notched an RBI in the first for the second-straight night, this time with a sac fly to make it 1-0 Washington. The Aigles got it back on a groundout to score LP Pelletier, who doubled on the first pitch he saw in the inning.
That stopped the scoring for a bit for the home team while Washington started the onslaught in the third with four tallies. Chris Eusay hit his first homer as a Wild Things before a wild pitch scored another run and a two-run double by Ian Walters plated the final two of the frame, giving Washington a 5-1 lead.
That grew with a three-run fourth and a three-run sixth for the visitors. Scotty Dubrule hit an RBI double to plate Almadova before scoring on a Peterson home run, his first of the season in the fourth. In the sixth, Peterson reached on an error and a run scored, Nick Ward hit a fielder's choice for a run and an errant throw on a pickoff try scored a third and made it 11-1.
Trois-Rivières got a run back in the bottom of the sixth on a Steve Brown sac fly to make it 11-2. But Washington added in the eighth. Tristan Peterson hit a fielder's choice for his fifth RBI of the night and Hector Roa lifted a sac fly to plate a 13th run, making it an 11-run lead for the Wild Things.
Rob Whalen's night ended after seven innings of work, in which he allowed two runs on eight hits with six strikeouts. The win, his 10th, pulls him into a tie on the single-season Wild Things' leaderboards in the category for 7th. The record is 14.
Kenny Pierson pitched the eighth and Christian James the ninth to close the win out for the Wild Things. James yielded a run in the ninth on an RBI single by T-R's Raphael Gladu.
The Aigles and Wild Things lock horns for the final time this season tomorrow with the series finale scheduled for 1:05 p.m.