Wild Things Take First Meeting with Aigles, Score 12 in 6th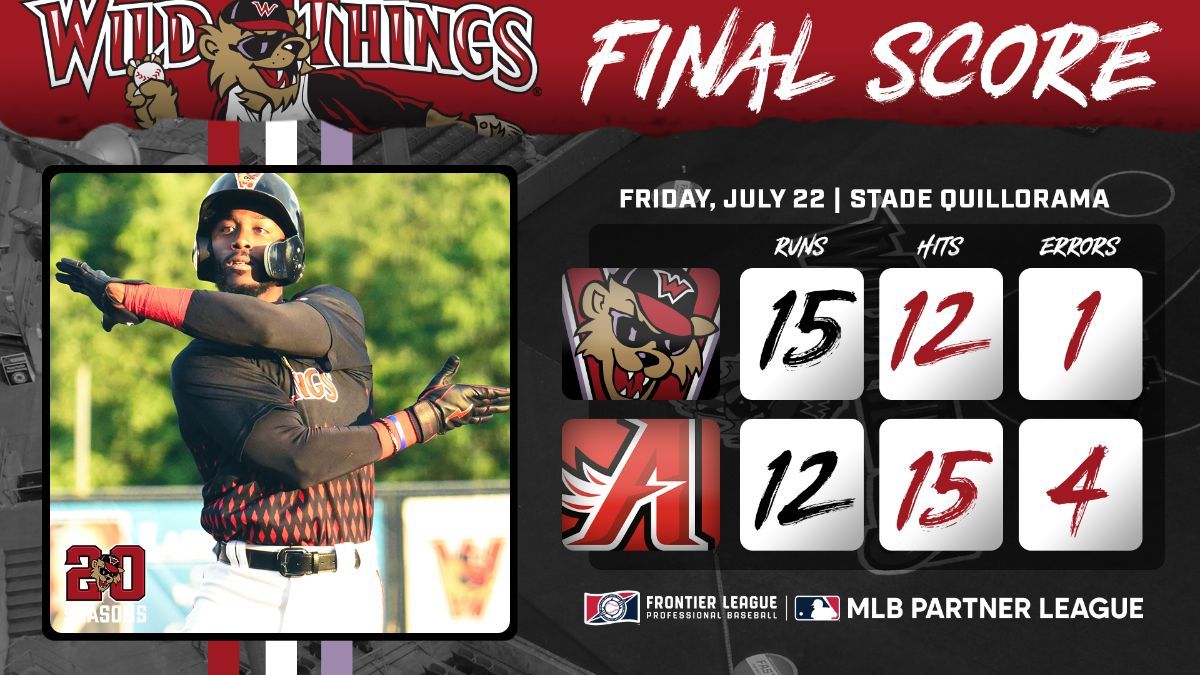 TROIS-RIVIÈRES, QUÉBEC, CANADA (July 22) – Washington's 12-run sixth inning took the series opener in Trois-Rivières, Québec, Canada from a 4-3 deficit to a 15-4 lead, and the first-place Wild Things did not look back, as they took the first-ever meeting with the Trois-Rivières Aigles, 15-12.
Washington started the scoring when freshly-signed infielder Tristan Peterson, who was with the club late last season, singled home newly-signed outfielder Breland Almadova. Trois-Rivières got two in the bottom of the first on a homer by LP Pelletier and a Carlos Martinez run-scoring single. The back-and-forth work continued in the top of the second with Washington plating a run on an RBI hit from Jared Mang to tie it.
It didn't last long as the Aigles scored after a pop up in the infield turning into a debate at first when a chance for two was lost when pitcher Sandro Cabrera was called off first base. While Cabrera debated, a run scored. The Wild Things tied it in the top of the third when Chris Eusay, who tripled to start the frame, scored on a wild pitch.
The scoring halted until the bottom of the fifth when Raphael Gladu hit a sac fly to score a run but Juan Kelly was thrown out in between second and third after trying to advance, ending the inning, which proved to be potentially costly.
The Wild Things piled together eight hits, drew some walks and were helped by three Trois-Rivières errors in the sixth en route to a 12-run frame, their biggest inning of the year by hits and runs. Hector Roa knocked in three in the inning with two hits, Nick Ward had two hits and an RBI, Scotty Dubrule drove in a run with a single, Peterson picked up a second RBI, Chris Eusay drove in a run, Ian Walters had an RBI hit and Breland Almadova plated a run with a groundout.
Sandro Cabrera got his sixth win of the year with six innings of four-run ball. Three of the runs were earned.
The Aigles got a handful back in the ninth on an RBI double by Juan Kelly and a grand slam by Raphael Gladu against Kaleb McCullough. A sixth run in the inning scored on an RBI single by Roberto Sanchez that made it 15-10 before Stephen Knapp came in. Kelly doubled home two more to make it a three-run game, but that was all the Aigles would get.
The Aigles and Wild Things will meet again tomorrow for the middle game of the set at Stade Quillorama. First pitch is scheduled for 6:05 p.m. with right hander Sam Poliquin (4-3, 4.44 ERA) set to make the start for Trois-Rivières. Rob Whalen (9-2, 3.36 ERA) will toe the rubber for the Wild Things.