2nd Three Rivers Celebrity Softball Game a Huge Success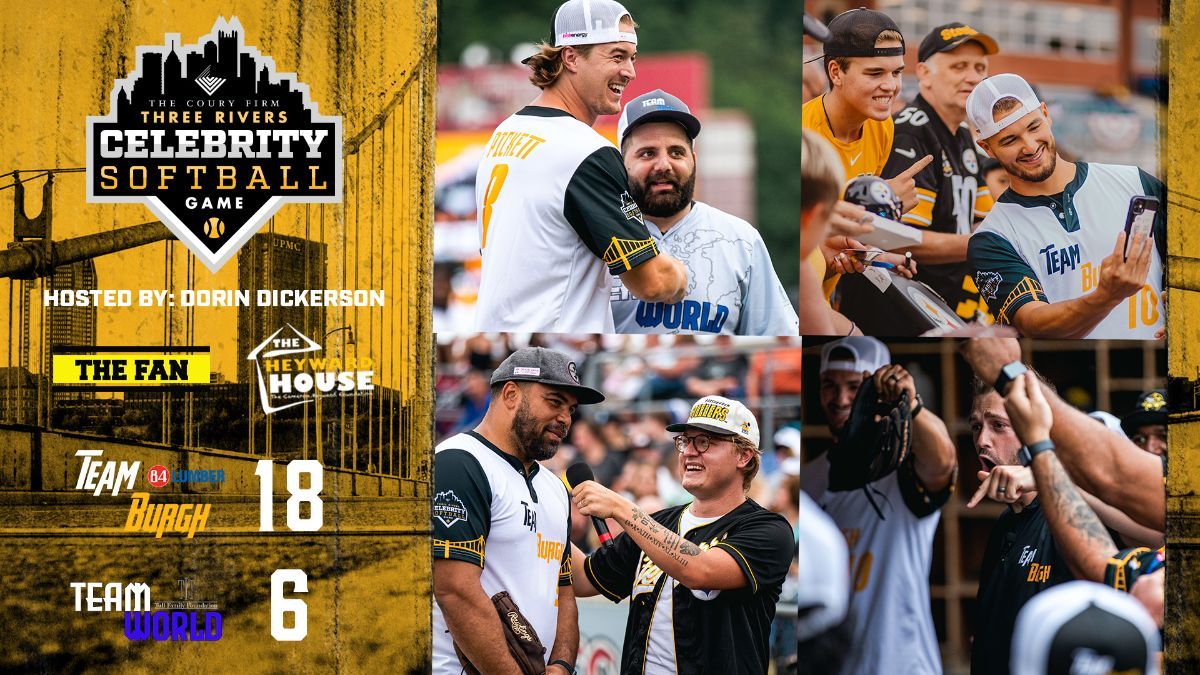 WASHINGTON, PA (July 16) - All-Star Week has arrived in Washington and the 2nd Annual Three Rivers Celebrity Softball game, presented by The Coury Firm, brought all the stars to Wild Things Park. Team World presented by the Tull Family Foundation, and Team Burgh presented by 84 Lumber, competed in an action-packed five-inning contest, following a day of Wild Things fun for a good cause. Team Burgh would take the game 14-4.
Half the proceeds from the game go directly to Team Burgh and Pittsburgh Steeler Cam Heyward's organization: The Heyward House.
"To provide an opportunity to just hang out and have fun and you know, take it all in, it's pretty special," Heyward said. "I try to set the example for my kids, letting them understand that we have to be people in the community and continue to help out, continue to you know, just have fun. There's so many ways to have fun and give back to the community."
Heyward was joined by Pittsburgh legends, old and new, and even invited some out-of-town talent to give back to the community. Former NBA star and current analyst for ESPN Jalen Rose expressed his appreciation.
"I'm happy for Cam, there are people that don't just take their time and energy and their money to start foundations to give back to the community," Rose said. "Those are extra special human beings, I appreciate all the people that did show up and I appreciate him."
Team World got off to an early lead with a towering two-run run blast off the bat of professional wrestler Adam Scherr, also known as Braun Strowman, to make it 2-0 in the first inning.
"Man, this is what it's all about," Scherr said. "So many times in life, I've questioned myself why I continue to do what I do to the pain that I go through missing out on so much in life with my family, but when I come out here, see the smiles on the kids' faces, it makes it all worth it. I mean, at the end of the day, I'm just trying to leave the world a little better than I found it."
Scherr made note of the lively crowd of 3,000 and change at Wild Things Park.
"The fans are unbelievable; the turnout tonight was awesome," Scherr said. "Everybody was just excited to be here and to be a part of a great community and sold out stadium. What else can you ask for?"
Team Burgh laid it on in the bottom of the inning, with Steelers 2022 first-round draft pick Kenny Pickett driving in Team Burgh's first run, and Steelers linebacker Alex Highsmith tied things up at two apiece in the next at-bat. Team Burgh would lay on three more runs in the inning, highlighted by a Dorin Dickerson homer, making it 5-2 and retiring the side.
"I think it was a great night," Pickett said. "It's awesome that a lot of fans that came out to support. We played great, It was a great game, and it was a lot of fun to be out here and give back."
Pittsburgh Steelers quarterbacks were in abundance in Washington, with new addition Mitch Trubisky showing out at third base for the game.
"It's awesome stuff to be a part of: Cam's team did a great job putting this on," Trubisky said. "It's just amazing to be out here in front of fans and for the community and interact with them, so I'm just happy to be here and feel very lucky and very fortunate. And it's an awesome place to be, we had a lot of fun tonight and it was great to be in the community."
Penguins goalie Casey DeSmith pulled off a nice double play in the top of the second to retire the side, catching a pop fly at second and throwing out the returning runner at first. Team Burgh would tack on one more run in the bottom of the frame, extending the lead to 6-2.
Team World catcher and Internet personality Jersey Jerry would tighten the score with a solo blast in the third, making it 6-3. Team Burgh would not take it lying down, however, sending 5 runs across highlighted by a two-run blast off the bat of Kenny Pickett.
Braun Strowman drove in a run in the fourth for Team World, which brought the score to 11-4. Dorin Dickerson would respond with his second homer of the game for Team Burgh, followed by another two runs that half inning to bring the tally to 14-4 heading into the final inning.
Team Burgh's final inning was riddled with defensive perfection, with impressive catches from Calvin Austin III and Cam Heyward, and capped off with a Pickett behind-the-back putout to end the game, 14-4.
The two teams got together after for a home run derby, where Team Burgh also prevailed over Team World.
Cam Heyward's brother, Connor, also participated and showed gratitude to his older sibling.
"I've always been passionate about what my brother's passionate about," Connor said. "My goal was to always give back to the community no matter where I played. Ever since I can remember, he's always been a good brother," Connor said. "Setting a good example is just the right thing. I just tried to learn something from him every day and you know, it's just the beginning."