Washington Bats Sputter in Series Finale Loss to Grizzlies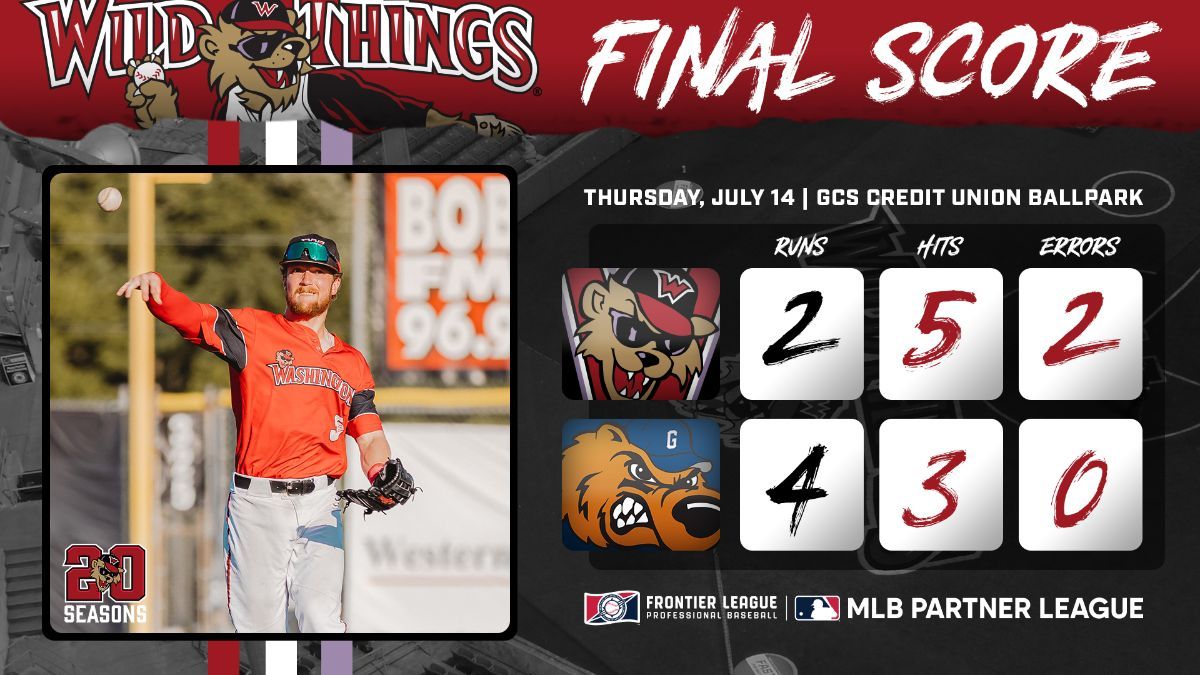 SAUGET, Il. (July 14) – In a well-pitched series finale, Washington's offense struggled to muster anything after a two-run first inning and the Wild Things dropped their second-straight series two games to one. It's the first string of back-to-back series losses for the first-place club since the first two sets of the year, but Washington will at worst be tied for first heading into the weekend and final series before the break. The final was 4-2 against Gateway Thursday.
For the third-straight night, Washington started the scoring with a multi-run first. This time the Wild Things got two. For the second-straight night, all-star shortstop Nick Ward swung at the first pitch of the contest and hit it over the right-field wall. The homer was his 15th of the year and served as his 45th RBI of 2022. Later in the frame a double play off the bat of Wagner Lagrange plated Jared Mang to make it 2-0.
But, for the third-straight night too, Gateway scored a run in the first inning to respond. Zach Racusin grounded in an unearned run as Andrew Penner had reached on a Hayden Pearce error, to make it 2-1. Gateway added two in the third on a two-run homer by Penner and a run in the fourth off a homer by Trevor Achenbach, his 18th of the year.
All the while, Carson LaRue settled in for Gateway. After an Andrew Czech single that followed the Lagrange double play ball, LaRue set down 13-straight batters, including seven strikeouts before Ward broke that string with a walk drawn to lead off the sixth.
Both offenses continued to sputter though both had at least two baserunners after the sixth. Hayden Pearce suffered the loss after allowing four runs (three earned) in seven innings. Former Wild Thing John Murphy saved it for Carson LaRue who allowed just the two runs over seven innings. Murphy struck out the side in the ninth for his sixth save of 2022.
Washington's road trip continues as the team makes its way back toward Washington, Pennsylvania, with a stop in Evansville, Indiana, for a three-game, weekend series with the Evansville Otters in a matchup of the top two teams in the West Division. The series opener, and first meeting with Evansville since 2019, is slated for 7:35/6:35 p.m. CT.