Wild Things Slug Way to Win in Middle Game in Sauget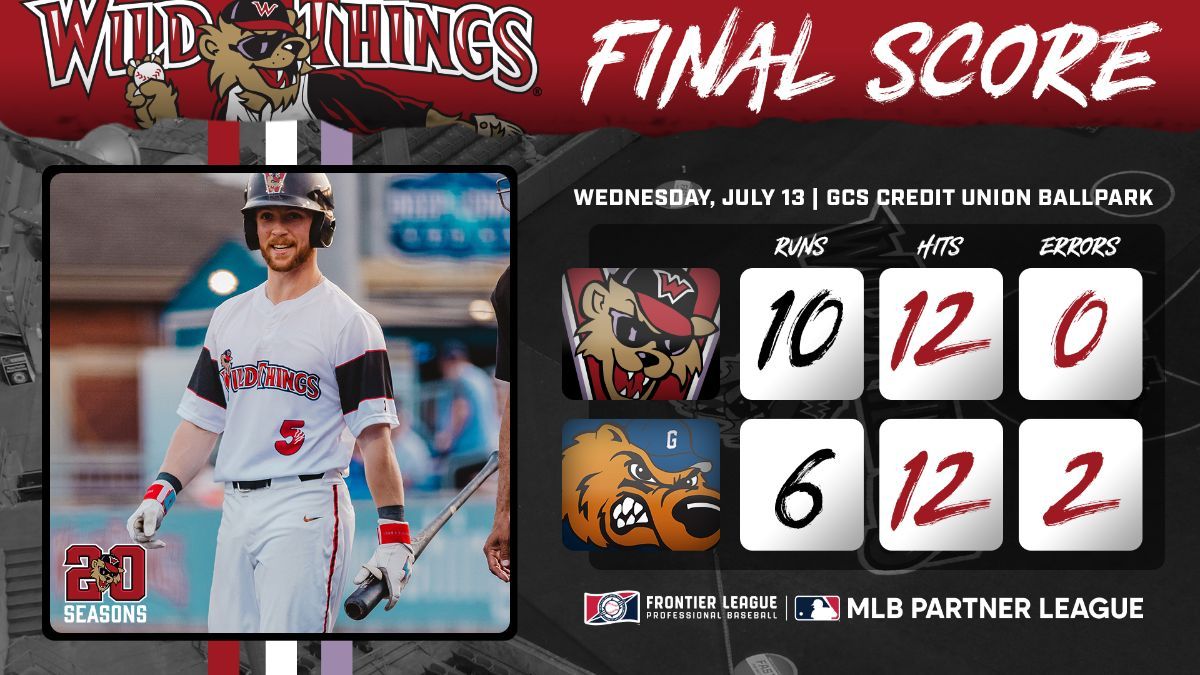 SAUGET, Il. (July 13) – Behind 10 runs in the first four innings, Washington earned a series-evening win over the Gateway Grizzlies at GCS Credit Union Ballpark in Sauget, Illinois Wednesday, 10-6. The win, coupled with an Evansville loss in a day game at Schaumburg, puts Washington back up a game in first in the West Division with four games to go before the All-Star break.
Washington opened the scoring but did more tonight than it did in the series opener Tuesday night by scoring four in the first inning, all of which came in on home runs. Nick Ward took the first pitch of the game over the right-field wall for his 14th homer of the season. After Jared Mang and Scotty Dubrule singled to get on, Ian Walters, granted a few batters later, hit his first homer since June 16 on the first pitch he saw to make it 4-0.
Gateway got on the board in the bottom of the first on a double play but Washington got that tally right back in the second with an RBI single by Ward to extend the lead. Ward knocked home two more to get to four RBI in the third with his third hit of the game, which made it 7-1 Washington.
The Grizzlies responded with a solo shot by Zach Racusin in the third before the Wild Things got three more on Hector Roa's fourth homer of the year in the fourth. Gateway's Cesar Trejo continued the trend of homers with a solo home run in the fourth to cut Washington's lead to 10-3. The host Grizzlies scored for the third-straight inning on a Trevor Achenbach sacrifice fly in the fifth to make it 10-4.
Stephen Knapp got a zero to end his night and got the win, his first as a Wild Thing, with six innings of work. Knapp allowed nine hits and four runs, two of which came on the solo homers, with two strikeouts.
Gateway got two in the seventh against Kaleb McCullough, who didn't record an out. He left in favor of Christian James who came on with the bases full and nobody out in the frame and got a huge double play and a strikeout to end the inning with no more runs coming across. James ended up striking out the side in the eighth before Lukas Young worked a scoreless ninth to seal the win for Washington and even the three-game series.
The Wild Things and Grizzlies meet in the rubber game of the series tomorrow, Thursday, July 14 at 7:45/6:45 p.m. CT.