Comeback Effort Falls 180 Feet Short in Series Opener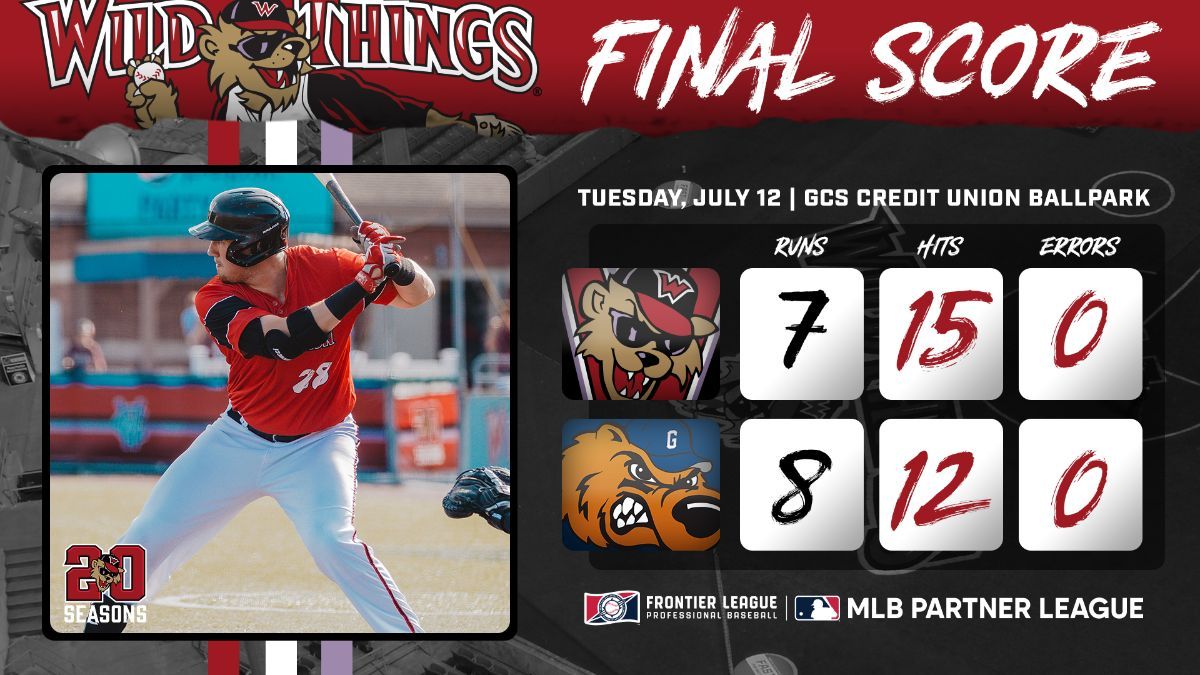 SAUGET, Il. (July 12) – After scoring the first two runs of the game and re-taking the lead in a see-saw affair in Sauget, the Wild Things fell to the Gateway Grizzlies (28-25) by a final of 8-7 after getting the tying run to second in the ninth. Washington's loss is its fourth in the last five outings and the Wild Things (33-19) saw their West one-game lead shrink to a tie after Evansville won tonight.
The visitors scored twice in the first inning after Nick Ward and Jared Mang both doubled to start the game. Later in the inning, Wagner Lagrange grounded Ward home from third and Mang scored on an RBI single from Andrew Czech, the first of his three hits and three RBI in the contest.
Gateway responded quickly in the bottom of the first with a sacrifice fly and a groundout to score twice in an inning marred by three Sandro Cabrera walks. Hector Roa's RBI single in the third inning gave the Things the lead back in the third before Isaac Benard hit his 12th homer of the season, a two-run shot off Cabrera, in the fourth to give the Grizzlies their first lead of the game.
It didn't last long, however, as Washington plated three in the fifth, one on an RBI two-bagger by Lagrange and two on a single by Czech, who took over the team lead with his 40th and 41st RBI of the season on the base knock. But after Kenny Pierson put up a zero in relief in the fifth, the first five to come to the dish in the sixth against the lefty secured hits, highlighted by Trevor Achenbach's three-run homer, his 17th, and an RBI double by Clint Freeman that turned out to be the difference.
Niko Pacheco hit his first homer as a Wild Thing to right field in the eighth and Scotty Dubrule hit an infield single in the ninth to give Washington a chance, but all star and former Wild Thing John Murphy struck out Lagrange and Czech to earn his fifth save after that.
Cabrera allowed five hits and four runs with six walks in four innings for a no decision, while Pierson suffered the loss after 1.1 innings of six-hit, four-run ball. Dan Kubiuk and Christian James combined to go 2.2 scoreless. Nick Kennedy got the win, his first, for Gateway with three scoreless relief innings of starter Jared Milch, who allowed 10 hits and six runs in four innings.
Washington will try to snap the funk and get back in the win column tomorrow in the series' middle game. First pitch at GCS Credit Union Ballpark is slated for 7:45/6:45 p.m. CT.