Wild Things Now Have 8 All Stars, Staff Will Lead West Division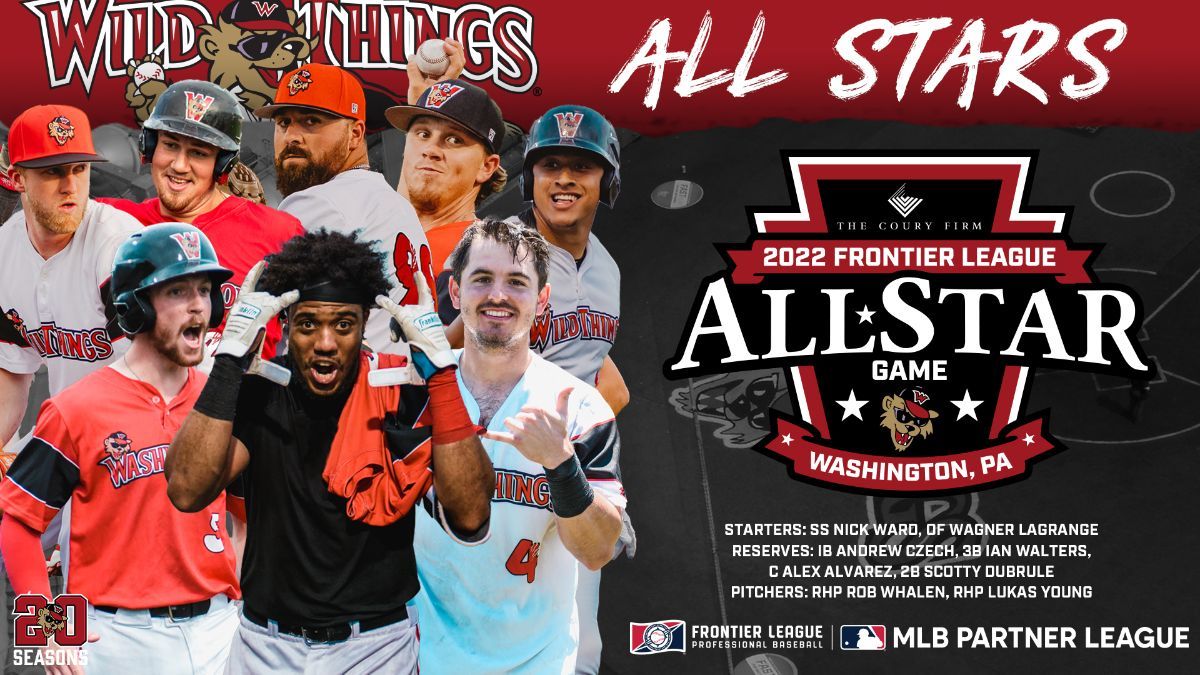 WASHINGTON, Pa. (July 11) – The Frontier League has announced its rosters for the upcoming 2022 Frontier League All-Star Game, presented by The Coury Firm, in Washington, Wednesday, July 20. Washington has seven All Stars at first announcement, with a chance to have more added when the final three players are added by each division's managers, which will be decided this coming Wednesday at the end of the night.
The seven all stars are the most for any Frontier League team, with the Ottawa Titans being the closest to the Wild Things with five. Washington's seven All Stars are shortstop Nick Ward, who will start the game, outfielder Wagner Lagrange, who will also start, pitchers Rob Whalen and Lukas Young, infielders Andrew Czech and Ian Walters and catcher Alex Alvarez. Czech, Walters and Alvarez are reserves for the West. It's the first Frontier League All-Star Game appearance for all seven Wild Things selected.
The teams were voted on by the league's managers, coaching staffs, broadcasters, general managers and local media.
"It's very deserving for all of those guys. Every one of them has had a great first half and I'm really glad they're being recognized for that and their achievements," said manager Tom Vaeth. "I hope they get a chance to show what they can do in front of a lot of scouts."
Ward will start the game at shortstop for the West Division. The second-year Wild Thing is third in the league with a .368 batting average, tied for eighth in home runs (13), tied for 12th in RBI (40), second in walks drawn (45) and first in on-base percentage (.506).
Lagrange will be in a starting outfield spot for the West come July 20. A 10-game hit streak and strong recent push by Lagrange earned him the distinction. Wagner is hitting a robust .329 with five home runs, 37 RBI and 14 doubles, a top 10 total in the league. He's also stolen nine bases.
Whalen is fifth in ERA leaders in the league with a 2.94 ERA and leads the league in wins with nine on the year. The next closest in the category has six wins. Whalen has started 10 games and logged 64.1 innings with 57 strikeouts to just 14 walks.
Young is in his first season with the Wild Things as the team's closer and has a 1.04 ERA, a 4-1 record and 10 saves in 22 appearances. He's allowed just five runs, three earned, so far and has fanned 29 to just eight walks. The 10 saves are third behind fellow West All Star Logan Sawyer of Evansville and Quebec's Sam Adames.
Czech, in his second season with the club, is hitting .327 with 10 doubles, two triples and six home runs. He has driven in 38 runs with a .525 slugging percentage and a .426 on-base percentage. He's drawn 30 walks, which is the second most on the Wild Things' team.
Walters is hitting .287 after a strong year with the Southern Illinois Miners last season. As a Wild Thing, he'd hit seven home runs and driven in 36 in 48 games so far. He's also got nine doubles.
Alvarez was named the West's reserve catcher with Evansville's Dakota Phillips, who was voted as the starter, unable to play due to injury. Alvarez, amongst catchers in the league, has the third most homers at the position with eight and has driven in 17 runs with a .213 batting average. He's also been solid behind the dish for the Wild Things as the team's starting catcher.
"It is great to see our club so well represented, as we host the All-Star Game during our Anniversary Season," said president and general manager Tony Buccilli. "We look forward to seeing our fan base coming out and showing support to their favorite players."
The All-Star Game, presented by The Coury Firm, is set for 7:05 p.m. Wednesday, July 20. Tickets are available by clicking here. The managers of the teams will be the first-place managers at the end of play Wednesday, July 13. Washington is currently in first by a game over Evansville, which means the magic number is two for Tom Vaeth and his staff to be in charge.
The final three players will be added to each roster after the managers are announced. The current rosters are available on the Frontier League website at frontierleague.com.
UPDATE (JULY 14) - The West Division will officially be led by Washington manager Tom Vaeth and coaches Aharon Eggleston and Alex Boshers, the staff of the first place Wild Things at the exit of play Wednesday. Vaeth and his staff will be joined in the dugout by Lake Erie Crushers' assistant Maikol Gonzalez.
Also, the Wild Things have matched a franchise record with the addition of their eighth representative in the All-Star Game, presented by The Coury Firm. Second baseman Scotty Dubrule has been selected as one of the final three additions to the West Division roster. After posting excellent numbers in his first pro season last year following a College World Series title with Mississippi State, the infielder has a .325 batting average and .410 on-base percentage through 51 games this season. He's scored 39 runs and has 14 doubles, two homers and 37 RBI. Dubrule has also stolen 15 bases and walked 29 times this season.
With being named the manager, Tom Vaeth has also tabbed Rob Whalen as the West's starting pitcher for the game in just six days, Wednesday, July 20 at Wild Things Park.