Washington Drops Finale, Still in First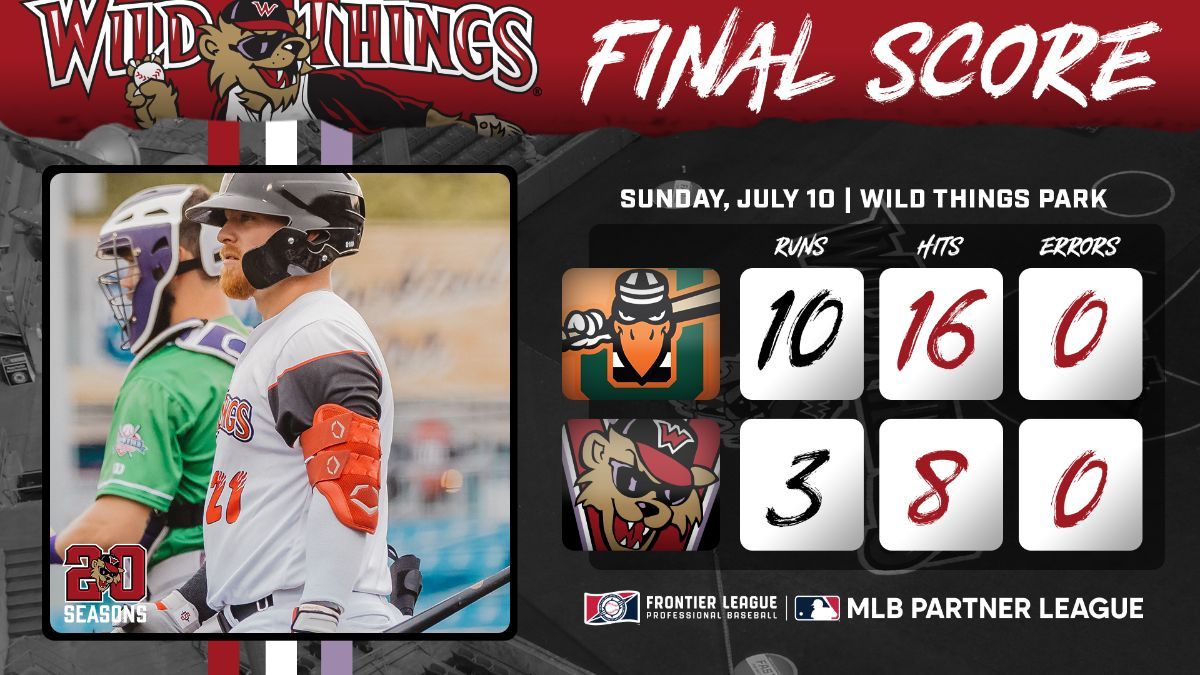 WASHINGTON, Pa. (July 10) - The Washington Wild Things found a lump of coal in their stocking in the form of a 10-3 loss to the Joliet Slammers on Christmas in July. The Slammers took advantage of walks and put together a strong night offensively to take the series. Washington, despite the loss, is 33-18 and still in first in the West Division entering a big road trip before the All-Star break.
After two scoreless innings, Washington starter Daren Osby gave up an RBI single with the bases loaded and a sacrifice fly to make it 2-0 Joliet in the third. In the fourth, the Slammers scored two more thanks to a fielder's choice and a double steal to double the lead over the Wild Things. Osby gave up one more run in the fifth on an RBI single to make it 5-0. Osby was pulled after the fifth for Jake Pilarski.
Pilarski didn't fare any better, however. A three-run homer for Brylie Ware sent the lead to 8-0 for the Slammers. Pilarski stayed in for one more inning before Christian James relieved him in the eighth. James gave up a second Joliet home run, this time a two-run homer by Luke Mangieri, to make it 10-0. James finished the inning, but Kaleb McCullough came to the mound in the ninth. McCullough succeeded in allowing no runs in his lone inning on the mound.
Joliet, issued three straight walks to load the bases in Washington's half of the ninth. Cole Brannen hit a sacrifice RBI to avoid the shutout. Landen Barns hit an RBI double and Jared Mang grounded in a third run for Washington. Unfortunately, that was all the joy to be had, as Scotty Dubrule grounded to the first baseman to be the final out and end the game 10-3.
Osby pitched for five innings in the loss. He allowed five runs, nine hits, five walk, and struck out two. Pilarski pitched two innings, allowed three runs, four hits, two walks and struck out one. James pitched one inning, allowed two runs, two hits and struck out two. McCullough pitched one inning, allowed one hit and struck out one.
The Wild Things go on a long road trip before the All-Star break, going to Gateway on Tuesday, July 12, and Evansville on Friday, July 15. After the Evansville series, the Wild Things will host the 2022 Frontier League All-Star Game on Wednesday, July 20. Tickets can be found at wildthingstickets.com.