Scotty Dubrule's Walk-Off, Two-Run Single Provides Splash on Tuesday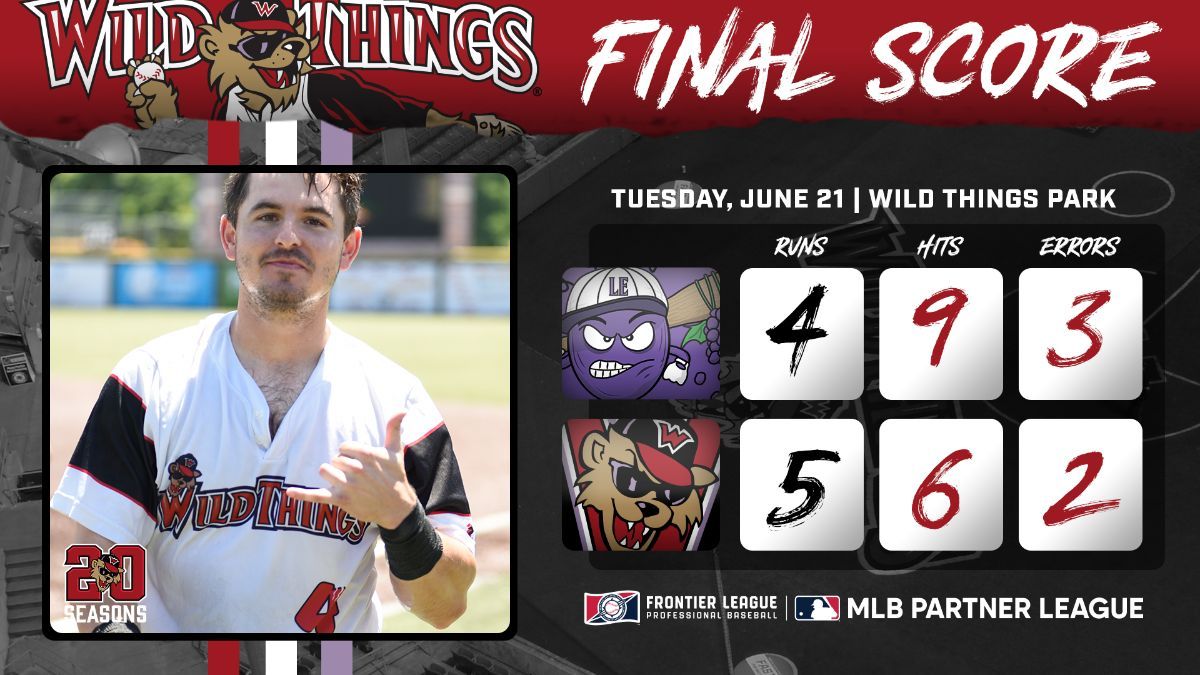 WASHINGTON, Pa. (June 21) – The Washington Wild Things returned home to face off against the Lake Erie Crushers in their first meeting of the regular season. Washington was able to come back and beat the Crushers 5-4 in game one of the three-game homestand. It was heroics from Scotty Dubrule in the ninth after Washington entered the frame down 4-2 that did the trick.
Tom Hart got the nod to start for the Wild Things and struck out three in six innings pitched and gave up one run.
The series opener crawled to a slow start, remaining scoreless until the top of the fourth when Washington pitcher Tom Hart walked in a Crushers' run, making it 1-0.
Cole Brannen shifted the momentum quickly with his first homer of the year, a two-run shot, making it 2-1 Wild Things in the bottom of the fifth.
Lake Erie brought the game back to even with a homer in the top of the seventh. A mishandled ball in center field scored two more for the Crushers in the top of the ninth, making it 4-2.
The Wild Things would not go down without a fight however, and with an error bringing in a runner off a Brannen sac bunt, the Crushers lead was tightened to one run in the ninth with the bases juiced. Scotty Dubrule was the hero for Washington and lined a ball into left-center, bringing in the tying and winning runs and securing the ninth-inning thriller of a win, 5-4.
The Wild Things (22-12) take on the Crushers (14-20) for game two of the set tomorrow. First pitch is booked for 6:05 p.m. Tickets are available at wildthingstickets.com. Join us for Senior Slugger Wednesday, where fans 50 and older will receive a free lottery ticket courtesy of the PA Lottery.