Wild Things Score Three in Fifth, Get Strong Start in Series Opening Win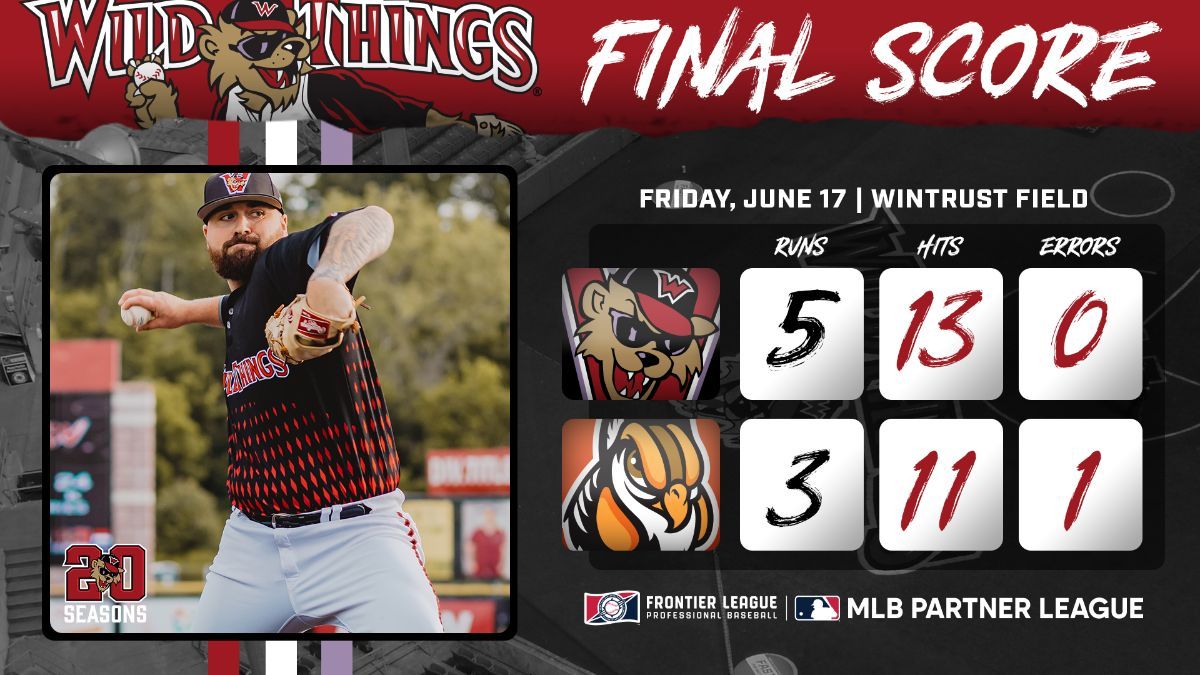 SCHAUMBURG, Il. (June 17) – The Washington Wild Things earned their third-straight win on the road by taking the series opener in Schaumburg by a final of 5-3 and they did it behind a very strong start from right-handed pitcher Rob Whalen and three, two-out runs in the fifth inning of the contest.
The scoring in the opener of the series started in the first inning. With one out, left fielder Jared Mang doubled, went to third on a single by Scotty Dubrule and scored on a sacrifice fly by Wagner Lagrange. The RBI was the 20th of the season for Lagrange.
The Boomers responded in the second with two runs of their own against righty Rob Whalen, who made the start for the Wild Things. Chase Dawson hit an RBI triple down the right-field line to tie the game at 1-1 before he scored on a sac fly by Clint Hardy, giving the Boomers a short-lived 2-1 lead.
It was short-lived because Jared Mang took the fourth pitch of the third inning over the left-field wall for his third Wild Things' homer and fourth overall this year. That tied things at 2-2.
Neither team scored again until the fifth inning when Hector Roa hit a two-out, two-run, two-strike double to right field to push the Wild Things ahead at 4-2. He then scored after plating Dubrule and Andrew Czech on an RBI single from Ian Walters that increased the lead to 5-2.
Scotty Dubrule had four hits in the win, while he was joined in the multi-hit department by Mang, Czech, Roa and Walters. Rob Whalen earned his fifth-straight win and went to 6-1 with the victory on the hill. He pitched for at least seven innings for the fifth-straight start and went eight for the first time. Whalen allowed nine hits and two earned with five strikeouts and, for the second-straight outing, didn't walk a batter.
Lukas Young earned his fifth save of the season in the ninth inning, which saw Cris Ruiz double home a run to close the gap a bit, but Schaumburg couldn't manage anything else.
Washington and Schaumburg will continue the three-game, weekend series tomorrow night with the middle game, which is scheduled for 7:00/6:00 p.m. CT. Righty Daren Osby (2-2, 5.40 ERA) will take the ball for Washington against Schaumburg righty Blake Stelzer (1-2, 4.24 ERA).