Wild Things Hold On to Late Lead in Series Opener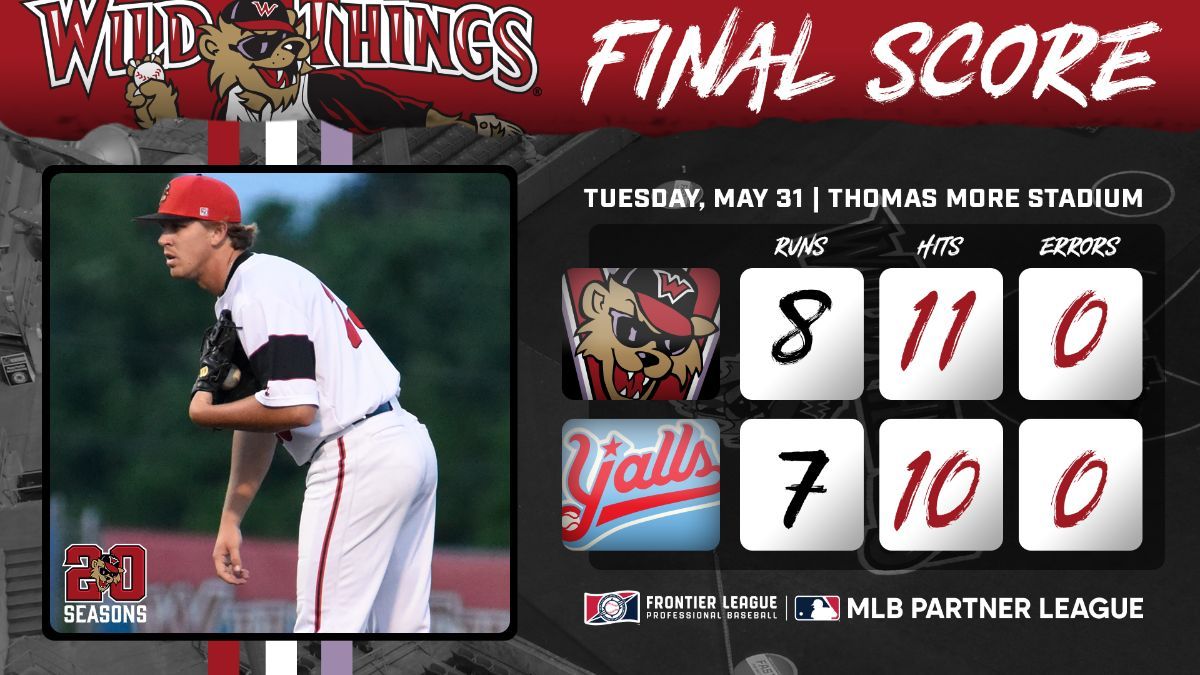 FLORENCE, Ky. (May 31) – The Washington Wild Things traveled to Florence, Kentucky, for the first of a three-game series with the Y'alls Tuesday night to open a six-game road trip and came away with their ninth win in their last 11 by holding on to a late, one-run lead, 8-7 at Thomas More Stadium.
Washington (10-6) got the scoring started in the first inning with three run-scoring hits. First, Wagner Lagrange earned his 14th and 15th RBI of the season with a two-run double that made it 2-0 Wild Things before Lagrange's spot at second was taken on a bullet to the right-center field gap by Andrew Czech. Czech's double made it 3-0 and Czech scored on a ground ball single through the right side by Hector Roa.
Florence got on the board against Washington starter Sandro Cabrera in the third inning when designated hitter Joe Lytle hit a three-run homer to right field. The scoring against Cabrera halted there and Cabrera ended up picking up the win to go to 2-0 with 6.2 innings of three-run ball. He fanned four in his fourth start of the season. Dan Kubiuk got a big out with Axel Johnson at third base to close the seventh after Washington had added two in the top half.
In the top of the seventh, Scotty Dubrule singled through a drawn in infield to make it 5-3 Washington and then stole second, allowing Nick Ward to take home on the same double steal to push the lead to three. Ward then singled home two runs in the eighth inning.
The drama wasn't over, as Christian James hit three batters before giving up a grand slam to AJ Bumpass in the bottom of the eighth. After the homer, Lukas Young entered, struck out four and recorded a five-out save, his second.
The Wild Things and Y'alls will meet in the middle game of the series tomorrow night in Florence. First pitch is slated for 6:31 p.m. with Daren Osby going for Washington against Jonaiker Villalobos for the Y'alls.