Washington Routs Empire State to Sweep Weekend Series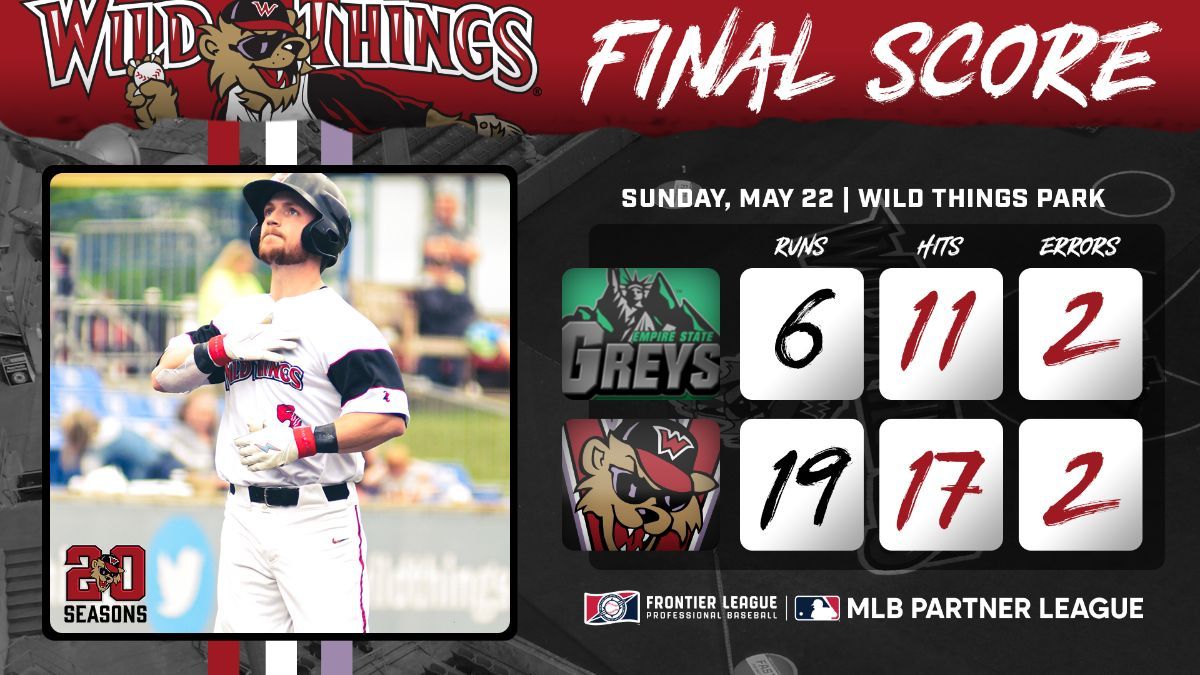 WASHINGTON, Pa. (May 22) – The Washington Wild Things earned their first series sweep of the year and won their fourth in a row Sunday with a 19-6 win over the Empire State Greys.
Wagner Lagrange hit a fielder's choice to plate the game's first run. Then Andrew Czech hit a double resulting in Nick Ward and Scotty Dubrule scoring to make the score 3-0 Washington. Then, designated hitter Ramon Osuna's ground ball to second brought home Czech to make the score 4-0 Wild Things.
Nick Ward kept the good things going as he hit his fifth home run of the season to make the score 5-0 Wild Things in the second. Greys' right fielder Zach Sullivan hit a home run at the top of the third inning to bring John Benevolent home to make the score 5-2 then two more scored on a single by Willie Estrada, on which an error was made in the outfield to allow a second run to score.
Catcher Alex Alvarez picked up an RBI with a hit into left field sending Ramon Osuna home before Nick Ward walked with the bases full to make it 7-4 Wild Things.
The onslaught continued when Wagner Lagrange hit his first home run as a Wild Thing to start the fourth-inning scoring. Cole Brannen was hit by a pitch with the bases loaded later in the inning to make it 9-4. Empire State plated two in the fifth to make it 9-6, but that small deficit didn't last long.
In the sixth, Greys' pitcher Alex MacKinnon walked two batters and then catcher Alex Alvarez hit the first three-run homer of the inning for the home squad. Dubrule singled to bring home Brannen and make it 13-6. The next run in what turned out to be a nine-run inning came in on a Czech sacrifice fly that brought home Ward. Roa picked up an RBI bringing home Dubrule and making it 15-6 Washington. Ian Walters hit a three-run homer to add to the lead and made it 18-6. The final run came in on a bases-loaded Andrew Czech.
The Wild Things will take on the Tri-City ValleyCats Tuesday as their nine-game homestand continues this week. First pitch Tuesday is scheduled for 7:05 p.m.