Washington Drops Middle Game to New York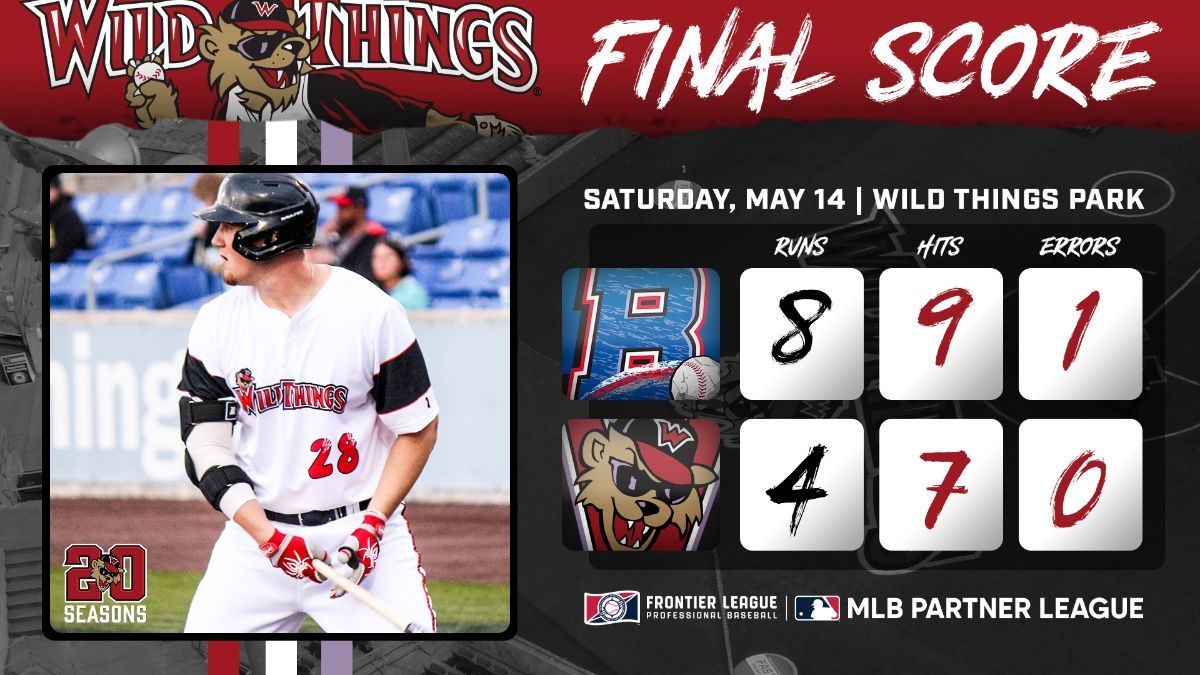 WASHINGTON, Pa. (May 14) – The Washington Wild Things lost to the New York Boulders 8-4 in the second game of the season-opening series.
In the top of the first, New York's David Vinsky hit a fielder's choice to send Chris Kwitzer home for the first run of the game.
In the bottom of the first, Washington's Andrew Czech hit an two-run single that allowed Wagner Lagrange and Scotty Dubrule to give the lead to the Wild Things at 2-1. While Hector Roa was at bat, LG Castillo took home on a wild pitch to make it 3-1.
At the top of the third, Vinsky hit a sacrifice fly to left field to send home Tucker Nathans to shrink the lead 3-2.
New York took back the lead in the top of the fourth, as Gian Martellini hit a two-run home run with Max Smith on base, making it a 4-3 game.
New York added on to the lead in the top of the fifth when Giovanni Garbella was walked with bases loaded, allowing Jake Mackenzie to score a run for the Boulders. Smith hit a bases-clearing triple to send Gabriel Garcia, Vinsky,and Garbella home to make the score 8-3.
In the eighth, Justin Henle made it home on a fielder's choice off the bat of Dubrule to make the score 8-4.
Daren Osby made his season debut on the mound for Washington, pitching four innings, allowing four runs and three hits. He struck out five batters, walked four and suffered the loss.
Bryan Quillens relieved Osby in the fifth but was pulled after allowing four runs. Nick Beardsley finished the fifth and the sixth, striking out three batters and allowing only one hit. Christian James pitched the seventh, only allowed a walk. Lukas Young pitched the eighth, allowed one hit but striking out two batters. Dan Kubiuk closed, allowed one hit, one walk and struck out three.
Washington will finish the series against New York on Sunday, May 15. First pitch is at 5:35 p.m. Sunday is the first Kids Eat Free Sunday of the year, presented by the PA Virtual Charter School. Kids 12 and under get in for free and get a free kids meal. It's also Mascot-A-Palooza, presented by Point Park University. Tickets are available at wildthingstickets.com.