Wild Things Add RHP Lukas Young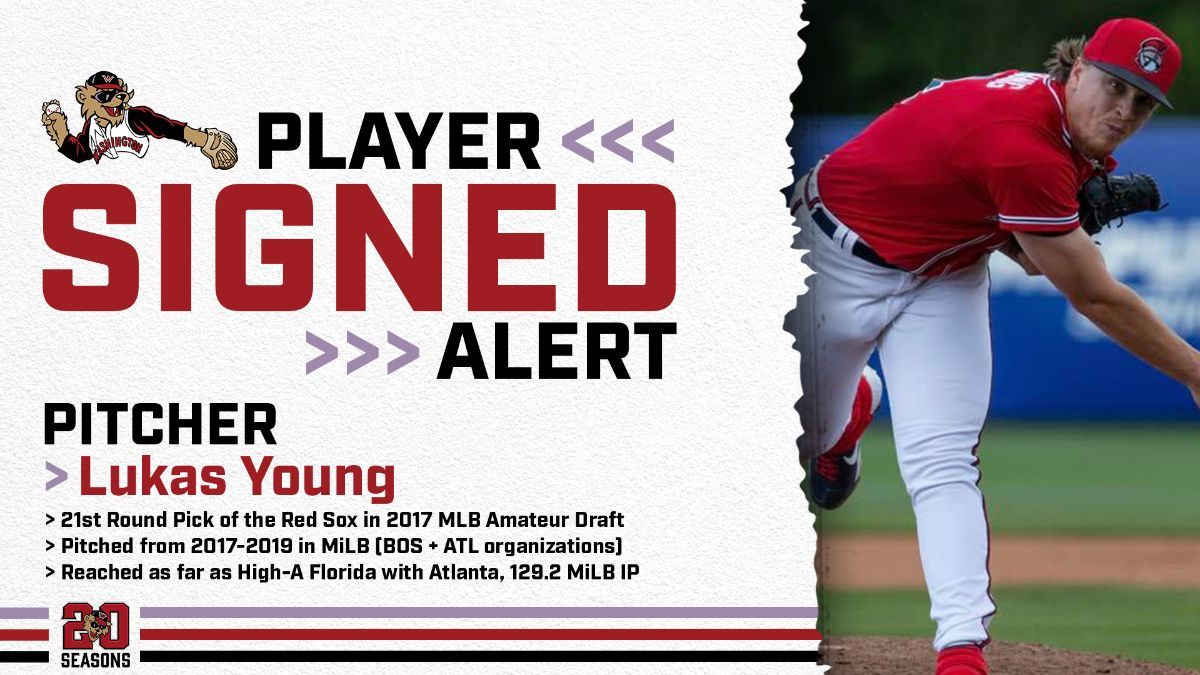 WASHINGTON, Pa. (May 7) - The Washington Wild Things, who begin their 20th season of Frontier League baseball Friday, have signed right-handed pitcher Lukas Young ahead of continued exhibition play as the roster evaluation process continues. The team also released LHP Mac Lardner during the week.
Young comes to the Wild Things after he was a 2017 21st Round selection of the Boston Red Sox before pitching in minor league baseball from 2017-19 between the Red Sox' and Braves' organizations. Young played his college ball at the University of Mobile before being picked in 2017.
At Mobile in 2017, he was 8-4 with a 2.63 ERA in 15 games (14 starts). Over 92.1 innings pitched, he allowed only 71 hits, 18 walks and fanned 86.
Once in the Red Sox system, Young appeared on the bump for Greenville (SALL, A) and Lowell (NYPL, A-) that season. Combined, he appeared in 15 games and sported a 1-1 record with two saves in 30.1 innings of work. He struck out 34. He spent all of 2018 with Greenville, worked 50 innings and had seven saves.
He then was released and signed with the Braves prior to 2019 and split time between the Rome Braves (SALL, A) and Florida Fire Frogs (FLOR, A+) that season. Combined, he posted a 3.47 ERA in 33 games, had five saves, logged 49.1 innings and struck out 45 opposing batters.
Young was signed with the Twins prior to the COVID-19 pandemic shutting the MiLB season down in 2020.
Tickets are on sale now for the 2022 season at wildthingstickets.com, and tickets are $15 to sit anywhere in the seating bowl. Group, kids, military and senior discounts are available as well by calling 724-250-9555 or by visiting the box office at Wild Things Park.
The Wild Things will kick off their 20th Frontier League season May 13 at home against the New York Boulders. Check out the current roster at washingtonwildthings.com.
ABOUT THE WASHINGTON WILD THINGS
The Washington Wild Things are a professional baseball team that plays in the MLB-partnered Frontier League. In 2022, the Wild Things are celebrating their 20th season of baseball in the longest-running independent baseball league in history with all kinds of celebrations, fun and great baseball at Wild Things Park. The team has won seven division championships and has been to four Frontier League Championship Series within their numerous playoff appearances. Fans and media can stay aware of all the happenings within the Wild Things' organization, both on and off the field, by following the team's social media platforms and website: washingtonwildthings.com. For other inquiries, call the front office at 724-250-9555.
The Wild Things' organization and Wild Things Park has been selected as the host of the 2022 Frontier League All-Star Game, presented by The Coury Firm. The festivities will begin Saturday, July 16 and run through the game itself Wednesday, July 20. Tickets are available at bit.ly/FLASG22TIX. More information can be found at washingtonwildthings.com as well.
Media Contact:
Kyle Dawson
Assistant General Manager of Baseball Operations, Broadcaster
Phone: 724-250-7654
Email Address: [email protected]