Wild Things Ink Former Gonzaga Standout Mac Lardner to Deal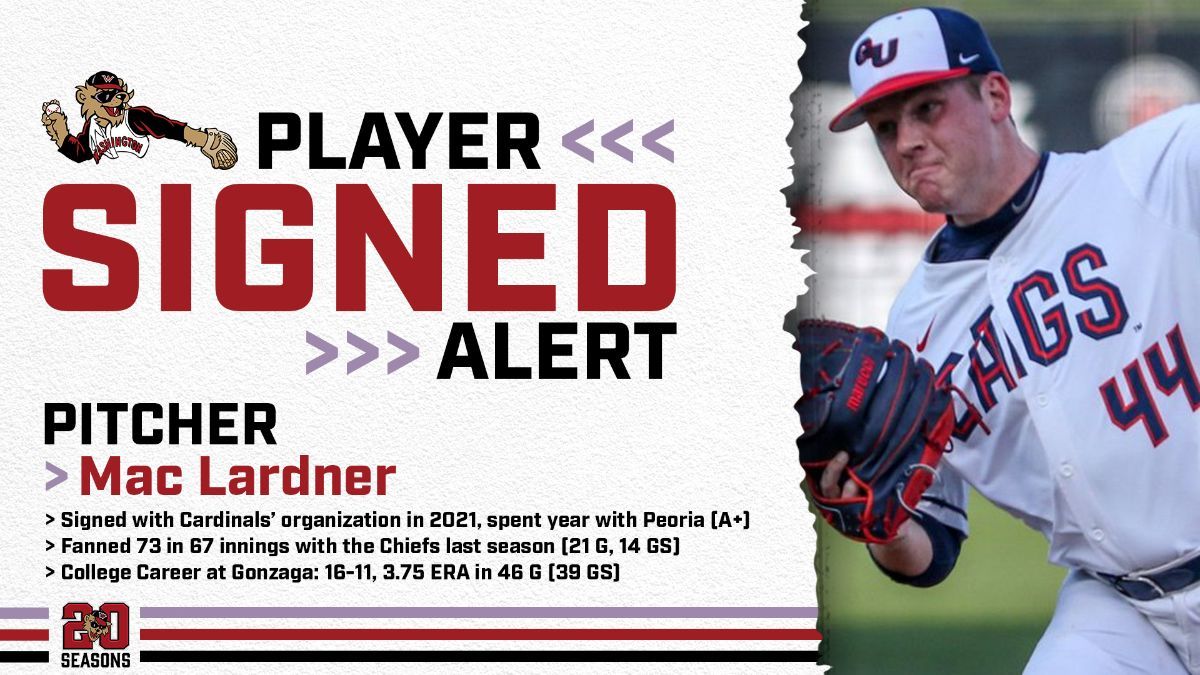 WASHINGTON, Pa. (April 7) – The Washington Wild Things have signed left-handed pitcher and former Cardinals' farmhand Mac Lardner for the 2022 season, the team announced today.
Larnder pitched in 2021 for the Peoria Chiefs (A+, STL) in 2021 after wrapping his collegiate career at Gonzaga in 2020. With the Chiefs, Lardner appeared in 21 games, starting 14 of them. He logged 67 innings and struck out 73 to just 22 walks in that work.
"Mac is an important signing for us, being a rookie and left-handed he helps fill the void left by Hennen's departure," said manager Tom Vaeth. "Mac was very successful while at Gonzaga with a reputation as a strike thrower with a three-pitch mix. After bouncing between starting and relieving while with the Cardinals, we feel Mac will return to his old form pitching in the rotation."
The southpaw and Templeton, California, native played at Templeton High School and logged 272.2 innings and a 1.46 ERA in his high-school career. He was 27-12 in his career, struck out 282, was All-State, Max Preps All American and a four-year captain.
He matriculated to Gonzaga University where he was named to the All-WCC Second Team in 2018 and was Honorabl Mention in 2019. He was 3-1 in 13 games (six starts) as a freshman with 37 strikeouts in 49.2 innings. As a sophomore, Lardner was 7-4 with a 2.95 ERA in 16 games, all of which were starts. He logged 100.2 innings and fanned 73 to 28 walks to help Gonzaga win the 2018 WCC Tournament title.
In 2019, he pitched his was to a 6-4 record in 13 games (all starts) and 74.2 innings. He walked just 15 opposing batters. In the shortened-2020 season, he was 0-2 with a 2.55 ERA in four starts and fanned 31 in 32 innings while walking only three.
With the subtraction of Ryan Hennen, whose contract was picked up by the Royals' organization Tuesday, Lardner is the fourth left hander on the staff, joining Sandro Cabrera, Colt Mink and Gage Smart.
The Wild Things will kick off their 20th Frontier League season May 13 at home against the New York Boulders. The full schedule and the current roster is available at washingtonwildthings.com. Tickets for every game are available now at wildthingstickets.com.
ABOUT THE WASHINGTON WILD THINGS
The Washington Wild Things are a professional baseball team that plays in the MLB-partnered Frontier League. In 2022, the Wild Things are celebrating their 20th season of baseball in the longest-running independent baseball league in history with all kinds of celebrations, fun and great baseball at Wild Things Park. The team has won seven division championships and has been to four Frontier League Championship Series within their numerous playoff appearances. Fans and media can stay aware of all the happenings within the Wild Things' organization, both on and off the field, by following the team's social media platforms and website: washingtonwildthings.com. For other inquiries, call the front office at 724-250-9555.
The Wild Things' organization and Wild Things Park has been selected as the host of the 2022 Frontier League All-Star Game, presented by The Coury Firm. The festivities will begin Saturday, July 16 and run through the game itself Wednesday, July 20. Tickets are available at bit.ly/FLASG22TIX. More information can be found at washingtonwildthings.com as well.