IF Kevin Lambert Acquired to Complete Trade, Signed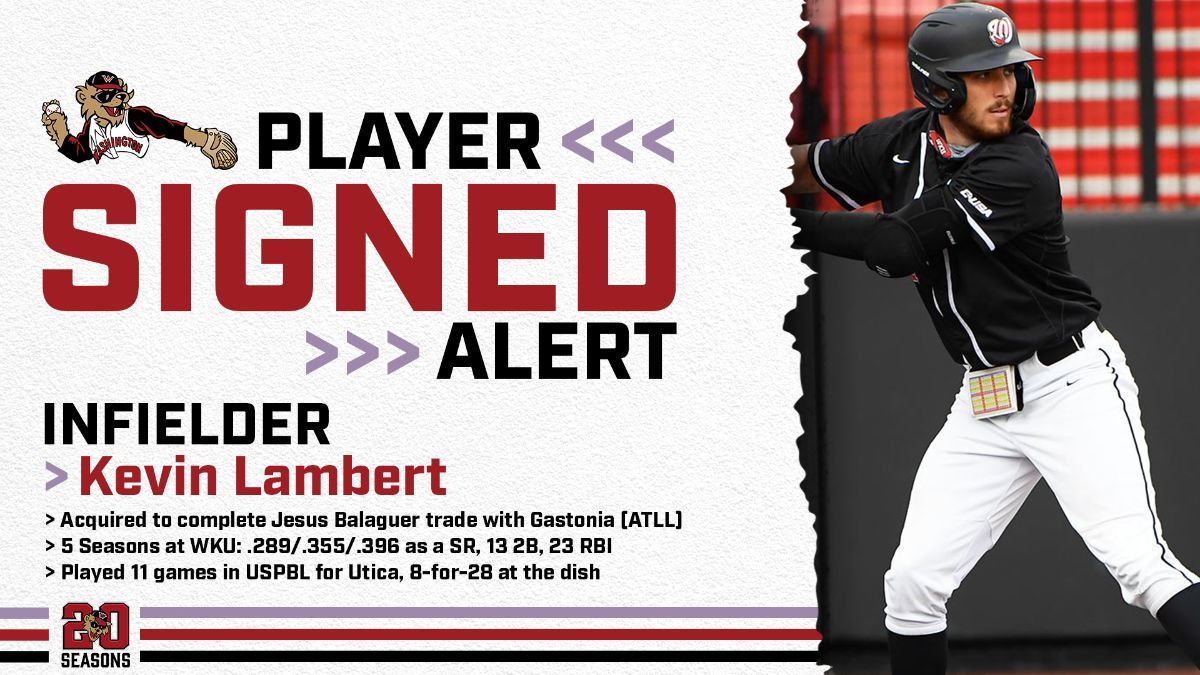 WASHINGTON, Pa. (March 24) – The Washington Wild Things announced infielder Kevin Lambert as the player to be named in the team's January trade with the Gastonia Honey Hunters (ATLL) that sent RHP Jesus Balaguer to Gastonia. Lambert has also signed.
Lambert was selected 13th in the Atlantic League's Draft Wednesday, March 23 and then named the player to be named. The infielder is a former Western Kentucky Hilltopper.
He played at WKU from 2017-21 in five seasons. He posted a career slash line of .252/.312/.325 with seven home runs, 33 doubles and 96 RBI. As a senior, Lambert had his best season, where he slashed .289/.355/.396 with 13 doubles, a homer and 23 RBI.
Following his senior year he played in 11 games for Utica in the United Shore Professional Baseball League and was 8-for-28 at the dish with four runs batted in.
The Wild Things will kick off that 20th Frontier League season May 13 at home against the New York Boulders. The full schedule is available at washingtonwildthings.com. Check out the roster as it gets announced by clicking here.
ABOUT THE WASHINGTON WILD THINGS
The Washington Wild Things are a professional baseball team that plays in the MLB-partnered Frontier League. In 2022, the Wild Things are celebrating their 20th season of baseball in the longest-running independent baseball league in history with all kinds of celebrations, fun and great baseball at Wild Things Park. The team has won seven division championships and has been to four Frontier League Championship Series within their numerous playoff appearances. Fans and media can stay aware of all the happenings within the Wild Things' organization, both on and off the field, by following the team's social media platforms and website: washingtonwildthings.com. For other inquiries, call the front office at 724-250-9555.
The Wild Things' organization and Wild Things Park has been selected as the host of the 2022 Frontier League All-Star Game, presented by The Coury Firm. The festivities will begin Saturday, July 16 and run through the game itself Wednesday, July 20. Tickets are available at bit.ly/FLASG22TIX. More information can be found at washingtonwildthings.com as well.