Three Rivers Celebrity Softball Game pres. by The Coury Firm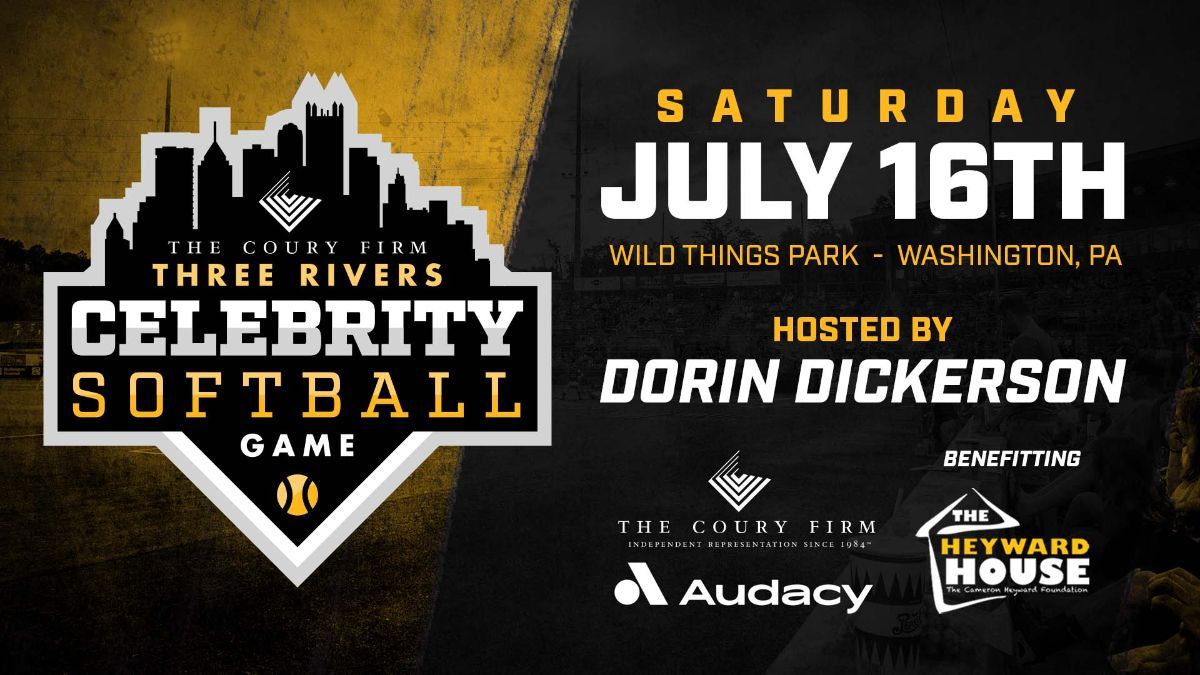 ORIGINAL ANNOUNCEMENT FEBRUARY 21, 2022
(LAST UPDATED JUNE 27, 2022)
On July 16, 2022, at Wild Things Park, the Washington Wild Things and The Coury Firm will present the 2nd Annual Three Rivers Celebrity Softball Game, hosted by former Pitt All-American Dorin Dickerson. Part of the proceeds at the event will benefit the Heyward House: the Cameron Heyward Foundation.
Audacy and its family of radio stations in the Pittsburgh area, which includes Y108, 93.7 The Fan, KDKA-AM and Star 100.7, will once again be the media partner of the Wild Things for the event.
"Cam has been a steward of the community and we are excited to partner with him and his Foundation again this year," said Gregg Coury, CEO of The Coury Firm. "As a Pittsburgh-based business and family, we are honored to work alongside Cam and the Heyward House, which provides support and care for Pittsburgh-area youth."
As he did last year, Dickerson will host the event, which will have a multitude of celebrities and Pittsburgh figures in attendance to play in the game and will start at 7:05 p.m. Guests will be announced periodically on Washington Wild Things' social media platforms, and you'll be able to find a full and updated list of participants on the Wild Things' website version of this story as well.
"It's a great honor to host this event for Cam, a multi-year Walter Payton Man of the Year nominee, and his foundation. The work he does directly impacts the youth here in our region and we are proud to partner with and contribute to the Heyward House," said president and general manager Tony Buccilli. "Our goal is for the game to be one of the foundational fundraisers for The Heyward House and the premier celebrity event in the tri-state for fans."
The one big difference this year is the format of the game. This year, the two teams will be comprised of different sets of players. Pittsburgh celebrities, athletes and entertainers will play on one team while celebrities, athletes and entertainers from across the globe will play on the other. Thus, it's Team Pittsburgh versus Team World. Team Pittsburgh is presented by 84 Lumber and Team World by The Tull Family Foundation.
The Heyward House is dedicated to impacting the lives of today's youth and was started in 2015 by Steelers defensive end, five-time Pro Bowler and three-time NFL All-Pro Cameron Heyward. Among the causes The Heyward House supports are the Boys & Girls Clubs of Western Pennsylvania, the Southeastern Brain Tumor Foundation, which fights against blood cancer, the Western PA Diaper Bank, Beverly's Birthdays, Donors Choose and more.
"The Heyward House is excited about the 2nd Annual Celebrity Softball Game with the Washington Wild Things," said Heyward House executive director Charlotte Heyward. "Cam and his crew will be preparing in the off season. Get your popcorn ready!"
Last year, the event drew more than 2,500 fans to Washington, Pennsylvania and included celebrities like Corey Graves, Colby Armstrong, Phil Bourque, Joey Mulinaro, Alex Highsmith, Diontae Johnson, Pat Freiermuth, Digs and more. The event raised $10,097 for the Heyward House last year.
"Year number two of the Three Rivers Celebrity Softball game presented by The Coury Firm and benefiting the Heyward House is going to be exciting," said Dickerson. "It's going to be bigger and better this year. I can't wait to see everyone, enjoy a nice day and give back!"
Tickets are $10 and are available now at https://bit.ly/CelebSBTix22.
--UPDATE (MAY 19)--
Kids Fest, presented by Clearview Federal Credit Union, added to lineup: The event, which is free to kids 12 and under with registration for the event upon ticket purchase, will feature field access from 2 p.m. to 5 p.m. the day of the event. Kids Fest will feature several inflatables, like bounce houses, speed pitch and more, baseball instruction for those who choose to take part with former Wild Things and Pittsburgh-area natives Mick Fennell and Ryan Cox of Fennell Brothers Baseball and more.
Fans with tickets already purchased can register their kids for Kids Fest by calling the Wild Things' box office at 724-250-9555. Fans who don't have tickets already can do both online or on the phone.
--UPDATE (JUNE 4)--
The official tailgate of Steeler Nation, The Terrible Tailgate, will host the exclusive kickoff event for the Three Rivers Celebrity Softball Game. BBQ, Sides, Beer & Soda from 2 p.m. to 5 p.m.. All you can eat & drink for just $20. Space is limited and no tickets available day of. Get tickets for the tailgate at bit.ly/TerribleTailgate. The tailgate ticket does not cover entry to the game.
PARTICPANTS
Master of Ceremonies - Joey Mulinaro - Digital Content Producer, formerly of Barstool Sports, 1st Annual Three Rivers Celebrity Softball Game (pres. by The Coury Firm) participant
National Anthem Singer - TBA
Team Burgh, pres. by 84 Lumber:
Coach - Andrew Fillipponi
Roster:
Dorin Dickerson - West Allegheny High School alumnus, 2006-2009 with the University of Pittsburgh, 10 TD in 2009 and named All-American, Stints with multiple NFL teams: 11 career receptions
Dr. Britt Baker, D.M.D. - Pro Wrestler and Dentist, signed with All Elite Wrestling, 1x AEW Women's World Champion, first woman signed to AEW, former IWC Wrestling Women's Champion (inaugural), Dynamite Award winner for Best AEW Fashion Moment (Brittsburgh Jacket), PWI Woman of the Year, Match of the Year, Most Improved Wrestler of the Year, Pitt School of Dental Medicine grad, member of American Dental Association and practicing dentist
Digs - HammerDAHN Parlay King, Pat McAfee Show co-host, ThePodPMI
Mitch Trubisky - Steelers Quarterback, played college football at North Carolina and drafted 2nd Overall in 2017 by the Chicago Bears, former Buffalo Bills' QB
Najee Harris - Steelers runningback, played college football at the University of Alabama and was a 2021 1st Round Draft Pick. Top recruit in the 2017 class. Led NCAA in touchdowns, scrimmage yards as a senior at Alabama and won two titles with the Crimson Tide. 1,200 yards in 2021 rushing for the Steelers, 467 receiving yards and 10 total touchdowns. Pro Bowl selection.
Chris Wormley - Steelers defensive end, played college football at Michigan. Second-team All-American in 2016, 3rd Round Pick of the Ravens in 2017 and traded to the Steelers in 2020. Recorded 7 sacks in 2021 with 51 tackles and 10 QB hits.
Tyson Alualu - Steelers defensive end, drafted by the Jacksonville Jaguars in the 2010 1st Round, played college ball at California and was 2nd Team All-Pac-10 in 2008 and 1st Team All-Pac-10 in 2009, 403 career tackles, 24.5 career sacks, four forced fumbles, three fumble recoveries.
Terrell Edmunds - Steelers safety, played in college at Virginia Tech, 1st Round Pick in 2018, 3rd Teaam All-ACC in 2017, 3 career sacks, 5 career interceptions, 21 pass deflections, 340 tackles.
Calvin Austin III - Steelers wide receiver, played in college at Memphis and was selected in the 4th round of the 2022 draft, 2x 1st Team All-AAC (2020, 2021), 156 receptions in college, 2,541 yards and 22 touchdowns for Memphis
Kenny Pickett - Steelers' quarterback, first-round pick in 2022 (20th overall), former Pitt Panther quarterback, Heisman Finalist in 2021, All-American, Johnny Unitas Golden Arm Award winner, ACC Offensive Player of the Year, ACC Player of the Year, All-ACC 1st Team, 12,303 collegiate passing yards and 81 TD, 801 rushing yards and 20 touchdowns.
Cam Heyward - Steelers defensive tackle, captain, 1st Round Pick in 2011 out of Ohio State, 68 career sacks, 7 forced dumbled, 6 fumble recoveries, 42 pass deflections, 3x 1st-Team All-Pro (2017, 2019, 2021), 2nd-Team All Pro (2020), 5x Pro Bowl, 1st-Team All B1G (2010)
Alex Highsmith - Steelers outside linebacker, 122 tackles, eight sacks, one forced fumble, one interception, Charlotte 49ers college standout, 2x 1st Team All-Conference USA (2018, 2019), 47 college TFL, 21 college sacks
Casey Desmith - Pittsburgh Penguins' goalie, holds the WBS Penguins record for most saves in a playoff game, 2016-17 AHL All-Rookie Team, co-recipient of the 2017 Harry Holmes Memorial Award, University of New Hampshire standout, 43-28 career in NHL, .915 SV%, 2.67 GAA
Team World, pres. by The Tull Family Foundation:
Coach - Paul Zeise
Roster:
Adam Scherr - fka Braun Strowman in WWE, Pro Wrestler, 1x Universal Champion, 1x Intercontinental Champion, 2x RAW Tag Team Champion, 1x Money in the Bank Winner, Greatest Royal Rumble winner, owner/creator of Control Your Narrative wrestling promotion with EC3
Bud Dupree - 2015 1st Round Pick of the Pittsburgh Steelers (22nd overall), Six seasons with Steelers and registered 39.5 sacks in 81 games, 3 sacks with Tennessee Tians last year, four seasons at Kentucky, 25.5 sacks, 247 tackles for Wildcats
Chelsea Green - Canadian professional wrestler, stuntwoman and model. Signed with Impact Wrestling, formerly with NWA, Ring of Honor, World Wonder Ring Stardom and WWE. 1x Impact Knockouts Champion, engaged to Matt Cardona, fka Zack Ryder.
Malcolm Jenkins - Played 13 seasons in the NFL for the Saints (2009-2013, 2020-2021) and Eagles (2014-2019) and had 21 career interceptions, 1,044 combined tackles and played in 199 games in the regular season games. Played in college at Ohio State (All-American), 1st Round Pick in 2009... 2x Super Bowl Champ (only player to be on a team that beat Tom Brady and Peyton Manning in a SB), 2nd-Team All-Pro in 2010, 3x Pro Bowler
Jalen Rose - American sports analyst and former pro basketball player. Member of the University of Michigan's Fab Five that reached two NCAA title games. Played in the NBA for six teams, most notably with the Indiana Pacers. Retired with an average of 14.3 points, 3.8 assists and 3.5 rebounds. Now is an analyst for ABC and ESPN and works with NBA Countdown, Get Up! and Jalen & Jacoby.
Miles Sanders - Drafted by Eagles in 2nd Round in 2019, 2,439 career NFL rushing yards, 12 total touchdowns, Woodland Hills High School product, Penn State University, Second Team All-Big Ten (2018), 1,649 career rushing yards at PSU.
Dion Lewis - Former NFL runningback for 10 seasons, played college ball at the University of Pittsburgh and was drafted by the Eagles in the 5th round of the 2011 NFL Draft, stints with the Eagles, Browns, Colts, Patriots, Titans and Giants, 1x Super Bowl Champion, 2nd Team All-American, Big East Rookie of the Year and Big East Offensive Player of the Year (last three honors at Pitt in 2009)
Jersey Jerry - Barstool Sports, internet sensation, The Syndicate, host of Friend of Jerry
Matthew Judon - Patriots linebacker, college football at Grand Valley State, DII record for sacks, selected in 5th Round by Ravens in 2016, 3x Pro Bowl (2019-2021), 47 career sacks, 7 forced fumbles, 3 fumble recoveries, 11 pass deflections
Kenny Moore II - Colts cornerback, 2021 Pro Bowl, 358 career tackles, 7 career sacks, 4 forced fumbles, 1 fumble recovery, 14 interceptions, 45 pass deflections, 1 TD, played at Valdosta State University and was a 2x All-American (1st team, 2016; 2nd team, 2015), 2x All-GSC
Darnell "Speedy" Artis - Harlem Globetrotters, played professionally in Brazil for the America Esporte Club in 2017, attended Gwynedd Mercy University in PA, 4-year starter and scored 1,300 points and had 400 assists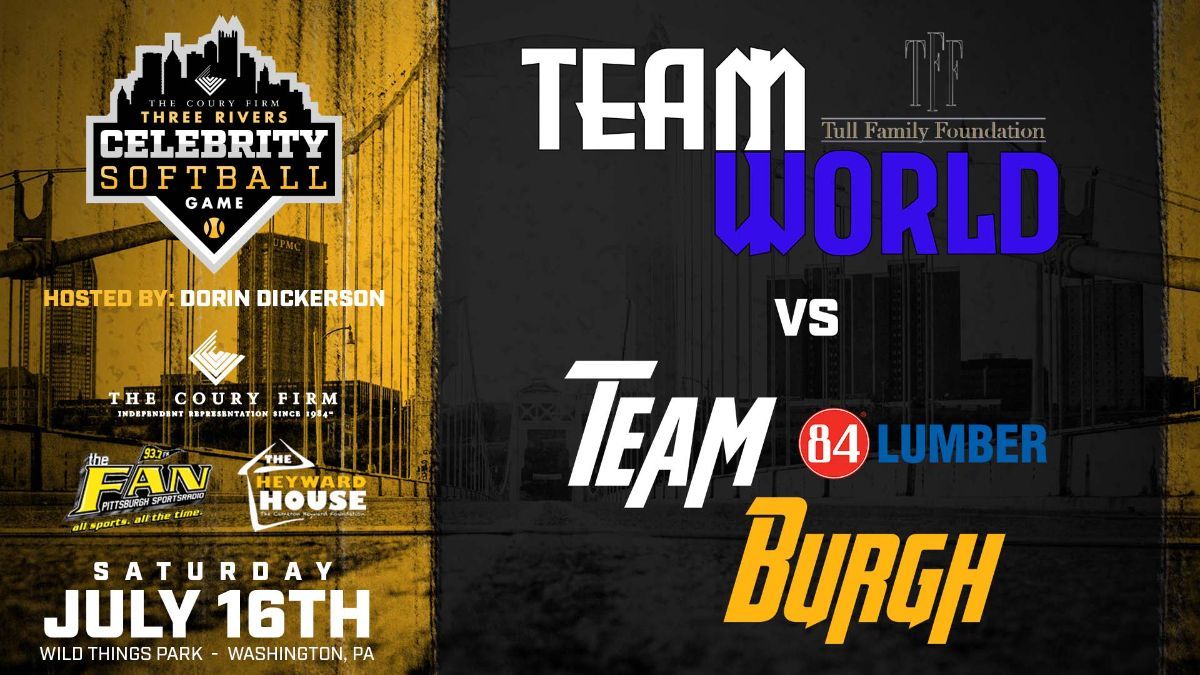 ABOUT THE WASHINGTON WILD THINGS
The Washington Wild Things are a professional baseball team that plays in the MLB-partnered Frontier League. In 2022, the Wild Things are celebrating their 20th season of baseball in the longest-running independent baseball league in history with all kinds of celebrations, fun and great baseball at Wild Things Park. The team has won seven division championships and has been to four Frontier League Championship Series within their numerous playoff appearances. Fans and media can stay aware of all the happenings within the Wild Things' organization, both on and off the field, by following the team's social media platforms and website: washingtonwildthings.com. For other inquiries, call the front office at 724-250-9555.
Media Contact:
Kyle Dawson
Assistant General Manager of Baseball Operations, Broadcaster
Phone: 724-250-7654
Email Address: [email protected]
Inquiries Can Also Be Made To:
Tony Buccilli
President and General Manager
Phone: 724-250-9553
Email Address: [email protected]