Outfielder, Former Mets' Farmhand Wagner Lagrange Added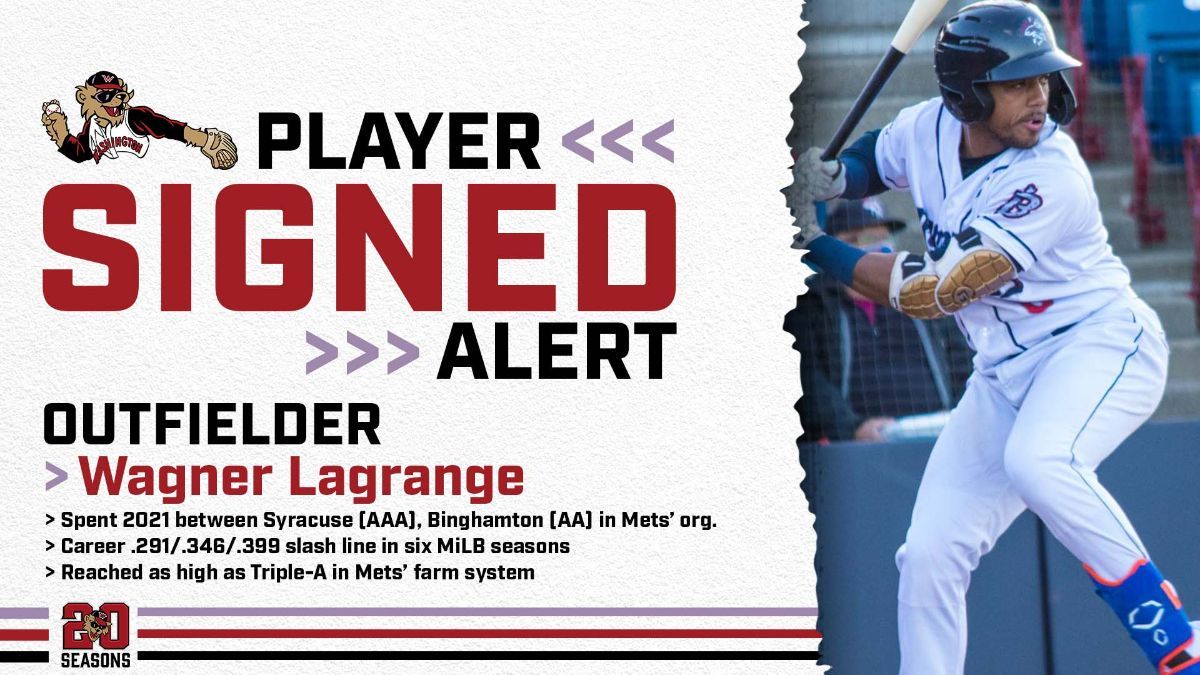 WASHINGTON, Pa. (Feb. 15) - The Washington Wild Things have announced the addition of outfielder and former New York Mets' farmhand Wagner Lagrange to the mix for the 2022 season. Lagrange is fresh off splitting time between Double-A and Triple-A with the Mets in 2021.
In 2021, Lagrange split time between Syracuse (AAA, NYM) and Binghamton (AA, NYM). He played in 12 games at the Triple-A level and went 9-for-28 at the dish with two doubles and five RBI. In 67 games with the Rumble Ponies, he slashed .262/.309/.406 with 11 doubles, eight home runs and 33 RBI.
"It was important to add a little bit more experience to our lineup and I feel that Wagner gives us just that," said manager Tom Vaeth. "He's been an organizational All-Star a few times coming up in the Mets' organization, reaching the AAA level last summer."
Lagrange started his pro career after signing as an international free agent in 2015 in the Dominican Summer League. He slashed .347/.405/.417 that season with 10 doubles, two triples and a home run. He drove in 26. In 2016, he advanced to Rookie ball with the GCL Mets and played in 46 games.
The Las Matas de Farfan, Dominican Republic, native then played for two different teams in 2017 and slashed .330/.379/.460 between the two with four home runs, 11 doubles, three triples and 44 RBI. He played in 13 games for the Brooklyn Cyclones in 2017, the then-short-season affiliate of the Mets in the New York-Penn League before spending all of 2017 with the Cyclones.
In 2019, the Mets moved him to full-season A-ball. He played in 71 games with Columbia (SALL, A) and 36 games with St. Lucie (FLOR, A+) in that year. He knocked home a career-best 48 runs in those 107 games with 26 doubles, four triples and six home runs. He also walked a career-high 29 times that season.
"We're hoping he can come in and provide the leadership and veteran experience we are looking for," said Vaeth. "All the reports I have received on Wagner say he is a quality all-around player who has put up solid numbers throughout his career."
The Wild Things will kick off their 20th Frontier League season May 13 at home against the New York Boulders. The full schedule is available at washingtonwildthings.com. Check out the roster as it gets announced by clicking here.
ABOUT THE WASHINGTON WILD THINGS
The Washington Wild Things are a professional baseball team that plays in the MLB-partnered Frontier League. In 2022, the Wild Things are celebrating their 20th season of baseball in the longest-running independent baseball league in history with all kinds of celebrations, fun and great baseball at Wild Things Park. The team has won seven division championships and has been to four Frontier League Championship Series within their numerous playoff appearances. Fans and media can stay aware of all the happenings within the Wild Things' organization, both on and off the field, by following the team's social media platforms and website: washingtonwildthings.com. For other inquiries, call the front office at 724-250-9555.
Media Contact:
Kyle Dawson
Assistant General Manager of Baseball Operations, Broadcaster
Phone: 724-250-7654