Frontier League Playoffs, Washington's Title Push Start Tuesday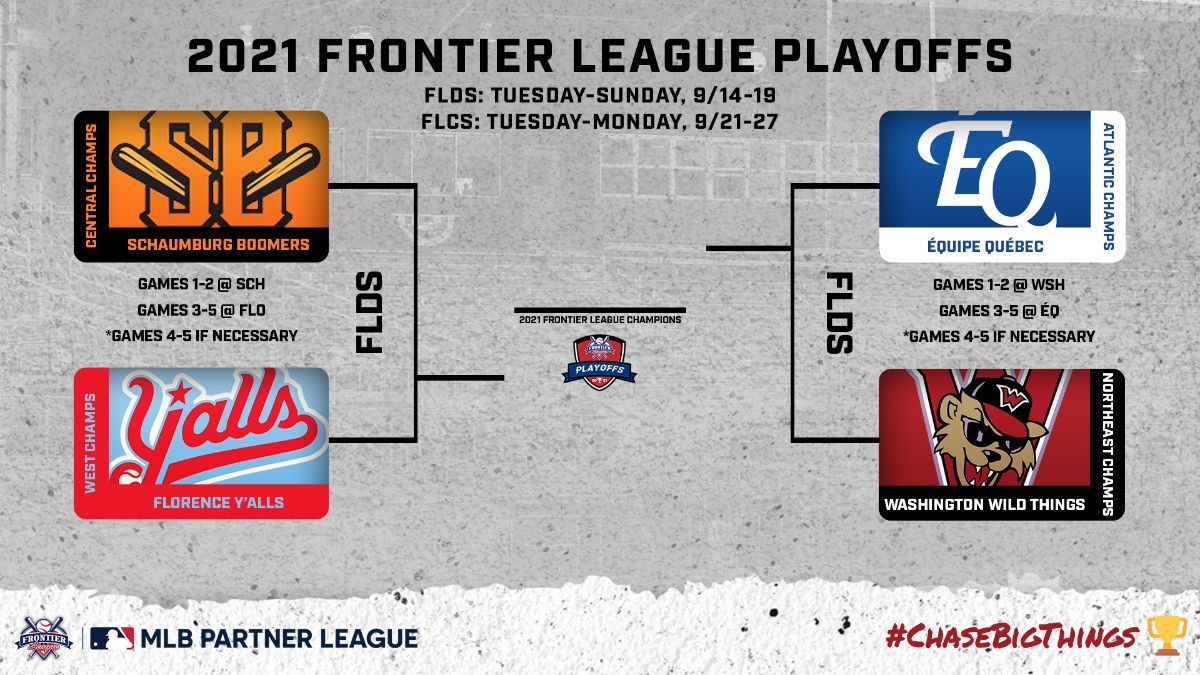 The Washington Wild Things, Équipe Québec, Florence Y'alls and Schaumburg Boomers will represent their respective divisions in the 2021 Frontier League postseason, set to begin tomorrow, Tuesday, September 14. The Central Division Champion Boomers will host the first two games of the series against the Florence Y'alls, who are champs of the West Division, while Atlantic Division champion Équipe Québec visits the Northeast Champion Wild Things for the first two games of the division series between those two clubs.
The Frontier League Division Series run Tuesday through Sunday. Games one and two of the series will be in Schaumburg and Washington before each series shifts to Québec and Florence. Games three through five of the best of five sets are at those locations. Games four and five, scheduled for Saturday and Sunday this week, are if necessary contests.
MIDWESTERN CONFERENCE FRONTIER LEAGUE DIVISION SERIES:
In the series pitting the Midwestern Conference division champs, it's the Boomers and Y'alls. Schaumburg was 51-45 to win the Central Division by eight games over Windy City, who finished in second. The Boomers clinched on Labor Day. Florence clinched this past Saturday by winning against Schaumburg in what turned into a playoff preview this past weekend at Y'alls Ballpark in Florence, Kentucky and a loss by Evansville to Lake Erie Saturday evening. Florence, having held first place for a time earlier this season, took the first-place lead back Thursday last week and finished its trek to the postseason against the Boomers. Florence finished the season with the league's best record at 57-38.
The Boomers boast the league's MVP in Quincy Nieporte, who became the second Boomer to win the award this season. He joins 2017 MVP David Harris as Schaumburg players to be honored with the league's top position player honor. Nieporte was also named the post-season All Star DH on the Midwestern Conference team, while teammate Chase Dawson joined Nieporte on that unit as a post-season All Star outfielder. Nieporte's .343 batting average was the second best in the league while Dawson sported a .312 average to go along with 10 homers, 14 doubles, nine triples and 68 runs batted in. Nieporte had 17 homers in 69 regular-season games and drove in 65. He struck out just 29 times in 298 plate appearances.
Schaumburg was tied for fourth in the league in the regular season with 86 homers (tied with New Jersey). The Boomers drew the fourth most walks and was sixth in the league in stolen bases (122 with just 26 CS). Schaumburg's pitching staff worked its way to the fourth best ERA in the Frontier League regular season at 4.01 and its seven complete games were the second most in the league behind eight from Southern Illinois. The staff was also third in strikeouts and fourth in fewest walks issued. The Boomers had the second worst fielding percentage in the league at .973 this season, making 91 errors, also second worst (to Windy City's 99).
Leading the way for the staff is Ryan Middendorf, who sported 11 wins and a 3.14 ERA in 19 starts this season. The tandem of he and Kyle Arjona, who tossed 119.2 innings and was 8-6 with a 3.38 ERA this season, lead the rotation for the Boomers. Geoff Bramblett, who came over to Schaumburg in a trade with the Grizzlies, spots a 1.86 ERA in 22 games (eight starts) between the two clubs. He's started three games for Schaumburg down the stretch. Thomas Nicoll had a 2.25 ERA this year out of the pen to lead that group. Nieporte and Dawson are two of the big guns in the lineup, while Braxton Davidson is a big help as well. Davidson is at .285 on the season with 22 home runs and 58 RBI, 10 and 30 of which, respectively, have come with the Boomers since Schaumburg acquired him. Alec Craig's 43 stolen bases were among the best totals in the league while Dawson (25) and Brett Milazzo (20) also took 20 or more bags.
For Florence, it's a lineup that boasts a ton of talent. Chad Sedio and Trevor Craport were Frontier League MVP candidates and were joined on the Midwestern Conference Post-Season All Star Team by shortstop Luis Pintor. Craport and Sedio were first and fifth, respectively, in RBI this season in the league with 85 and 69 RBI. Sedio's 29 doubles led the entire league, while he added 15 longballs. Craport hit 19 balls over the outfield wall, the fourth best total in the league.
Florence as a team was tied for third in doubles (171). The staff issued the fewest walks (260) in the league in 2021 but had the seventh best ERA at 4.47. The Y'alls were tied for fifth in fielding percentage. Of the 77 home runs the Y'alls hit this season, 54 were at home. They also gave up 58 home runs at home versus just 25 away from Y'alls Ballpark.
Sedio's .319 regular season batting average led the club. Pintor hit .316, Craport hit .308 and Harrison DiNicola sported a clip at .285. Six Y'alls had at least 40 RBI during the season and nine players had 10 or more doubles. Florence boasts four pitchers with ERA's under 3.00. Its staff is led by Jared Cheek, Johnathon Tripp, Alex Wagner, Joe Dougherty, Karl Craigie and several others that have been significant pieces of the West Division champion staff.
This is a rematch of the 2017 Frontier League Championship series, won by Schaumburg. Schaumburg is in search of its fourth title since joining the league (2013, 2014, 2017) while Florence is still in search of its first, having appeared in the Championship series in 2017 and 2019 within the last three Frontier League seasons. Schaumburg is led by Jaime Bennett, while Florence is under the direction of first-year skipper Brian White.
Schedule -
Game 1 (at Wintrust Field in Schaumburg, IL): Tuesday, 9/14 at 6:30 p.m. CT
Game 2 (at Wintrust Field in Schaumburg, IL): Wednesday, 9/15 at 6:30 p.m. CT
Game 3 (at Y'alls Ballpark in Florence, KY): Friday, 9/17 at 7 p.m. ET
Game 4 (if nec.) (at Y'alls Ballpark in Florence, KY): Saturday, 9/18 at 7 p.m. ET
Game 5 (if nec.) (at Y'alls Ballpark in Florence, KY): Sunday, 9/19 at 5 p.m. ET
CAN-AM CONFERENCE FRONTIER LEAGUE DIVISION SERIES:
In the Can-Am side, it's the Washington Wild Things, who became the first Northeast Division Champions Thursday night last week to win the seventh division title in organization history against Équipe Québec, who spent the majority of the season on the road as a road team before the border re-opened allowing them to play 21 home games. Équipe Québec won the Atlantic Division with a win at Sussex County Sunday, edging out Tri-City for the crown and sending the road warriors to the postseason under long-time Québec Capitales skipper Pat Scalabrini. Washington finished 56-40 while the Atlantic champs were 52-44.
Équipe Québec earned three post-season Can-Am All Star team selections: David Glaude (2B), Jeffry Parra (C) and LP Pelletier (OF). Pelletier sported the fourth best batting average (.328) in the league this year while tying for the league lead in hits (122). He had 27 doubles (2nd) and drove in 37 to go with 40 stolen bases, a top five total in the Frontier League. Parra's 73 runs batted in were tied for the third most in the league in 2021 with Evansville's Riley Krane and behind Glaude's 75 (2nd in the league). Glaude smacked 13 homers and Parra had 15. Glaude also had 27 two baggers like Pelletier.
The Atlantic Champs led the league in doubles (191) and were fourth in triples (24) to go with 79 home runs. Their 144 bags were the fourth most in the league and their .284 team BA was the top total. Équipe Québec's OBP was the second highest in the league. The pitching was in the middle of the pack in most categories. Their 77 errors were the fifth fewest in the league.
Raphael Gladu is another big piece of Équipe Québec's lineup. In 41 games he hit .375 with 38 RBI and 14 doubles. Ruben Castro hit .325 as a hybrid between catcher/second base/designated hitter. Castro had 18 doubles and 51 RBI. Glaude stole 31 bases and Castro 29. Seven position players had 40 or more RBI on the year while nine had 37 or more. Evan Rutckyj led the team with a 0.86 ERA in 27 games and 31.1 innings. Marshall Shill sported a 1.91 ERA in 39 games. In 42 appearances Frank Moscatiello had a 2.95 ERA and was 9-0. Miguel Cienfuegos had the best ERA for a starting pitcher at 3.78 in 116.2 innings. Codie Paiva tossed 118 innings and was 7-5 with a 4.42 ERA. Henry Omana, Jared Mortensen and David Gauthier could factor in the rotation as well.
Washington had left-handed pitcher Ryan Hennen win awards for Rookie of the Year, Most Valuable Pitcher and Post-Season All Star starting pitcher. Hennen had a league-best 2.12 ERA in the regular season. His 11 wins were tied for the second most in the league. Bralin Jackson probably should've been a Post-Season All Star outfielder with his 19 doubles, seven homers and 68 RBI, but he was not selected to the team.
The Wild Things' 70 errors were the second fewest in the league this season while the pitching staff, led by 2021 Darren Bush Award winner for Coach of the Year, pitching coach Alex Boshers, issued the second fewest walks (268), struck out the fourth most opposing batters (760), had the third-best WHIP (walks and hits per inning pitcher) (1.29) and boasted the second-best ERA in the league at 3.67 (.01 behind first - Evansville's 3.66). The offense was fourth in fewest strikeouts with 659, 5th in OBP (.356), sixth in slugging percentage and fifth in batting average in the league at .274.
Scotty Dubrule had the top batting average on the roster, though he did not qualify for the league leaders in the category with just 51 games played. Dubrule hit .374 in those 51 games and at one point had a league-best 31-game on-base streak. He drove in 21. He had two 15-game hit streaks. Bralin Jackson slashed .323/.356/.450 with his aforementioned 68 RBI while Trevor Casanova was the other qualified hitter at .300 for a batting average or better. Casanova drove in 32. Hector Roa, who will end the year tied for first in franchise history in home runs (57) and first in RBI (260), drove in 59 to go with 12 homers, 14 doubles and four three baggers. Andrew Czech hit 15 home runs while Grant Heyman and Joe Campagna both hit 11. Heyman was the only one other than Jackson and Roa with 50 or more RBI (52).
The pitching staff was paced by Hennen but had several other key contributors throughout the season. Ben Vicini was 9-0 in 24 games as a true rookie from Seton Hill University and had a 2.03 ERA. BJ Sabol hit a rough patch but hasn't been scored on in his last 13 appearances (ranging back to August 10). Daren Osby, who won a Frontier League title in 2018 with Joliet, had a 3.76 ERA in 19 starts. Rob Whalen, a former big leaguer, figures to be a big piece of the staff in the playoff run. In four appearances in the regular season after signing in Washington, Whalen allowed three runs and fanned 18 over 15.1 innings. Jesus Balaguer, Kevin McNorton, Zach Strecker, Boshers, Keven Pimentel, Dan Kubiuk and McKenzie Mills all will need to be solid for Washington to make a run as well. Kubiuk was scored on only three times in 21 innings after coming over from Winnipeg while Strecker set the new league career saves record and finishes with 74 saves. He led the team with 51 appearances in the 96 games.
Washington and Équipe Québec will be in search of their first titles. Washington has been in a championship series three times, with the most previous one coming in 2018 after an East Division crown. The Wild Things are led by Tom Vaeth, who is in his first season at the helm of the club and won multiple championships in the American Association as hitting coach for the Winnipeg Goldeyes. Pat Scalabrini also owns multiple titles, with rings as a player and skipper with the Québec Capitales.
Schedule -
Game 1 (at Wild Things Park in Washington, PA): Tuesday, 9/14 at 7:05 p.m. ET
Game 2 (at Wild Things Park in Washington, PA): Wednesday, 9/15 at 1:05 p.m. ET (time change due to expected weather)
Game 3 (at Stade Canac in Québec City, Quebec, Canada): Friday, 9/17 at 7:05 p.m. ET
Game 4 (if nec.) (at Stade Quillorama in Trois-Rivières, Quebec, Canada): Saturday, 9/18 at 6:05 p.m. ET
Game 5 (if nec.) (at Stade Canac in Québec City, Quebec, Canada): Sunday, 9/19 at 6:05 p.m. ET
--
Frontier League playoff action can be viewed on Frontier League TV, the league's official streaming partner, powered by Vimeo. Fans can go to frontierleaguetv.com to watch or download the Frontier League app, available on the Apple and Google Play stores. The league will crown a new champion in about two weeks, given 2019 champ River City is no longer in the league and there was no 2020 championship season.
For Wild Things fans, tickets are just $5 for games one and two of the FLDS Tuesday and Wednesday. They're available at the box office, by calling 724-250-9555 or by heading to wildthingstickets.com.