Frontier League Hall of Fame Class of 2020-21 Announced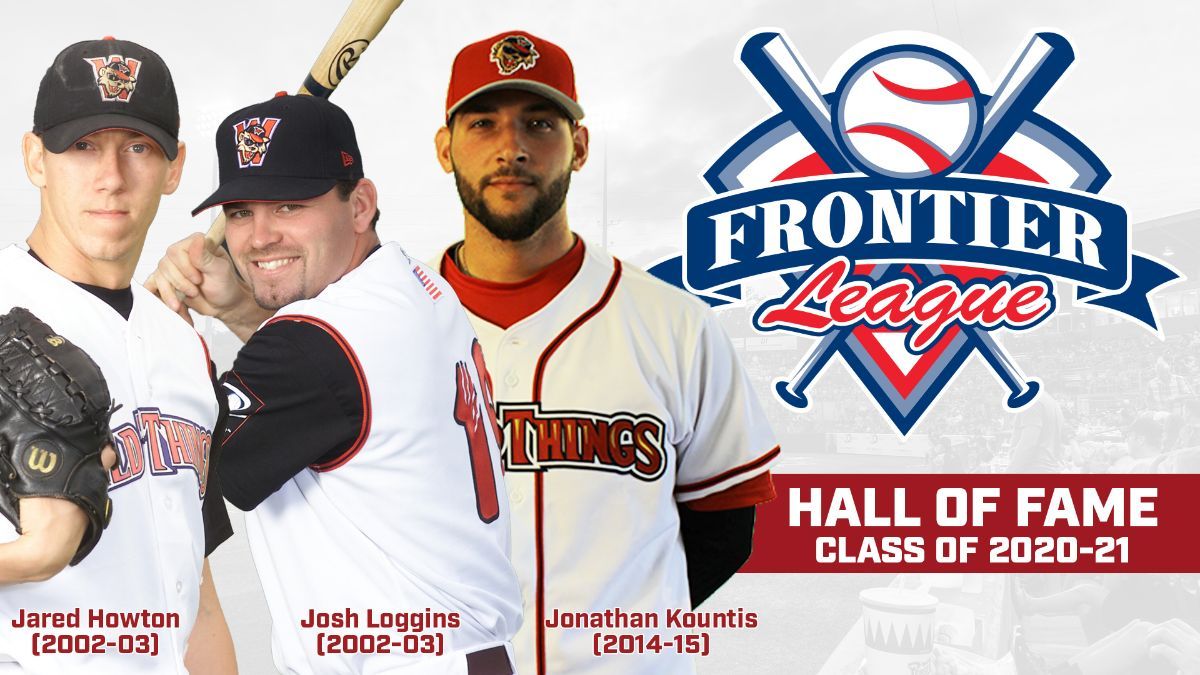 SAUGET, Il. (April 29) - The Frontier League is proud to announce the Inductees for the Hall of Fame class of 2020-21. Due to the fact that the League did not play in 2020 due to Covid-19, the classes have been combined to honor the recipients.
The Hall of Fame Committee that made the selections was comprised of a member of the Board of Directors, a field manager, a general manager and members of the League Office. Six players from three different decades in League history and two special contributors comprise the Class.
"This class represents some of the finest players to ever take the field during the League's first 27 years. The contributions of Rich Sauget Sr. and Kevin Rouch will never be forgotten." says Commissioner Emeritus Bill Lee.
The Inductees are:
Corey Morris - 1990s era
Ohio Valley Redcoats, 1994
.394 avg, 19 home runs, 63 RBI, 67 runs scored, 22 doubles, 47 walks, 1.252 ops
Led FL in home runs, RBI, runs, doubles, walks; 2nd in average in 66 games
1994 league Most Valuable Player
Second highest OPS in league history
Limited to one season due to playing rules at that time
Joe Pass – 1990s era
Richmond Roosters 1996-98, Dubois County Dragons 1999
.325 avg, 133 RBI, .391 opb
Post-Season All-Star in 1996 and 1999
Served as player-manager for Dubois County in 1999
Josh Loggins – 2000s era
Washington Wild Things 2002-03
.339 avg, 31 doubles, 29 home runs, 117 RBI
4th in avg in 2002; 3rd in avg, 1st in home runs, 4th in RBI in 2003
League MVP in 2003 despite signing with Colorado Rockies in mid-August
Jared Howton – 2000s era
Washington Wild Things 2002-03, Richmond Roosters 2005
21-8 record, 2.94 ERA
Led league in ERA (1.89) and tied for wins (11) in 2002
2002 league Pitcher of the Year
Jonathan Kountis – 2010s era
Lake Erie Crushers 2012, Frontier Greys 2013, Washington Wild Things 2014-15
11-14, 3.00 ERA, 59 saves, 188 k in 162 ip over 113 games
Post-Season All-Star Relief Pitcher in 2012 and 2014
Ranks 2nd all-time with 59 career saves
Mike Torres – 2010s era
Windy City ThunderBolts 2010-15
.294 avg, 207 RBI, 153 sb over 565 career games
Played in league-record 339 consecutive games from 6/1/11 to 7/29/14
Played in 565 out of 575 possible games in his six seasons
2011, 2012, 2013, and 2015 All-Star second baseman
Special Contributor – Kevin Rouch
Kevin Rouch first joined the Frontier League as the radio broadcaster for the Zanesville Greys from 1993-96. He then was the voice of the Chillicothe Paints from 1997 to 2000. He was selected as the Frontier League Broadcaster of the Year in 1998. Kevin then became Deputy Commissioner and League Council in 2001, serving in these roles through the 2009 season. Kevin created the first Frontier League website and was responsible for the Frontier League qualifying for P-1 work visas for international players.
Special Contributor – Rich Sauget, Sr.
The owner of the Gateway Grizzlies joined the Frontier League in 1999. From 2003 through 2020, he served as the President of the League Board of Directors. During Sauget's tenure, the League experienced tremendous growth. Annually, the League attracts approximately 1.5 million fans. Throughout his Presidency, six new stadiums were built. Also, he helped to oversee the admission of the 6 teams from the Can-Am League after the 2019 season. In 2020, MLB named the Frontier League as a Partner League, one of the most important moments in League history.
Morris, Pass, Howton, Loggins, Kountis and Rouch will have their Induction Ceremonies in Washington, Pa., on June 19, 2021. The Ceremony will take place prior to the Wild Things game against the Lake Erie Crushers. Induction ceremonies for Sauget and Torres will take place in Gateway and Windy City. Dates for those ceremonies will be announced at a later date.
---
WASHINGTON, Pa. - Jared Howton (2002-03), Josh Loggins (2002-03) and Jonathan Kountis (2014-15) add to the already exisiting batch of former Wild Things to be inducted into the Frontier League Hall of Fame, joining Chris Sidick (2005-11, Class of 2015), Aaron Ledbetter (2006-08, Class of 2014) and Scott Dunn (2014, Class of 2018).
Loggins played in 60 games for the Wild Things in their inaugural 2002 season and slashed .347/.400/.483 with 18 doubles, five home runs and 45 RBI. The .347 batting average is the second-best single-season BA in franchise history behind 2002 teammate Shaun Argento's .352 posting. Loggins went on to win the Morgan Burkhart Award for Most Valuable Player in 2003 despite being purchased by the Rockies' organization late in the season. That year, Loggins appeared in 74 games and had 13 doubles to go along with 24 home runs and 72 RBI. He stole 15 bases and slashed .331/.406/.659. The MVP award was the only one in franchise history prior to outfielder James Harris winning it in 2018. Loggins ranks ninth in franchise history in home runs (29) and RBI (117) and second in batting average (.339). Loggins was a Frontier League post-season All Star in 2003 as well as a mid-season All Star that year.
Howton was 21-8 in his Frontier League career, spending two seasons (2002-03) with Washington and one in 2005 with Richmond. In those three seasons, Howton posted a Frontier League career 2.94 ERA in 38 games (35 starts) over 220.1 innings. In 2002, the club's first season, Howton pitched his way to a Bryan Tollberg Award honor for the Frontier League's Pitcher of the Year, as he went 11-3 with a 1.89 ERA in 17 games, 15 of which were starts. That ERA stands as the Wild Things' single-season record for a starting pitcher. He posted two shutouts and a third complete game that season becoming the first of what is now three Things to win Pitcher of the Year (Ledbetter 2007, Thomas Dorminy 2018). He was also the post-season All Star starter for the Frontier League that year before going on to pitch his way to a 2.60 ERA and a 7-2 record in 2003 with Washington.
Kountis held the franchise's career saves record until he was passed on Opening Day of 2019 by current closer Zach Strecker. Kountis amassed 41 saves over two seasons with the Wild Things and still stands second in that category for the Wild Things, which is also where he stands in Frontier League history (59), behind fellow Hall of Fame closer Eric Massingham, who had 70 saves in his FL career. Kountis started his FL career with Lake Erie in 2012, where he posted a 1.06 ERA in 40 games from the pen across 59.2 innings. He had 18 saves, allowed just nine runs (seven earned) and fanned 68 opposing batters. He'd play for the Frontier Greys in 2013 and pitch 34.1 innings in nine games before making his way to Washington for the next two seasons. In 2014, Kountis set the league's single-season saves record with 32 in 41 appearances. He posted a 2.51 ERA in 43 innings. That year, he walked only 10 and fanned 50. He'd punch out 34 the next season in 26.1 innings across 23 games with a 2.73 ERA and nine more saves.
"Having been here since the beginning, it's great to see the Wild Things adding three more former players to the Frontier League Hall of Fame," said executive director Steven Zavacky. "Jared and Josh were huge pieces of our highly-successful teams in the beginning and Jonathan was a big part of helping us get back to the playoffs. We're excited for them to be honored by the league and join our other former players in history."
The three players along with two others will be officially inducted prior to the Wild Things' game against the Lake Erie Crushers Saturday, June 19. First pitch that evening is scheduled for 7:05 p.m.