Lake Erie Bats Take a Knapp, Wild Things Win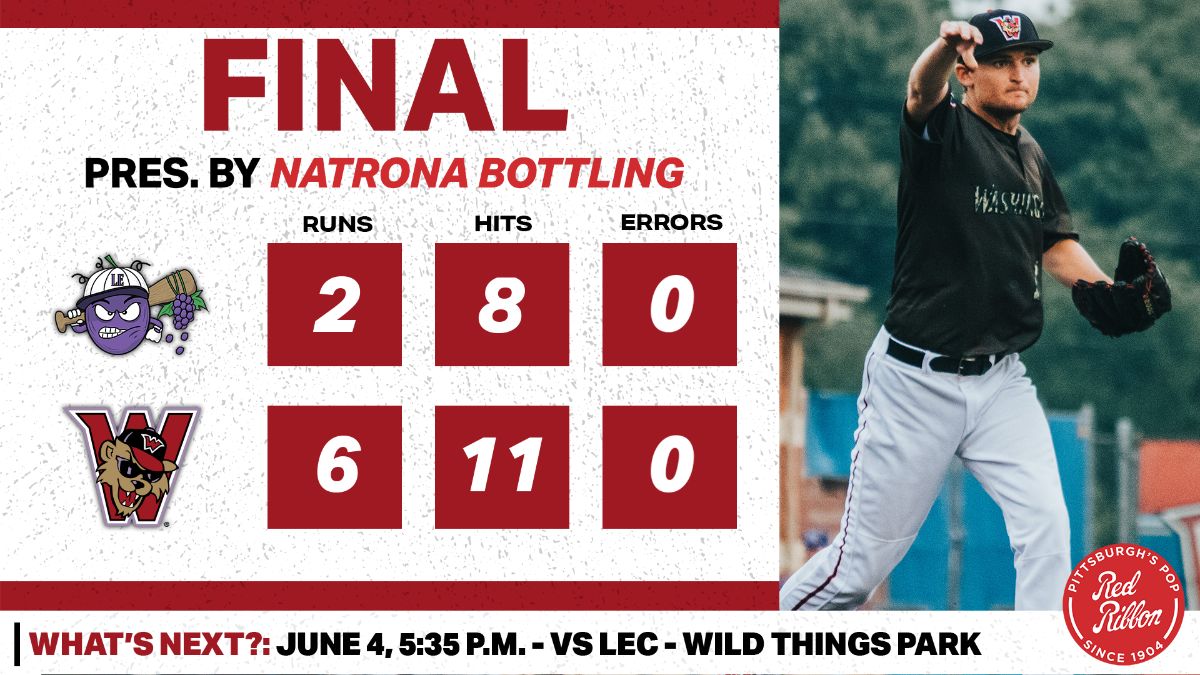 WASHINGTON, Pa. (June 3) – The Washington Wild Things clinched a series win over the Lake Erie Crushers on Saturday, as another quality starting pitching performance, this time from Stephen Knapp, and a two-run home run from Anthony Brocato led the way to a 6-2 win.
Knapp slinged the second-straight quality start for the Wild Things and held the Crushers scoreless through six innings. Knapp finished with four hits allowed, two walks and one strikeout in six innings pitched.
Lake Erie (8-12) stranded two runners and the Wild Things capitalized in the first inning, after designated hitter Wagner Lagrange hit an RBI double that scored second baseman Scotty Dubrule and put Washington (10-10) ahead 1-0 early. Washington got back on the board in the bottom of the fourth inning after outfielder Anthony Brocato kept up his hot streak at the plate, crushing a two-run home run to extend the Wild Things lead to 3-0.
Lagrange would get his second RBI of the night on a deep sacrifice fly in the fifth, which drove in another run for the Wild Things and put them up 4-0. First baseman Andrew Czech would add on to the big inning after he dropped an RBI single in the outfield, which made it a 5-0 advantage. This would mark two-straight innings with two runs scored for Washington in the middle portion of the game.
Shortstop Nick Gotta added his name to the list of players with RBI in the bottom of the sixth inning, getting his first hit of the game on a single to put the Wild Things ahead up 6-0.
Lake Erie got its first run of the game off the bat of third baseman Kenan Irizarry, who hit an RBI single to make the score 6-1 in the top of the seventh inning. A fielder's choice scored another run in the frame, but Washington finished the inning leading 6-2.
The Wild Things stranded two insurance runners in the bottom of the eighth, but relief pitchers Christian James and Anthony Boix allowed no runs in the final two innings, securing the series victory over the Crushers with the 6-2 win on Saturday.

The third and final game of the weekend series against the Lake Erie Crushers will be on Sunday at Wild Things Park, which is Princess and Pirates Night presented by Coen Markets on a Kids Eat Free Sunday. First pitch will be at 5:35 p.m.