Schaumburg's Early Offense Drops Washington in Game 1 of FLDS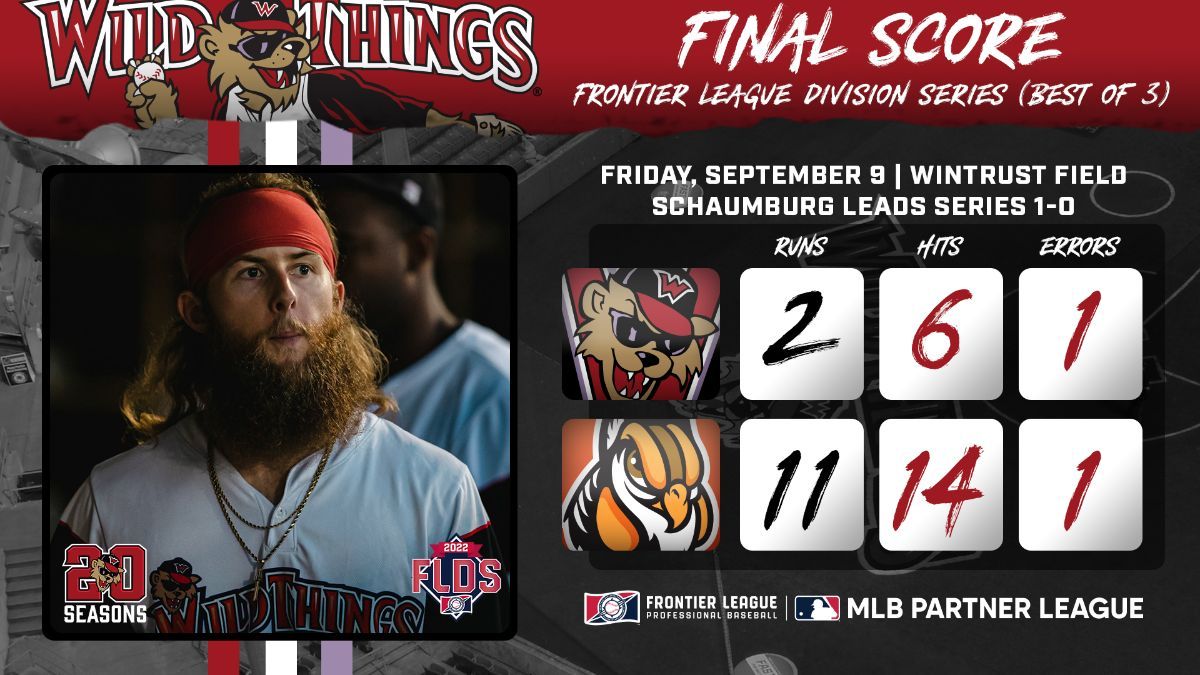 SCHAUMBURG, Il. (September 9) – A relatively quiet night offensively for Washington and a big night for the Boomers at the plate later and the Washington Wild Things have started their playoff journey on the wrong end of the final score, as Game 1 of the 2022 Frontier League Division Series went to Schaumburg, 11-2. The series now shifts to Washington with the Wild Things on the brink in the best of three, trailing in the series 1-0.
Schaumburg got rolling at the plate early and often in the first third of the contest in game one Friday night at home. The Boomers got to Kobe Foster, becoming the first club to really get to the Rookie of the Year in his first pro season. After a lead-off double by Alec Craig and a pop out, Chase Dawson made it 2-0 with his first homer of the playoffs, giving the Boomers the lead three batters in on the home side.
The homestanding Boomers scored a run in the second on an RBI single by catcher Blake Grant-Parks and then plated three in the third on a three-run homer by Clint Hardy that made it 6-0. Two batters later, a Will Salas single chased Foster from the game. He suffered the loss, falling to 0-1 in the postseason, as he allowed seven hits and six earned runs with five strikeouts and a hit batter.
A two-run single by Grant-Parks brought in two more Schaumburg runs in the fifth inning after Washington had its best chance of the game so far come with two outs and two on in the fifth but the visitors couldn't come up with anything.
Tristan Peterson hit for Jared Mang in the seventh and lifted a two-run homer to left to score Cam Balego, who had doubled for his second hit of the night, to cut it to 8-2 but Schaumburg got one right back in the bottom of the inning on an RBI triple by Brett Milazzo. The Boomers got the second one back that inning as well on an RBI liner to right by Braxton Davidson that made it 10-2.
Mike Hart hit his first of the playoffs to lead off the eighth and make it a nine-run lead for Schaumburg.
Game two of the series will be a must-win for Washington in the best of three. The contest will take place Sunday, September 11 at 6:05 p.m. in Washington, Pennsylvania, at Wild Things Park. Tickets are available, with the lower level sold out, at wildthingstickets.com or by visiting or calling the box office at 724-250-9555.