Washington Completes Road Sweep, Wins No. 999 as a Club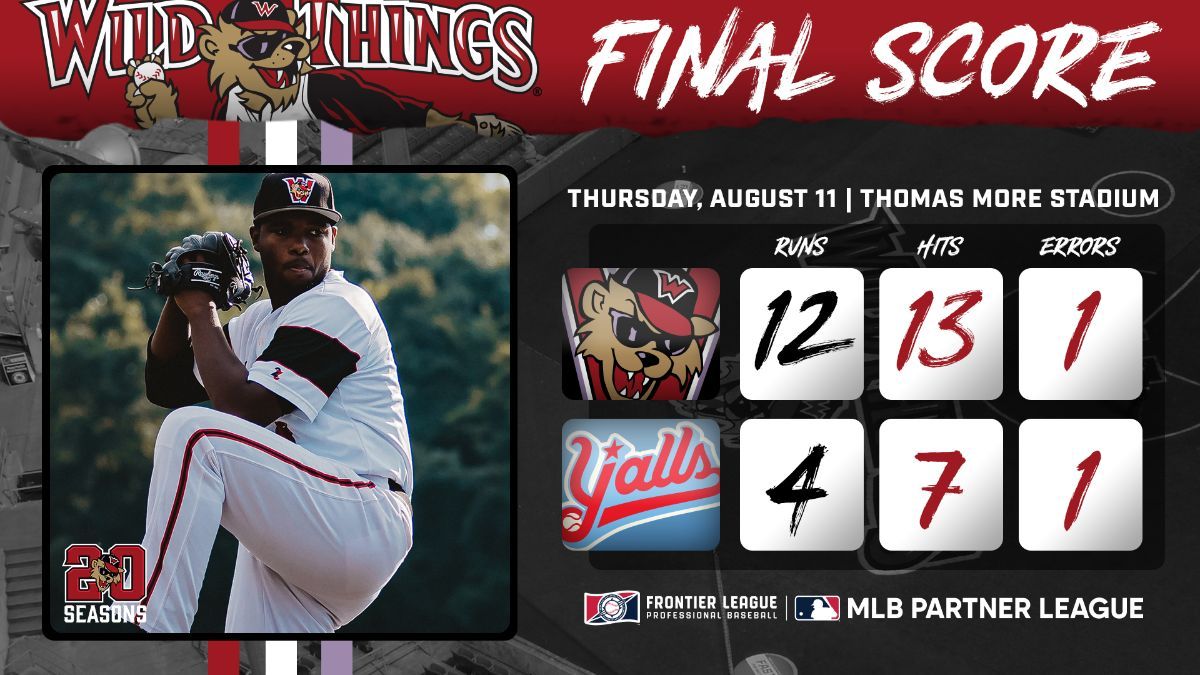 FLORENCE, Ky. (August 11) – For the first time this season, the Washington Wild Things have swept a series on the road in what was the team's fifth chance to do so. Washington knocked off Florence 12-4 and with it, earned the sweep, their 50th win of 2022 and the 999th win for the franchise as the club plays in its 20th season.
The Wild Things scored in each of the first five innings of the contest. In the first, the Wild Things plated three on back-to-back, run-scoring doubles. Ian Walters knocked in a run with the first of two before Cam Balego doubled for the second time in as many nights and drove in his first two Wild Things' runs batted in. Washington plated a run on an RBI single by Hector Roa in the second then scored twice in the third on Cam Balego's two-run homer that made it 6-0. It was Balego's first homer as a Wild Thing, hit in his third game with the team.
Washington scored on an error after a Wagner Lagrange double in the fourth. The Wild Things poured on five in the fifth inning on a bases-loaded walk, a wild pitch and a three-run home run by Hector Roa, as he exceeded 50 RBI on the year with his fifth homer. Florence got a run on a Luis Pintor RBI double in the fifth after Daren Osby had faced just one over the minimum through four and a third innings pitched.
Daren Osby finished seven innings of work with his fifth strikeout and ended up yielding four hits and a run on the mound. He earned his sixth win of the year with the victory.
Florence scored three times in the eighth against Landen Smith on a two-run single by Brennan Price and a sacrifice fly by Anthony Brocato. That brought the Y'alls to within eight at 12-4, but that was it for the action. Jake Pilarski finished the game with a clean ninth on the mound for Washington.
Washington will head overnight to Sauget, Illinois, to open a three-game series with the Gateway Grizzlies Friday night at 7:45/6:45 p.m. CT. The Wild Things, who will be in search of their 1000th victory as a franchise, will send Stephen Knapp to the hill. He'll be opposed by Brendan Feldmann for Gateway. The Wild Things would become the fastest of the four teams in Frontier League history to reach 1,000 wins and join Windy City, Evansville and River City (now out of the league) as the clubs to reach the milestone.