Wild Things Earn Series Win, Winning Trip North in Finale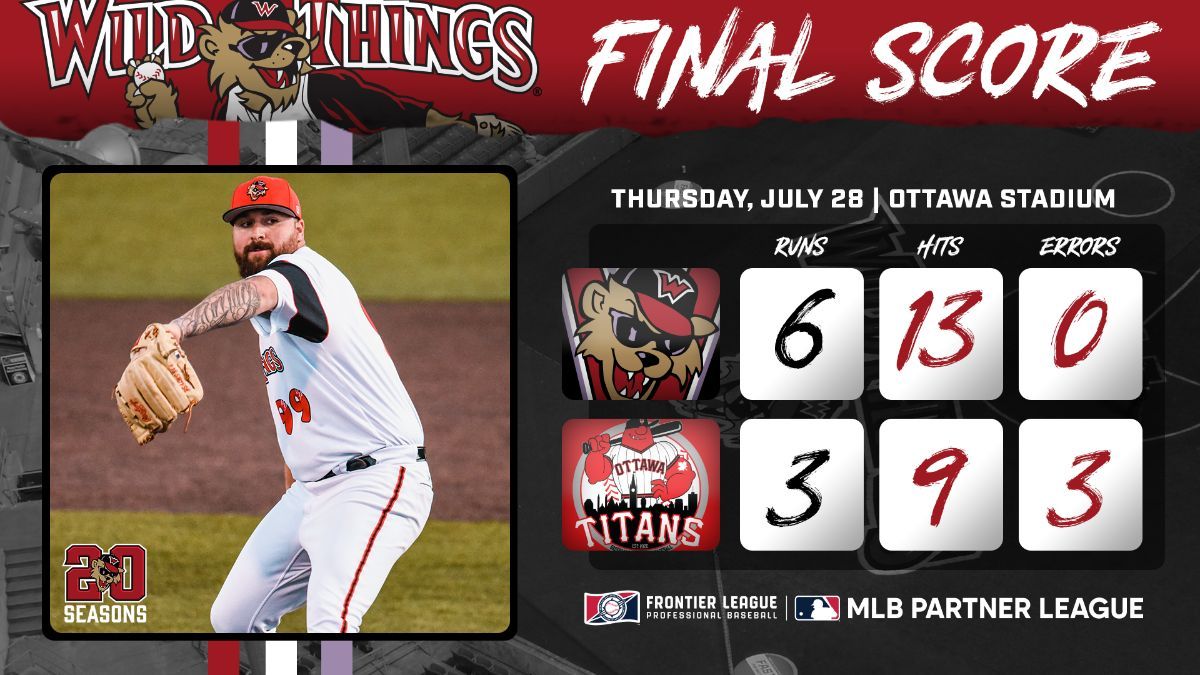 OTTAWA, ONTARIO, CANADA (July 28) – Washington trailed 2-0 but came back and then held on after getting insurance late to earn a series win over the Ottawa Titans and a winning road trip in Canada. The Wild Things knocked off the Titans to take the first series between the two teams ever, 6-3.
Ottawa started the scoring for the second-straight night by plating two in the third inning against Rob Whalen, who started for the Wild Things. Rodrigo Orozco and Matt Feinstein had RBI singles in the frame for the homestanding Titans.
Washington didn't get on the board until the fifth inning when an error allowed Scotty Dubrule to reach and Ian Walters to score from third. Then the Wild Things were able to tie things at 2-2 when Tristan Peterson homered for the second time this season in his sixth game back with the club. Washington added two more in that inning. Andrew Czech doubled and scored on a single by Nick Ward, who scored on a fielder's choice off Jared Mang's bat to make it 4-2 Washington.
The Titans scored once in the sixth inning on a groundout by AJ Wright and threatened with two on in the seventh. Rob Whalen exited the game with two outs in the frame in favor of lefty Kenny Pierson, who got Rodrigo Orozco to fly out to end the inning. Whalen finished the night with 6.2 innings pitched and seven hits allowed. He yielded three runs and fanned two, leaving in line for his 11th win of the year.
Washington added two runs in the ninth: one on an error on an attempted sacrifice bunt by Chris Eusay on which Scotty Dubrule scored from first as the throw from pitcher Kevin Escorcia went to the Washington bullpen. Eusay then scored on a sac fly by Peterson.
Pierson, who had worked a scoreless eighth, went back out to start the bottom of the ninth and tossed up a zero to end the game, earning his first save and Whalen his league-leading 11th win.
Washington's string of 12-straight road games around the break came to an end tonight and now the team heads home to begin a nine-game homestand by welcoming the East's leader, the Quebec Capitales, to town to start it. First pitch for another Fireworks Friday at Wild Things Park is slated for 7:05 p.m. with tickets available at wildthingstickets.com.