Things Provide Fireworks On & Off Field on Fourth of July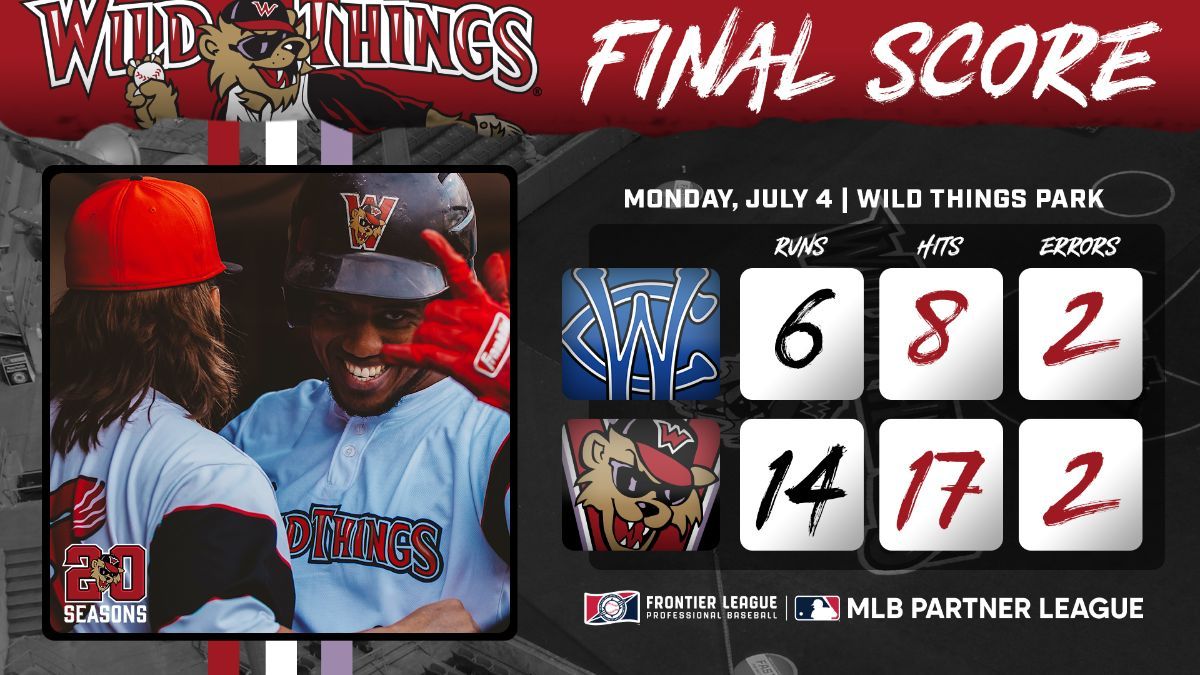 WASHINGTON, Pa. (July 4) – The Washington Wild Things defeated the Windy City Thunderbolts 14-6 in the opening game of the series. A high-scoring first inning and continuous outrunning of the Thunderbolts on offense brought the Wild Things to victory on Independence Day.
Washington was down going into the bottom of the first after Rob Whalen gave up four runs to Windy City. The Wild Things responded with seven runs of their own: one from a Wagner Lagrange RBI single, two on one play with an Andrew Czech RBI single and error from Windy City's left fielder, two from a Hector Roa double, one after a throwing error on Cole Brannen's bunt single, and a solo home run by Alex Alvarez to bat through the order. Washington led 7-4 after one inning of play and never trailed again.
Whalen allowed only two more runs, one in the second and one in the third, as he regained his composure after a rough first inning. Czech had another RBI single in the second to bring in Lagrange. Jared Mang hit an RBI triple for Nick Ward to score a run in the fourth, and Mang himself scored on a wild pitch after to make it 10-6.
The runs kept coming and didn't stop for Washington as Alvarez hit an RBI single in the fifth, and Czech had a sacrifice fly in the sixth to score Dubrule. Dubrule hit an RBI triple in the eighth and made it home on a sacrifice fly by Lagrange to make it 14-6 going into the ninth.
Kaleb McCullough walked two of the first three batters he faced in the ninth, striking out the other. Ian Walters threw the fourth batter out at first, and McCullough struck out the last batter to end the game. He pitched the last two innings scoreless and allowed one hit, two walks and struck out four.
Whalen pitched the first five innings. He allowed six runs, five earned runs, walked two, and struck out seven in his high scoring win.
Dan Kubiuk came in as the reliever for Whalen. He pitched two innings, allowed no runs, one hit, walked two and struck out two.
The series continues tomorrow night as the Wild Things (31-15) face the Thunderbolts (18-26) in the second game. First pitch is at 7:05 p.m. Tickets can be found at wildthingstickets.com.