Washington Loses Early Lead as Bolts Even Series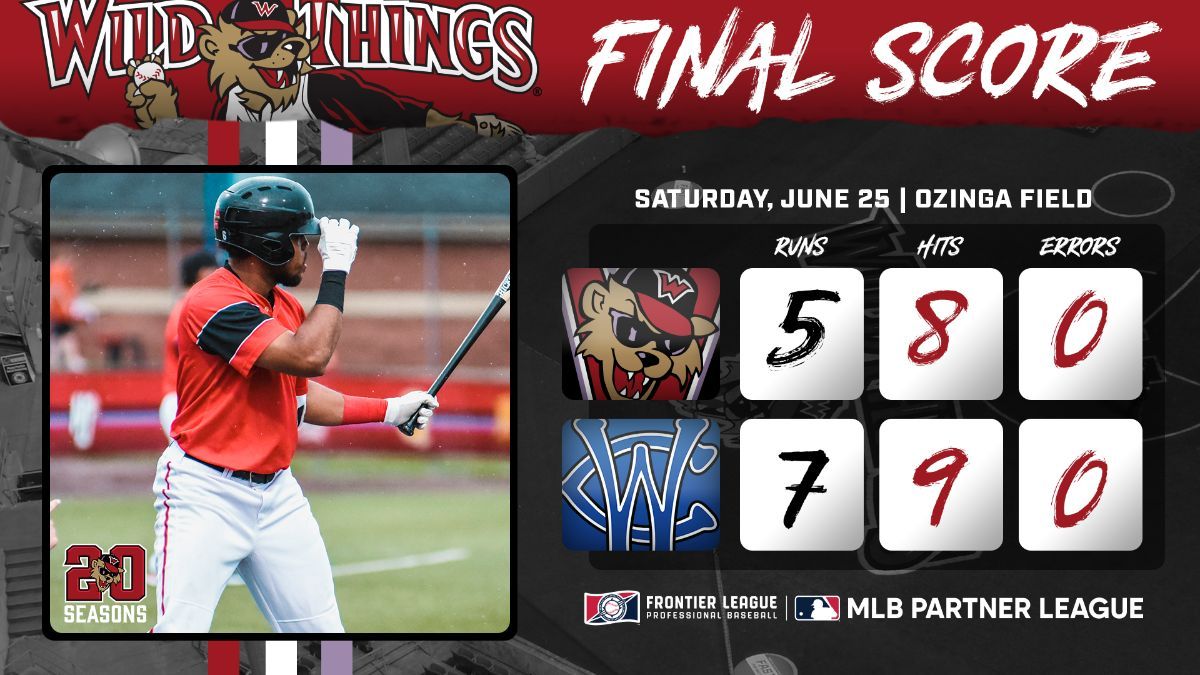 CRESTWOOD, Il. (June 25) – After taking an early 4-0 lead in the middle game with the Bolts, Washington saw its lead disappear and two, eight-inning Windy City runs were the difference as the Bolts evened the series with a 7-5 win.
Washington started the scoring first again, but this time in the first inning. Wagner Lagrange drove in his first run of the night with a single to right scoring Cole Brannen, who had singled earlier in the frame. The Wild Things added three in the second inning on a two-run single by Scotty Dubrule and an RBI hit against from Lagrange.
Windy City got on the board in the second with a solo homer by Peyton Isaacson and scored in the third on a solo homer by Dan Robinson. Washington got another RBI from Lagrange in the fourth on a groundout to extend the lead to 5-2, but that didn't last long. The Bolts added the next three before the end of the fifth to tie the game at 5-5. In the fourth, Jake Boone hit a homer that barely left the yard to left to cut it to 5-4 on the two-run shot. Then the ThunderBolts tied it in the fifth on an RBI single by Robinson.
Hayden Pearce left the game after 4.1 innings and allowed five runs, all earned on six hits. He didn't get a decision. Eric Mock entered and pitched 2.2 innings on scoreless ball from there all while the Wild Things searched for their first hit of the game since the second inning. Windy City starter Garrett Christman logged six innings of five-run ball and allowed seven hits, all in the first two innings of his night. Christmas left after throwing 123 pitches through six.
The Bolts got the go-ahead run on a single by Brian Fuentes in the eighth to score Robinson, who doubled to lead the inning off. Another run scored when Lukas Young relieved Kenny Pierson, who got charged with both eighth-inning runs and took the loss, and hit a batter with the bases loaded.
Layne Schnitz-Paxton earned his sixth save in the ninth for Windy City despite the tying run coming to plate after Andrew Czech singled up the middle for Washington's first hit since the second inning.
Washington and Windy City will play the series finale tomorrow afternoon in Crestwood, Illinois at 3:05/2:05 p.m. CT.