Washington Wins on Passed Ball in 10 Innings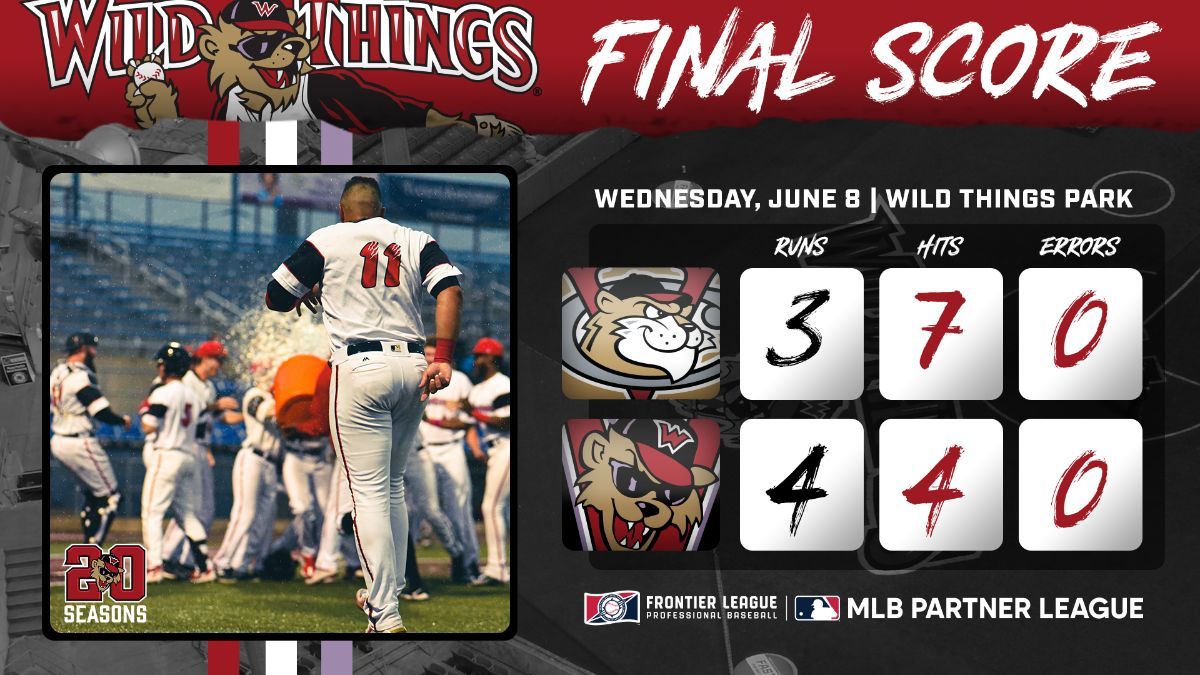 WASHINGTON, Pa. (June 8) – The Washington Wild Things hosted the Tri-City ValleyCats on Wednesday for the middle contest of a three-game series at Wild Things Park. It took extra baseball, but Wild Things fans went home happy as Washington (14-9) defeated Tri-City (13-9) 4-3 in 10 innings on a walk-off passed ball.
The first 16 batters of the night were retired before the game's first baserunner. Wild Things catcher Alex Alvarez doubled off the left-center-field wall with one out in the bottom of the third to spark the offense.
Brannen walked as the next batter against starting pitcher Aneudy Acosta but was retired on the basepaths when the lineup turned around. Nick Ward grounded to short and beat out a double-play attempt by the Cats. LG Castillo worked a walk, loading the bases for the third hitter in the order Scotty Dubrule. Dubrule drove a ball into the right-centerfield gap that went all the way to the wall and cleared the bases to give Washington an early 3-0 lead.
Brantley Bell responded as the ValleyCats' first batter in the fourth, mashing an opposite-field home run to score Tri-City's first run of the ball game. Juan Silverio provided the most eye-popping swing of the night, crushing a long home run over the left-field wall which cut the deficit to 3-2. Solo home runs were the name of the game for Tri-City through the first six innings. The trend continued into the seventh. McCusker joined in on the action, hitting an opposite-field home run to tie the game 3-3.
Hayden Pearce pitched seven innings giving up three runs on six hits and struck out two opposing hitters before being replaced by right-hander Christian James, who worked two scoreless frames. Wild Things' reliever Lukas Young entered for the 10th and got a zero, stranding the international tiebreaker rule runner at second.
Trey Cochran-Gill replaced Brac Warren, who combined with Adam Hofacket and Nunez to blank Washington after it chased starter Aneudy Acosta, to pitch the bottom of the 10th. Chris Eusay pinch ran for the last Washington batter, Andrew Czech. Hector Roa bunted Eusay over to third for the first out of the inning. Ian Walters was intentionally walked as the next batter, bringing pinch-hitter Ramon Osuna to the plate with the winning run 90-feet away. Eusay scored on a passed ball to win the game.
Washington and Tri-City meet for the final time at Wild Things Park during the 2022 season in the series rubber match on Thursday beginning at 7:05 p.m. Tickets are available at wildthingstickets.com.