Hector Roa Becomes Wild Things' Home Run King in Loss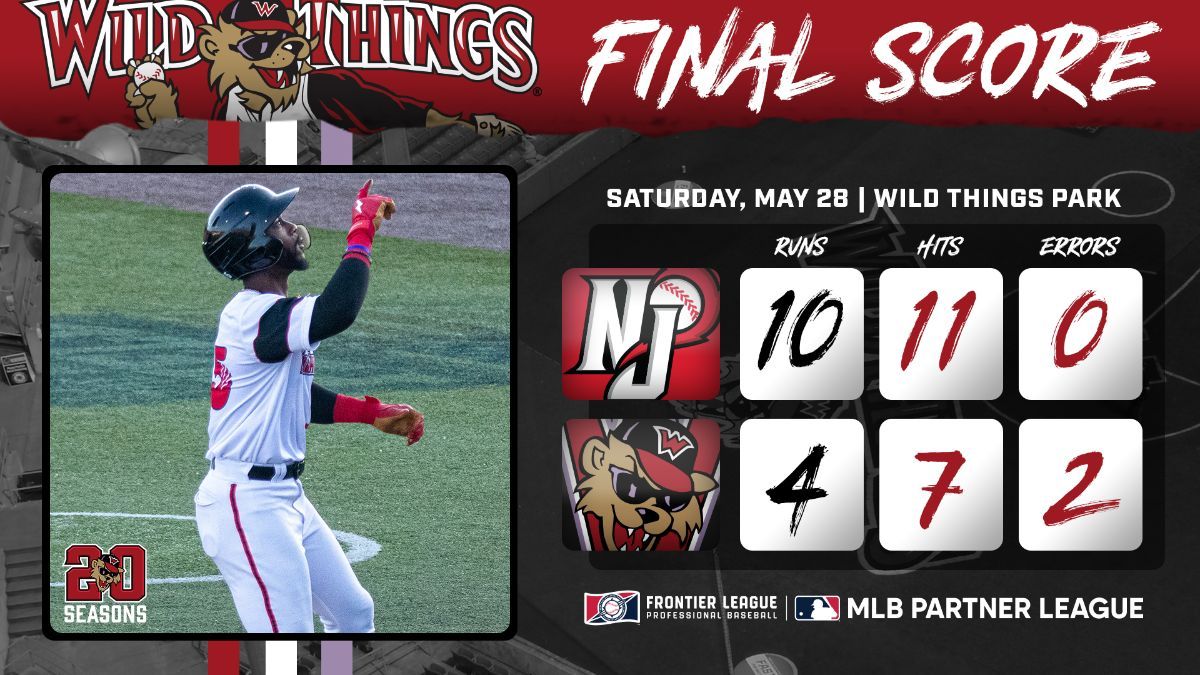 WASHINGTON, Pa. (May 28) – The Washington Wild Things lost 10-4 to the New Jersey Jackals in the second of a three-game series and a high-scoring affair that saw five total home runs hit.
The scoring started on the first pitch of the game when New Jersey's Todd Isaacs hit a solo home run off Washington's Micky Foytik. The Jackals continued to make it hard on Foytik in the second, scoring eight runs, including two three-run home runs; one from Isaacs and one from Justin Wylie.
The Wild Things scored four runs in the second to close the gap. Hector Roa hit a three-run home run that inning, and Alex Alvarez hit a solo home run. Roa's home run gave him the franchise record for most home runs in a Wild Things' career with 58, surpassing the previous record holder: Jacob Dempsey.
Foytik allowed a run in the third before he was pulled a few innings later. He finished his night having pitched 4.2 innings, allowing 10 runs, walking four batters and striking out two. Kenny Pierson relieved Foytik in the fifth.
The runs stopped and hits became scarce after the third as both defenses put on a show of their own. Pierson struck out five batters between the fifth and seventh innings, and New Jersey's Jorge Tavarez struck out six batters in a row between the fourth and sixth. Trevor Abrams' hit in the fifth was the only one for the Jackals, and Nick Ward and Ian Walters had the only hits for the Wild Things.
Juan Perez closed the game for New Jersey to earn Tavarez the win.
After relieving Foytik, Pierson pitched for 3.1 innings, allowing no runs or hits and struck out five batters. Lukas Young entered in the ninth for Washington, facing three batters and allowed no hits and struck out one.
The Wild Things will close the series and the homestand against the Jackals, tomorrow, May 29. First pitch is at 5:35 p.m. This game is also Star Wars Night, where the first 250 kids will get their own lightsabers on a PA Virtual Kids Eat Free Sunday! Tickets can be found at wildthingstickets.com.