Florence's Brocato Homers Late, Wild Things Drop Middle Game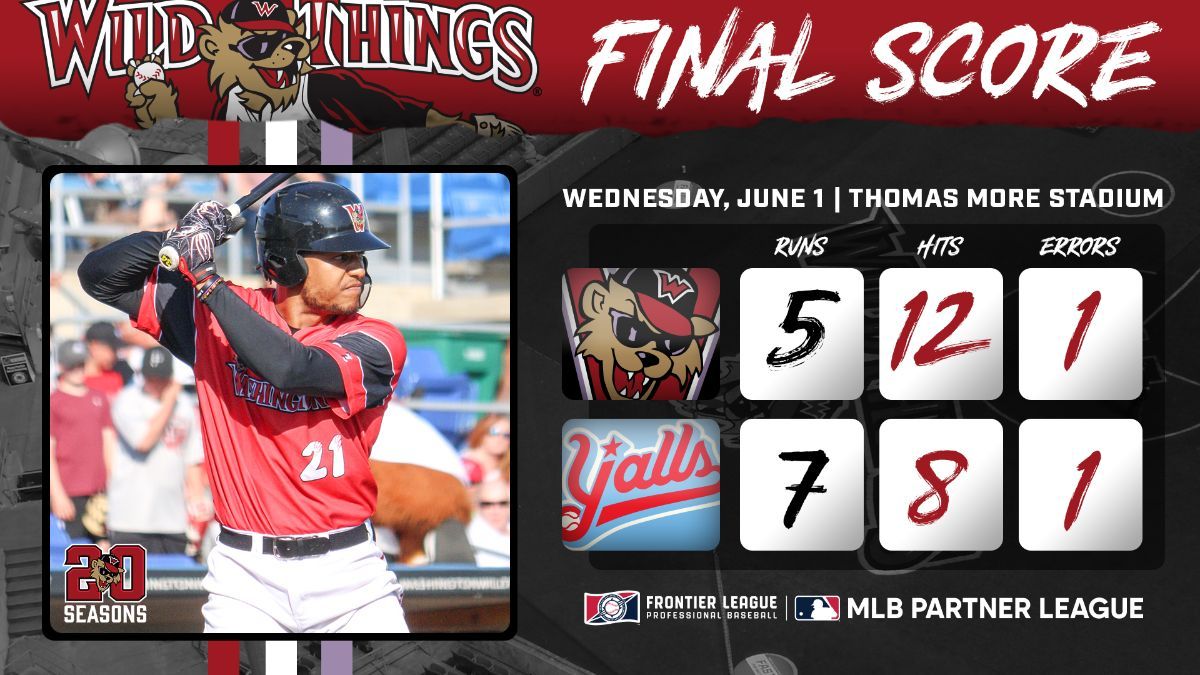 FLORENCE, Ky. (June 1) – The Wild Things fought back in the middle stages to tie the game at 4-4 before falling to the Florence Y'alls 7-5 in the series' middle game Wednesday at Thomas More Stadium.
Washington got the scoring going in the second inning with an RBI single from Cole Brannen that scored Andrew Czech. Czech tripled with two outs off the left-centerfield wall before Brannen's single. The scoring didn't continue until the fourth inning when Brennan Price lifted a three-run homer to center to give the Y'alls a 3-1 lead.
Florence added a run in the fifth inning on a wild pitch before Washington hit five singles and scored three runs in the sixth to tie the game at 4-4. Washington got run-scoring hits from Brannen, Alex Alvarez and Nick Ward in the frame.
Anthony Brocato didn't allow the tie to last long, as he took reliever Nick Beardsley deep in the bottom of the sixth to give Florence a 5-4 lead they wouldn't relinquish. Brocato singled home two more in the seventh before LG Castillo hit his first homer as a Wild Thing to make it 7-5 in the eighth.
Joe Dougherty walked Ian Walters in the ninth but a double play erased the runner and the Wild Things never sent the tying run to the plate after that in the ninth.
Beardsley suffered the loss in relief of Daren Osby, who went five innings and allowed three hits and four runs in a no decision.
The Wild Things fell to 1-5 in middle games with the loss and will look to bounce back tomorrow when the Y'alls and Wild Things play the rubber game and series finale at 6:34 p.m. Yasel Santana will pitch for Florence against Washington's Hayden Pearce.