Washington Takes Opener Behind Early Offense and Pitching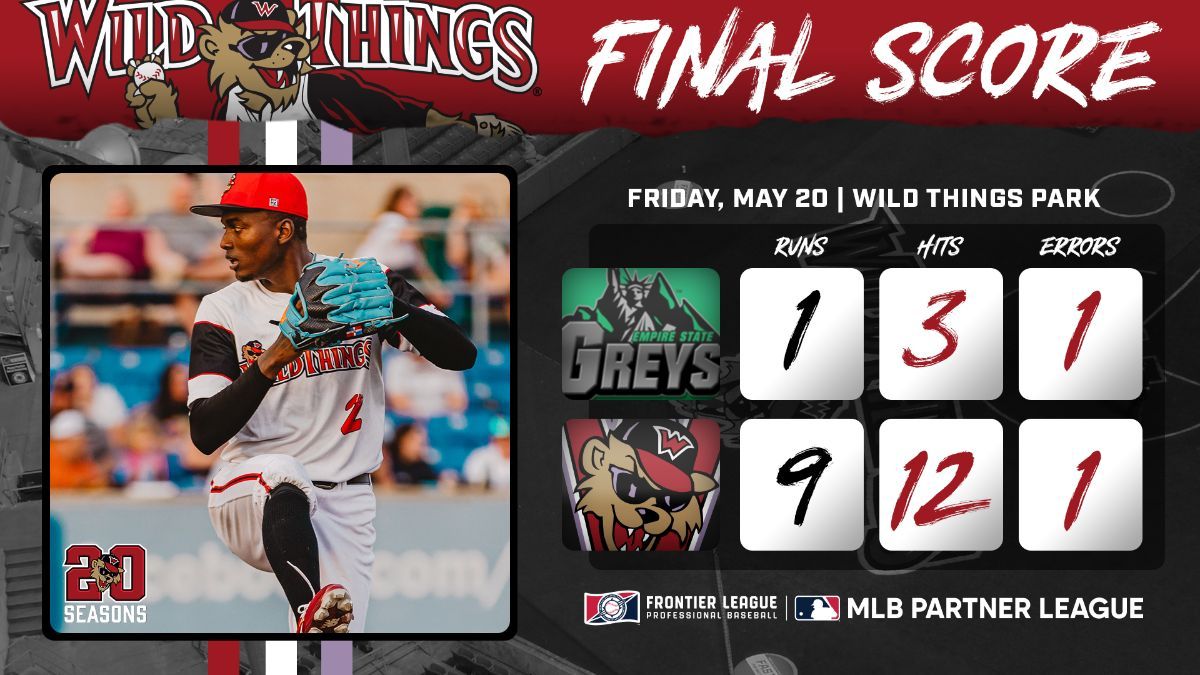 WASHINGTON, Pa. (May 20) – The Washington Wild Things defeated the traveling Empire State Greys 9-1 in the first of three-games series in Washington thanks to an early offensive outburst and good pitching from Sandro Cabrera.
In the bottom of the first, Washington's Wagner Lagrange hit an RBI double to left field to send Scotty Dubrule home from first. With Lagrange on second, Ramon Osuna hit a two-run home run to make the score 3-0.
In the second, Alex Alvarez hit a two-run home run with Ian Walters on base to extend the lead to five runs. Cole Brannen took home on a wild pitch to put Washington up 6-0.
Brannen hit an RBI single in the fourth to send in Alvarez for the seventh run for Washington. Brannen made it home on an RBI from LG Castillo, making the score 8-0.
Lagrange added to his night with his third hit, an RBI single that sent Nick Ward home for Washington's ninth run.
In the top of the ninth, Empire State's Tyler Hill made it home on an errant throw, ending the chance for a shut-out. Empire State failed to score any more runs, ending the game 9-1.
Sandro Cabrera started on the mound for Washington. He pitched seven innings, allowing two hits, no runs and two walks, while also striking out seven batters. He didn't allow any hits until the sixth inning.
Gage Smart relieved Cabrera in the seventh. He pitched the final two innings, allowing one hit, one run and three walks.
Washington (3-4) and Empire State (0-7) will play each other again on Saturday, May 21. First pitch is at 7:05 p.m. Tickets are available at wildthingstickets.com. The first 1,000 fans receive the second installment of the 20 Seasons Poster Series, presented by Key Bank.