Infielder Landen Barns Added from California Winter League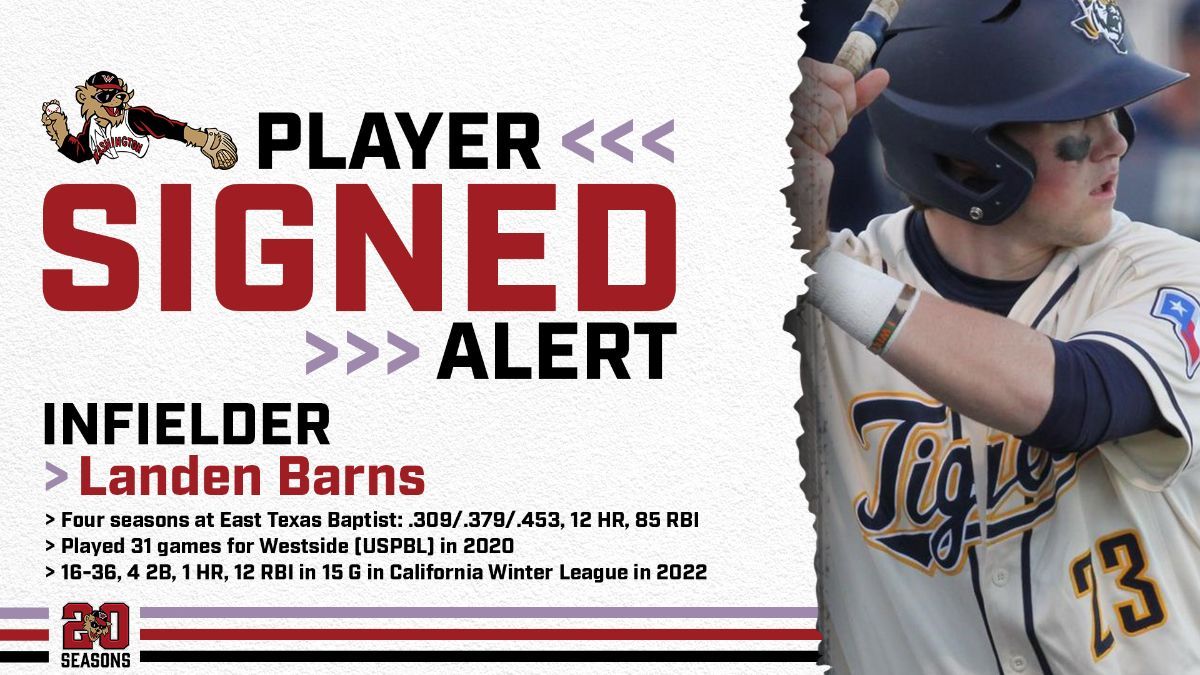 WASHINGTON, Pa. (March 15) – The Washington Wild Things have announced the addition of infielder Landen Barns to the roster heading into spring training, which is just over a month away. Barns played four seasons at East Texas Baptist and started his pro career in 2020 with Westside in the United Shore Professional Baseball League.
In 31 games with Westside in 2020, Barns drove in seven with 20 hits. In the California Winter League that finished not too long ago, Barns went 16-for-36 at the dish with four doubles, a home run and 12 RBI for the Palm Springs Power.
"I liked what I saw from Landen out in the California Winter League," said manager Tom Vaeth. "He showed great versatility and a strong desire to compete. His ability to catch and play multiple infield positions provides us with depth heading into training camp."
Barns played four seasons at East Texas Baptist University in his collegiate career and in total slashed .309/.379/.453 with 12 homers and 85 runs batted in in 129 games.
He was named American Southwest Conference (NCAA DIII) 2nd Team in 2019 as a senior, a year he started all 44 games for the Tigers and was second on the team with a .398 batting average. Six of 12 collegiate home runs came in that season.
Barns' father Jeff Bars played collegiately at the University of South Carolina and professionally with the Angels, Athletics and Royals organizations from 1987-97.
The Wild Things will kick off that 20th Frontier League season May 13 at home against the New York Boulders. The full schedule is available at washingtonwildthings.com. Check out the roster as it gets announced by clicking here.
ABOUT THE WASHINGTON WILD THINGS
The Washington Wild Things are a professional baseball team that plays in the MLB-partnered Frontier League. In 2022, the Wild Things are celebrating their 20th season of baseball in the longest-running independent baseball league in history with all kinds of celebrations, fun and great baseball at Wild Things Park. The team has won seven division championships and has been to four Frontier League Championship Series within their numerous playoff appearances. Fans and media can stay aware of all the happenings within the Wild Things' organization, both on and off the field, by following the team's social media platforms and website: washingtonwildthings.com. For other inquiries, call the front office at 724-250-9555.
The Wild Things' organization and Wild Things Park has been selected as the host of the 2022 Frontier League All-Star Game, presented by The Coury Firm. The festivities will begin Saturday, July 16 and run through the game itself Wednesday, July 20. Tickets are available at bit.ly/FLASG22TIX. More information can be found at washingtonwildthings.com as well.