Wild Things Round Out Regular Season With Win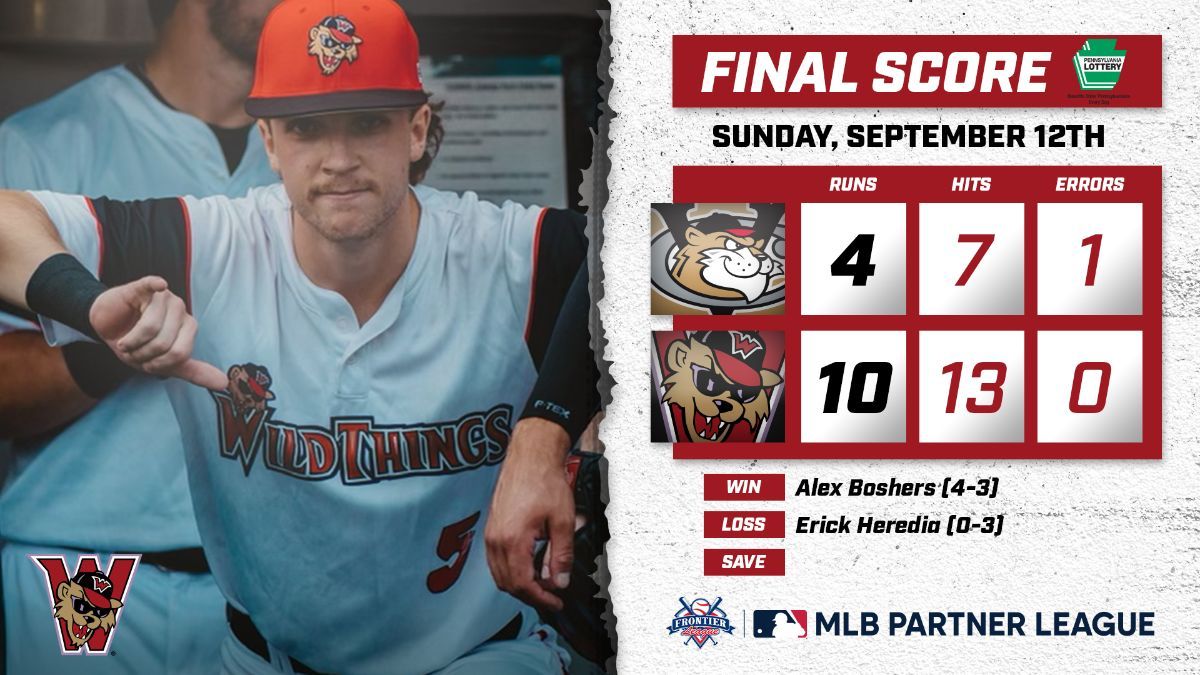 WASHINGTON, Pa. (September 12) - Washington ended the regular season Sunday with a win over Tri-City and now turns its attention to the playoffs and a date with Équipe Québec, who won Sunday at Sussex County to clinch the Atlantic Division title. The final score in Washington was 10-4.
The Wild Things got the scoring started in their first trip to the plate in the regular-season finale. Bralin Jackson lined a single to right field to plate the game's first run and he scored on a double up the right field line by Grant Heyman.
Tri-City responded when Zach Biermann hit his third homer of the season, a two-run shot, to make it a 2-2 game in the second. The game went silent until Washington plated four in the fifth inning on a two-run homer, his third, by Tristan Peterson and a two-run double by Scotty Dubrule. The Cats scored a run in the sixth on a sacrifice fly to make it a 6-3 game.
Alex Boshers allowed three runs on six hits in the win and got his 4th win of the year. Jesus Balaguer allowed a Carson McCusker solo homer that made it 6-4 in his outing but also struck out three. Washington added a run in the seventh on a fielder's choice by Dubrule. Ben Vicini worked a scoreless eighth inning.
Tristan Peterson doubled to bring home Washington's eighth run in the eighth and went to third on an Andrew Czech RBI single that scored Trevor Casanova. Peterson scored on a single by Nick Ward. Vicini then finished the game with another scoreless frame.
The Frontier League Division Series starts Tuesday against Équipe Québec at Wild Things Park. First pitch of game one of the best of five series is slated for 7:05 p.m. Parking is free and tickets are only $5. They're available at the box office, by calling 724-250-9555 or at wildthingstickets.com Game one is Tuesday and game two is Wednesday before the series shifts to Canada.